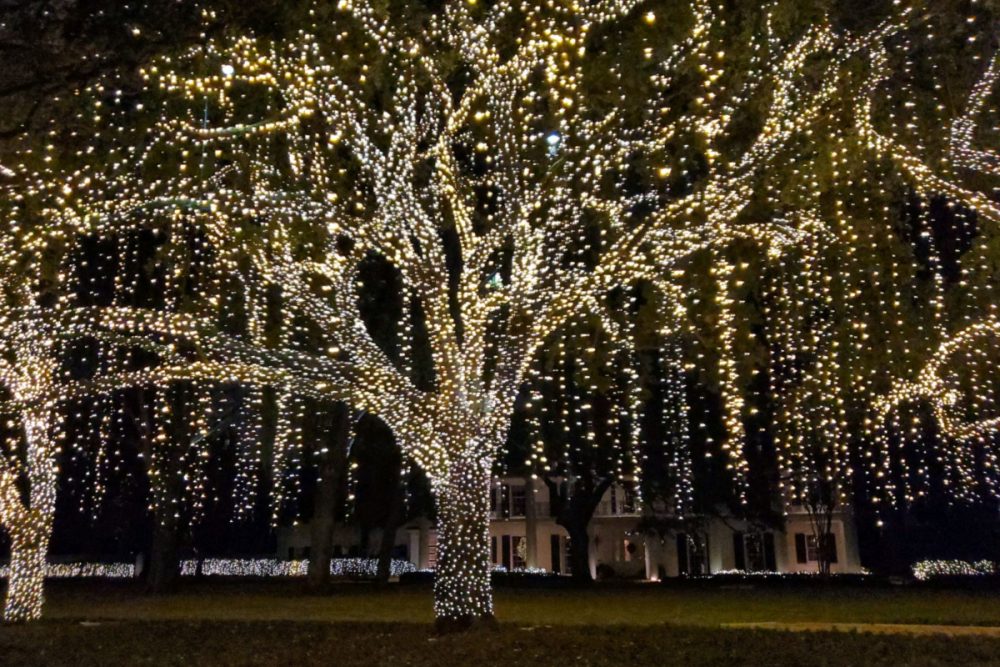 How do you navigate Houston nights during the holiday season?
Follow the Christmas lights, which are popping up just about everywhere.
Festive, colorful decorations can be found throughout the Houston region this December, from the heart of the city to the outlying suburbs. Some of the more elaborate light displays are created for special events and by businesses, while a handful of Houston-area neighborhoods have built reputations as viewing destinations during the holidays.
Houston Public Media has compiled a list of some of the best, family-friendly places to see Christmas lights this year – including subdivisions where you can take free, self-guided tours and locales where crowds gather and tickets are required.
HOMES (DECORATED) FOR THE HOLIDAYS
Woodland Heights: The historic Central Houston neighborhood is home to Lights in the Heights, the annual free event that features decked-out homes, street closures and a bike valet service. It's scheduled for 6-9 p.m. Saturday on Bayland and Woodland streets between Studewood and Beauchamp. If you'd rather not mess with parking and a big crowd, you can check out the lights in Woodland Heights on any other night.
River Oaks: The upscale area featuring some of the largest homes in the city is big on holiday lights as well. Decorations adorn the mansions throughout River Oaks as well as its spacious, well-manicured front lawns. In the nearby Galleria area, you also can spot festive lights while driving down Post Oak Boulevard.
Pecan Grove: Located in the suburb of Richmond southwest of the city, homes throughout Pecan Grove boast elaborate lights displays, holiday scenes and lawn inflatables.
Prestonwood Forest: This subdivision in Northwest Houston, just north of the Willowbrook area, has been dazzling families with themed light displays for decades. Its annual Nite of Lites is scheduled for this Saturday, when homes will be judged as part of a neighborhood-wide decoration competition, but the lights will stay on for visitors through New Year's Day.
Shepherd Park Plaza/Candlelight Plaza: The adjacent neighborhoods in North Houston started a unique tradition in the 1960s: adorning their streets with holiday-themed arches to create the semblance of Christmastime tunnels. Some of the arches are themed by street, and the homes lining those streets are lit up as well.
Green Tee Terrace: Homes in this Pearland subdivision also are lit up for the holidays. They will be showcased on Saturday night during the Tour De Lites, an annual bicycle tour that starts at Independence Park.
FREE DISPLAYS
City Lights Downtown Holiday Magic: Walking through a display of 100,000 lights on Bagby Street is among the many attractions during this monthlong event, which includes eight themed villages throughout Downtown Houston. Other fun to be had includes outdoor ice skating at Discovery Green, a Christmas tree display at The Alley Theater, photos with Santa Claus, sweet treats, movie showings and an interactive lights experience at the Marriott Marquis' Altitude Rooftop & Pool, where guests can float down a heated lazy river. Most but not all of the activities are free.
Dickinson Festival of Lights: Visitors can walk through an extensive lights display at Paul Hopkins Park in Dickinson, a suburb southeast of Houston that has been brightening the holidays for 25 years. The event is free, and so is parking and a shuttle service.
TICKETED DISPLAYS
Dasher's Lightshow Houston: Previously held in Hockley, Dasher's has taken its drive-thru display to the Humble Civic Center at 8233 Will Clayton Pkwy. in Humble. Featured are more than a million lights, which can be viewed nightly from 6-10 p.m. through Dec. 31. Tickets are $30 per vehicle.
Galaxy Lights at Space Center Houston: The interactive, technologically advanced lights display is viewable from 6-10 p.m. on most nights through Jan. 1, with tickets costing $19.95 for adults and $15.95 for children. Space Center Houston recommends that guests allocate 90 minutes for the experience, which spans across the property.
Light Park (Katy and Spring): Mile-long drive-thru lights displays, with corresponding music on the radio, are back at Typhoon Texas Waterpark in Katy and Hurricane Harbor Splashtown in Spring through Jan. 1. Tickets start at $39 per vehicle.
Lightscape at Houston Botanic Garden: See the garden in a new light with Lightscape, a 1-mile stroll with eye-catching visuals and accompanying music. Timed tickets start at $24 for adults and $14 for children (parking is extra). The event lasts through Jan. 1.
Magical Winter Lights at Houston Raceway Park: See more than 6 million lights, seven themed displays and illuminated castles, landmarks and sea creatures at the annual festival in Baytown, which is open daily through Jan. 7. Tickets start at $25.
Sugar Land Holiday Lights at Constellation Field: More than 3 million lights have been strung at the home ballpark of the Sugar Land Space Cowboys, the Triple-A affiliate of the Houston Astros. There are themed areas, food and carnival-like attractions, along with a 40-foot Christmas tree, as well as movie nights and pet nights. Adult tickets start at $15.
Zoo Lights at the Houston Zoo: Animal-themed lanterns and glowing flowers are among the attractions at Zoo Lights, which has added a holiday light tunnel and an illuminated interactive dance floor on The Children's Zoo plaza. The event lasts through Jan. 8 but will be closed Dec. 7 as well as on Christmas Eve and Christmas Day. Adult tickets start at $24.45.