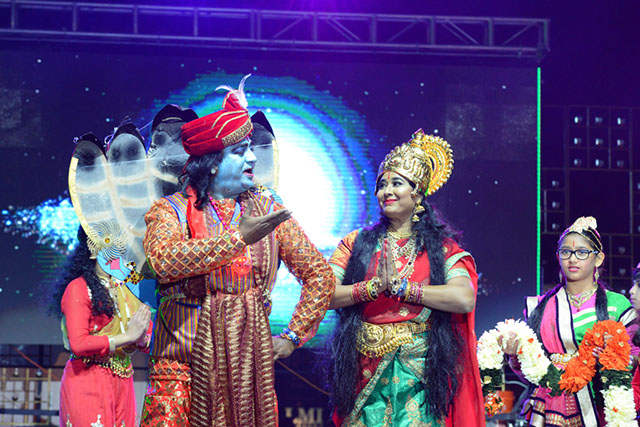 A minor league baseball stadium southwest of Houston will be filled with thousands of people and millions of lights on Saturday for a celebration of Indian culture and heritage.
The 11th International Diwali and Dussehra Festival is scheduled for 4-10 p.m. Saturday, Oct. 15, at Constellation Field in Sugar Land, where a capacity crowd of 10,000 is expected. There will be food, games, traditional dances, music and theatrical performances, a market, a parade and a fireworks display, according to the Shri Sita Ram Foundation, the Houston-based nonprofit that organizes the annual family-friendly event.
Houston's version of the Hindu festival, celebrated by more than 1 billion people across the world, is returning to its original home for the first time since 2019. The event was cancelled in 2020 because of the COVID-19 pandemic and held at an alternate location last year.
"India is a country of festivals, and this is the biggest of them," said Arun Verma, president of the Shri Sita Ram Foundation. "We try to bring the best of the Indian culture. We bring the best of the best and do it on a grand scale. You name it, and we have it over there."
The festival of lights, as Diwali is commonly known, is "open to anybody" and also will include aspects of American culture, according to Verma. He said a limited number of tickets were available as of Friday morning and can be purchased online for $15 at shrisitaram.org. If any tickets are left on Saturday, they will be sold at the gate for $20.
New to this year's festival is celebrating the 75th anniversary of India's independence from British rule in 1947. Freedom fighters such as Mahatma Gandhi will be honored, Verma said, and 75 Indian flags will be carried during the parade.
The parade also will include representatives of the nearly 100 consul generals in Houston who represent foreign countries around the world, which is another new feature this year, according to Verma. He said all the local consul generals were invited, and at least 20 are expected to attend.
The parade marshal this year is Houston Mayor Sylvester Turner.
"Our belief is that the entire world is one big family," Verma said. "We need to treat everybody like a brother and a sister. To demonstrate that, we have invited every one of them."
The Sugar Land festival, which Verma said is the biggest of its kind in Texas, combines the two Hindu holidays of Diwali and Dussehra and celebrates the victory of good over evil. Dussehra represents the killing of the demon king Ravana by the exiled Lord Rama, with Diwali marking Rama's return to his throne 21 days later, when he was greeted by the citizens of Ayodhya with displays of oil lamps and colorful artwork.
Verma said Saturday's festival will include a "burning of the demons," which will resemble piñatas, followed by the fireworks display.
Throughout the day, there will be a bazaar that includes a variety of vendors, some of whom will be selling clothing, jewelry and toys. Local political candidates also will be on hand to meet with residents ahead of the November election, according to Verma.
Attractions for children will include face painting, balloons, pony rides and a petting zoo. And there will be a wide range of food options, with all regions of India represented as well as some American fare.
"We get people from all over the place," Verma said. "So we cover everything."