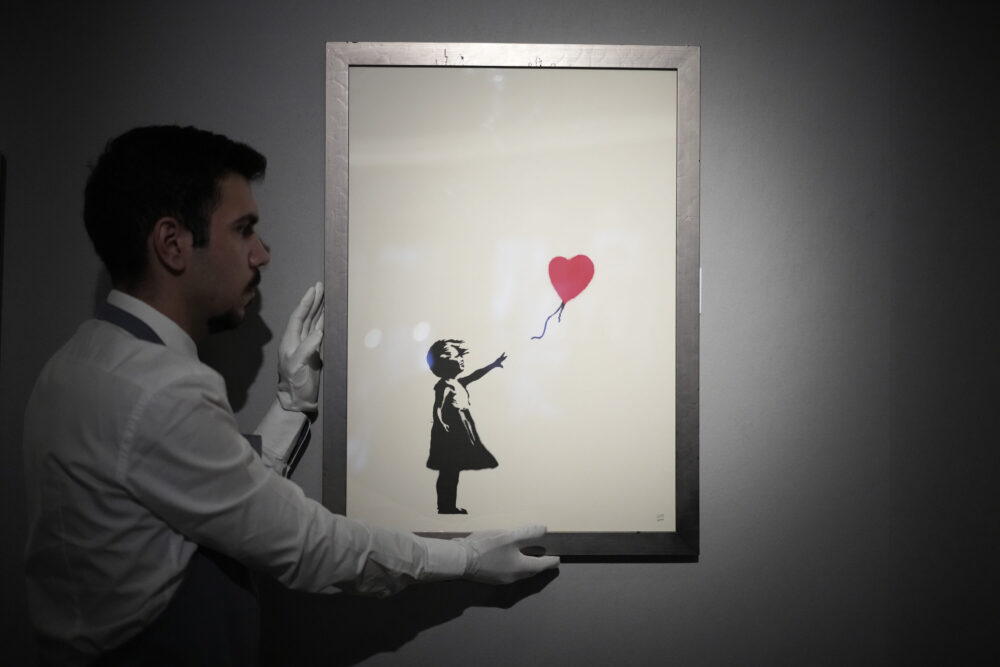 Houstonians still have a chance to visit "Banksyland," the touring exhibition featuring authenticated works as well as recreations inspired by the British street artist and political activist known as Banksy.
The exhibit, which is unauthorized by the well-known but pseudonymous artist, opened in Houston's EaDo neighborhood last weekend with sold-out showings. Tickets remain available for additional showings this Friday and Saturday at The Space HTX, 2005 Commerce St., with viewing slots available from noon-8 p.m. each day. Tickets can be purchased online and are $22 for students, $29 for general admission and $59 for VIP passes.
In an interview on Houston Matters with Craig Cohen, exhibit general manager Britt Reyes described "Banksyland" as a way to make Banksy's artwork accessible to a broad audience. Reyes said his pieces could be purchased for about $60 in 2003, before Banksy's rise in popularity.
"Today these pieces begin at $150,000 working their way into the multi-millions, often making these pieces and this art out of the realm for most folks," Reyes said. "Which is why it's so important that we were able to curate this to truly share this work."
Still, the touring exhibition produced by international experiential arts company One Thousand Ways has drawn criticism for being unauthorized by Banksy and antithetical to some of the themes of his artwork and activism. He is known as being critical of authority, governments, capitalism, commoditization and even his own fame.
Reyes acknowledged that criticism and said selling tickets to the exhibition is necessary to help cover staffing and traveling costs as well as renting out studio venues such as The Space HTX.
"I would love to open this exhibition for free to everyone," Reyes said. "If anyone is experiencing a hardship or students or they just want to come in and they don't want to pay, we're going to keep our doors open."
The exhibit features a wall of authenticated Banksy pieces that were loaned from private collectors and gallery owners, according to Reyes, along with fabrications of some of his work. There is an elephant sculpture spray-painted in gold and magenta patterns, for example, that references Banksy's first U.S. exhibit in 2005 in Los Angeles, where a live, painted elephant was brought into a space decorated like a living room and with Hollywood celebrities such as Brad Pitt and Angelina Jolie in attendance.
"Banksy was calling out the elephant in the room," Reyes said. "Among other global crises at that time in history, 1.2 billion people did not have access to clean water. Yet the influence, the wealth of some of the folks that came into this space could have almost instantaneously done something about that."
Among the other well-known Banksy works referenced in the Houston exhibit is "Girl With Balloon," an iconic stencil mural of a young girl reaching out toward a red, heart-shaped balloon that is just out of her grasp and floating away. Reyes said it represents the fleeting nature of the girl's innocence and safety net within society.
Along with street art and sculptures, "Banksyland" also features traditional oil-on-canvas paintings and work that draws inspiration from the late Andy Warhol. Reyes said it's a testament to Banksy's versatility and suggests he might have been classically trained as an artist.
"We are hoping that this can inspire some laughs and humor," Reyes said, "and also really some movement as we try to add this light and salt back into our world."