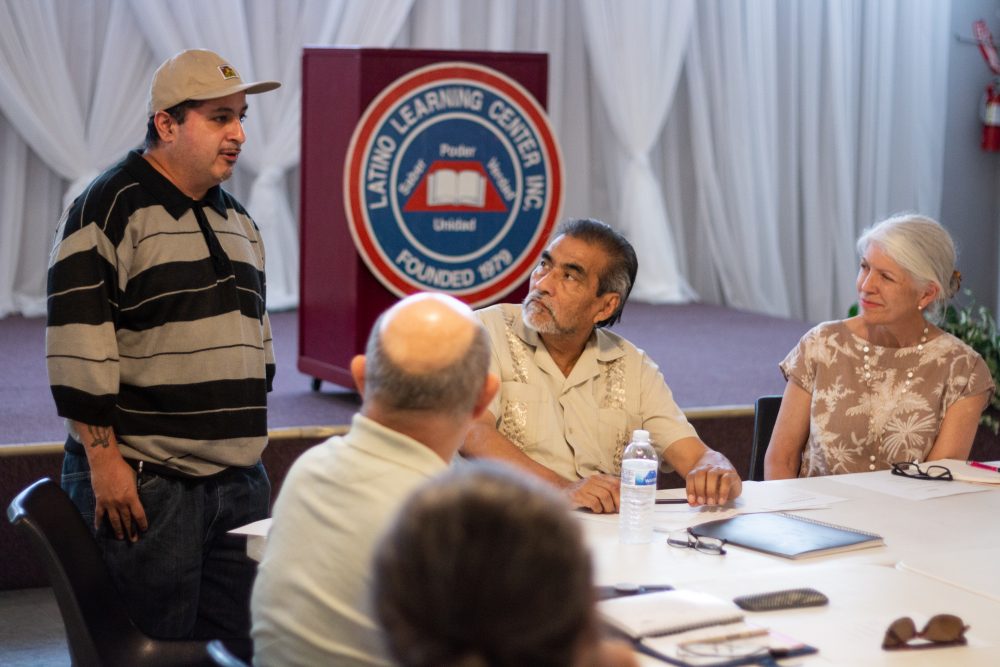 Local Latino community leaders are looking for ways to preserve and promote public art that tells the story of Latino culture in Houston, in response to the removal of a nearly 30-year-old Heights mural.
Community stakeholders met Saturday at the Latino Learning Center in the East End to discuss the preservation and planning of cultural murals. The catalyst for the event was the news last week of the 20-by-60-foot mural's removal from the outside wall of an Airline Drive washateria.
The mural had several images that centered around the red zoot suit of Pancho Clause — the alter ego of community activist Richard Reyes, who helped assemble the group that included local political leaders and notable mural artists from Houston Saturday.
Hugo Pedraza helped create the mural back in 1994 while a student at Reagan High School, now known as Heights High School.
"It was a timeline of the Chicano culture back from the Aztecs to Christianity, through zoot suits, and the final piece which I painted, was a child being educated wearing a Cesar Chavez t-shirt," he said. "Very powerful Chicano symbolism."
Pedraza, who created the mural alongside fellow student Dante Rodriguez, said he doesn't know in what capacity he'll be participating in the new mural project, but came back after seeing the response on social media to the erasure of his mural.
"I felt it was my duty to come back," he said.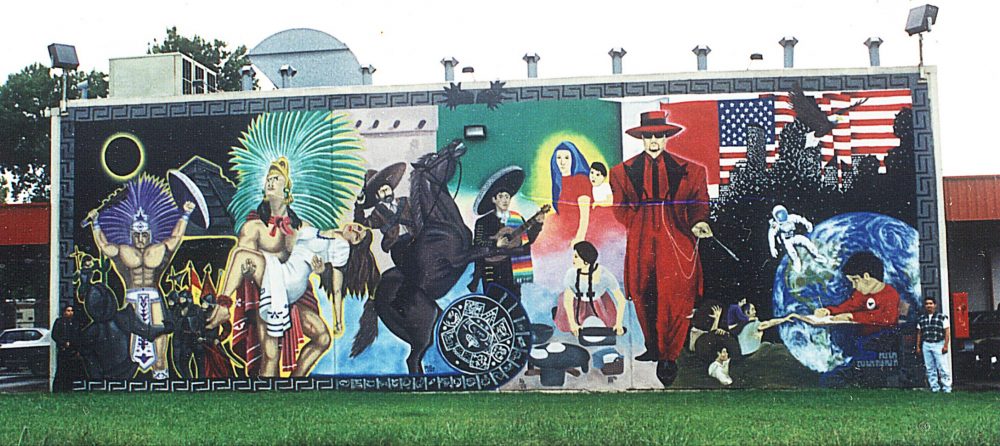 During the meeting, organizers heard ideas from community members about ways to preserve and recreate the works, and formed committees focused on finding funding and identifying artists.
District H Council Member Karla Cisneros, who was one of the 20 people in attendance at the meeting, pledged to help with the effort.
"There's so much value in building community through the arts," she said. "I was drawn to coming when I heard it was about identifying murals that were lost and possibly recreate them in other places. It's important to share with future generations. To be able to have something that anchors people to their past and their history is so valuable."
Bobby Ramos, an artist who runs a mural painting company, said cost was a big factor.
"Small murals cost like $2,500 to make," Ramos said. "And that's with paint sealer, prepping...concrete filler and things like that."
Ideas included the creation of murals on removable panels, so they could be moved from location to location as buildings are sold, and entering into contracts with private building owners to ensure murals don't get painted over if buildings change hands.
The Houston area is home to more than 750 murals, according to the website Houston Mural Map, a crowd-sourced database funded in part by the city. For some communities, the murals mean a lot more than just paining on a wall — they represent a link to their culture and history. But there's been no formal way to identify murals of significance to Latino and other communities.
But mural preservation is important to those communities, according to Edwardo Rodriguez of the Greater Houston LULAC Council. When murals like the one on Airline Drive are removed, it's more than just the loss of artwork.
"This is how our community expresses themselves is through murals," he said. "And this is not the first one. There's tons of them."