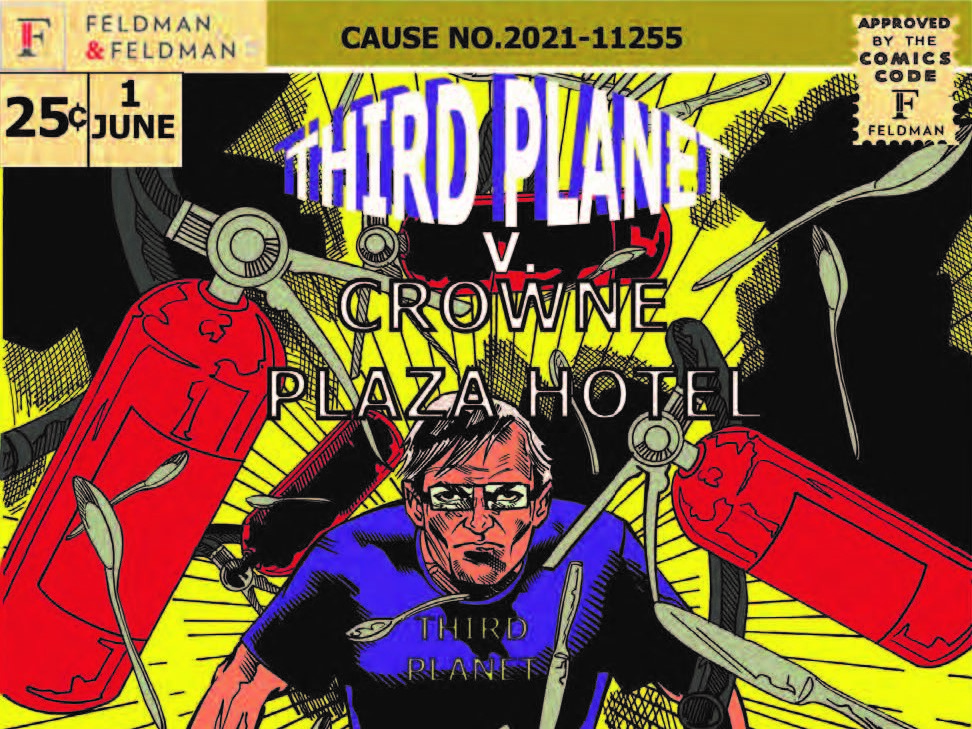 When a Houston comic book shop sued the hotel next door for negligence, it did so in perhaps the most fitting way possible: with a 13-page graphic novel, officially filed in Harris County District Court last Wednesday.
T.J. Johnson, owner of Third Planet Sci-Fi Superstore, filed the lawsuit against the comic store's neighbor, Crowne Plaza River Oaks, in February, for negligence, nuisance and trespass, alleging that the hotel allowed guests to throw "all manner of items" off of the building's balconies, including plates, luggage racks, and ladders — all of which caused damage to the shop's roof, the owner said.
The lawsuit, first reported by the Houston Chronicle, also names the hotel's parent company as a defendant.
Read the comic book below, and the entire lawsuit at the bottom of this story.
Johnson's attorneys commissioned four of the owner's friends to help create the book — which took the team two months to put together, the Chronicle reported.
The book depicts the issues that allegedly plagued the comic shop for years, eventually leading Johnson to install a new roof in 2008 — which was damaged soon after installation due to more thrown objects, according to the lawsuit.
The comic book also details incidents where hotel guests started fires after throwing lit cigarettes at the store, and depicts a day in March 2019 when guests allegedly threw at least 14 fire extinguishers onto the store, causing irreparable damage.
That damage left the roof structurally compromised, which allowed rain to seep into the store and damage rare items that were worth thousands of dollars, according to the suit.
Johnson is seeking monetary relief of more $250,000, as well as the closure of the hotel for one year after judgement.
Attorneys for Crowne Plaza River Oaks and its parent company, Pacifica Companies, did not immediately respond to requests for comment.
Read the entire lawsuit: