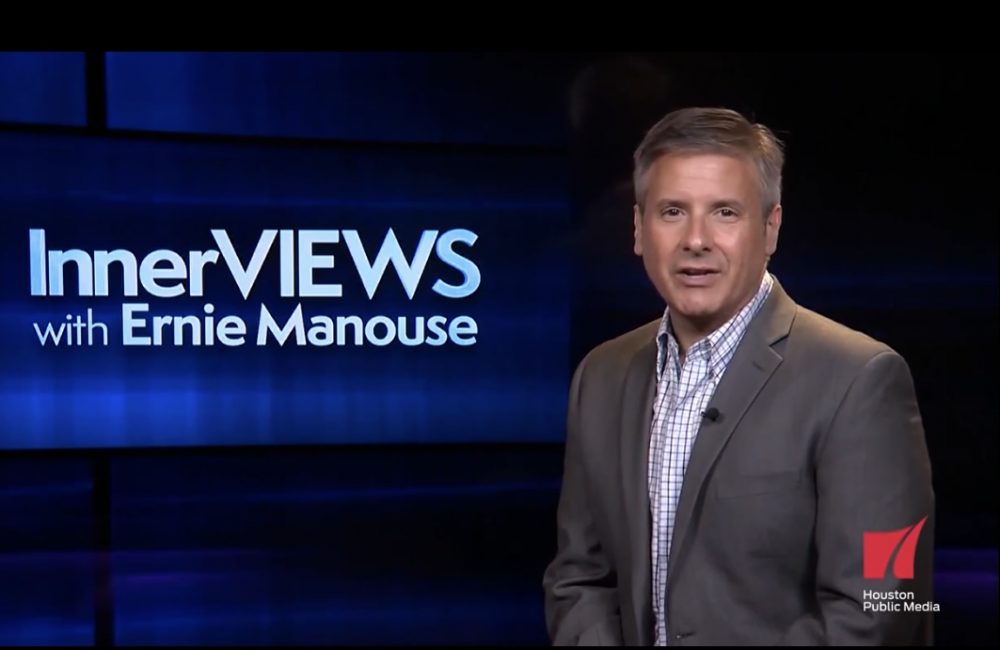 When Town Square With Ernie Manouse airs on Friday, it won't be a show about a hot-button issue of the moment. There won't be calls from people asking questions about COVID-19 vaccinations, or the latest guidelines from the Centers for Disease Control and Prevention.
Instead, the host and guests will shift their attention to the man behind the microphone himself: Manouse, the award-winning TV and radio host known for his quick wit and engaging interviews, will celebrate 25 years with Houston Public Media.
Most recently, that's been as the host of Town Square. But over the last quarter-century, Manouse has anchored television magazine shows, hosted arts and culture programming, moderated political debates, and produced impactful documentaries.
"It's the longevity in one place, one community, that gives me the feeling of family," Manouse said Thursday. "The listeners, the audience, they are not just passive observers, they are my friends and my family, and they are there with me through the good times, and the bad."
Manouse has been the host of Town Square for more than a year, taking calls, and interviewing experts to answer questions during an unprecedented time. The show — which launched as "Houston Matters Special Edition" in response to the coronavirus pandemic — has since tackled weighty topics like police brutality, gun violence, and the Israeli-Palestinian conflict.
"We've been able to focus on current affairs, we've been able to focus on breaking news, we've been able to deal in politics and social justice, and we have been able to do shows that bring a smile to people's faces and programming that has had the ability to make people think," Manouse said.
The show is just the latest in a long line of projects for which Manouse has taken center stage during his tenure at Houston Public Media.
He began his career in Chicago, cohosting a weekly magazine style radio show alongside his classmate at Loyola University, Gail Bajkowski.
The two hit it off immediately: Manouse leaned over and told a joke — "probably some obscure pop cultural reference" — and they immediately knew they would get along, Bajkowski said.
"He's always followed his own interests, I think, and his own passions," Bajkowski said. "And it's that passion that comes through in all the work that he does. And I think that's what came through, you know, even on a small college radio station in Chicago."
It doesn't surprise her that Ernie's been at one station for a quarter of a century.
And it doesn't shock other members of Houston's media who've stayed friends with Ernie over the years, like Frank Billingsley, chief meteorologist at KPRC.
"Ernie is in exactly the right place, and the job that Ernie should be in, because he's so good at it," Billingsley said.
Manouse's start in Houston came after a job recommendation from novelist Barbara Taylor Bradford, who Ernie had interviewed many times while in Chicago. His first job was cohosting what became an award-winning television magazine show WeeknightEdition with Doris Childress.
Ernie's first boss, Lisa Yorum, took a chance on him, inserting him into an already established show even though her audience had never heard of him.
"I never, ever got as much as one comment about him being from the outside," Yorum said. "And I think that also speaks to the Houston community. I think that we are, generally speaking, a very welcoming community. Because he became a Houstonian almost immediately."
Former Houston Mayor Annise Parker, who was a Houston City Council member at the time the show ran, agreed that Manouse was welcomed early on. But she added it went beyond what he was able to do on TV: He was active and visible in the community.
"You know in some ways Ernie is the quintessential Houstonian," Parker said. "Because he came from someplace else, he connected himself into the community seamlessly, and he has made Houston better."
In addition to his television and radio work, Manouse has helped support both Houston's performing arts and LGBTQ communities. In 2011, he was inducted by former talk show host and philanthropist Joanne King Herring into the "Houston Treasures" — an organization that recognizes people who raise money and help the community over long periods of time.
Among Manouse's most celebrated achievements are the numerous PBS specials he hosted with Suze Orman, which raised tens of millions of dollars for public television over the years.
Orman has fond memories of those shows.
"The key to the success is to have Ernie standing next to me," Orman said. "It is our chemistry. It is our love for each other. And it is our desire to truly want the best not only for public television, but for all those who are going to send in their hard earned money to participate in the magic that we had created."
Manouse has earned a variety of awards throughout the last 25 years, including 11 Emmys.
Many of the people Manouse has interviewed over that span have come to think of him as a friend. That includes musician Lyle Lovett, who called Manouse's show Innerviews one of his favorite shows to go on.
"Ernie has that kind of engaging personality that even when you first meet him, you feel like you've known him your whole life," Lovett said. "So I feel like I've always known Ernie."
​Someone who has known Manouse for a long time is Houston Public Media's Associate Vice President and General Manager Lisa Shumate, who said there's no better person to help navigate through the pandemic as the host of Town Square.
​"He's an extraordinary listener," Shumate said. "I just want to say how lucky Houston and Houston Public Media is to have the commitment and dedication of Ernie Manouse all these years. He is a tremendous talent. And the passion and dedication he has specifically for public media has contributed to our success in so many ways."
That passion and dedication is what Manouse said guides him each day.
"We must always remember the power of the medium," Manouse said. "It is just so vast, and encompassing, and I think if you ever forget, then you probably shouldn't be working in this field. Because we have been given a responsibility to use this power wisely, and humbly, and it's not a responsibility I take lightly."