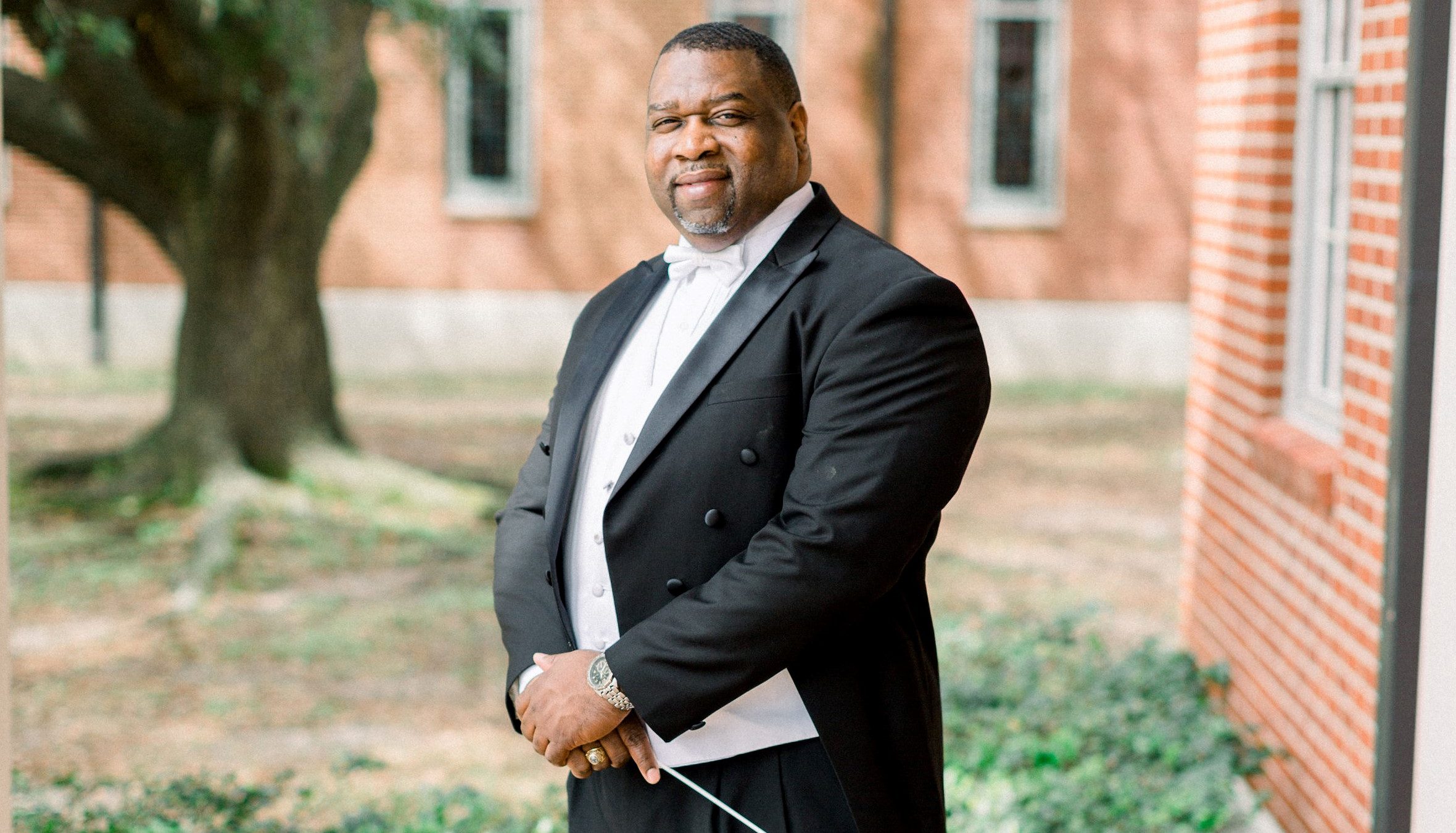 Clarence Frank remembers first hearing the music of Beethoven in sixth grade.
"I heard all of the instruments just coming together as one," he said. "I was just thrown into another world, and my imagination just (went) wild."
His love of classical music led to him to a career as a conductor, music educator and cellist – he's played in the Baytown Symphony for about 25 years – and in January he was named the orchestra's new music director and first African American conductor in its 53-year history.
Frank is also the only African American music director of any community or professional orchestra in the Houston region, based on Houston Public Media's review of multiple local orchestras.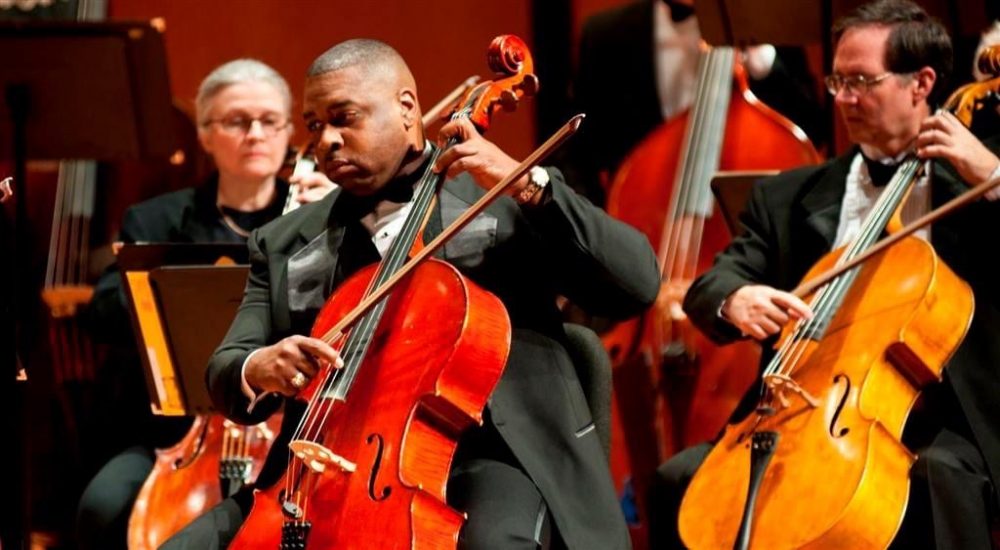 His appointment comes at a time when only about 4.3% of U.S. orchestra conductors and less than 2% of orchestra musicians are African American, according to a study by the American League of Orchestras.
The overall percentage of non-white conductors has been increasing slowly but steadily, from 15.7% in 2006 to 21% in 2016.
"In the classical music world, or in the symphony world, there's not a lot of people of color," Frank said. "So it just means a great deal to me that I was given this chance to show that, you know, we have an interest in this."
There have been national initiatives to champion classical artists of color, as well as changes in artistic leadership in Texas, including the appointment of Afton Battle as Fort Worth Opera's first woman and Black general director this past fall.
Houston has also made strides in recent years, notably with the commencement in 2014 of Andrés Orozco-Estrada as the Houston Symphony's first Hispanic music director.
All of this points to a gradual trend towards greater racial and ethnic diversity in classical music – a shift Frank has witnessed in his own teaching and performance career.
The conductor said when he began teaching 16 years ago, he didn't know of very many people of color in music education. But as time passed, Frank said he's seen more people from underrepresented communities majoring in music and becoming teachers, and he's seen better representation in larger orchestras.
"I think, yes, definitely we're going in the right direction," he said. "Can we do more? Oh, absolutely."
The key is encouraging more young musicians of color, Frank said.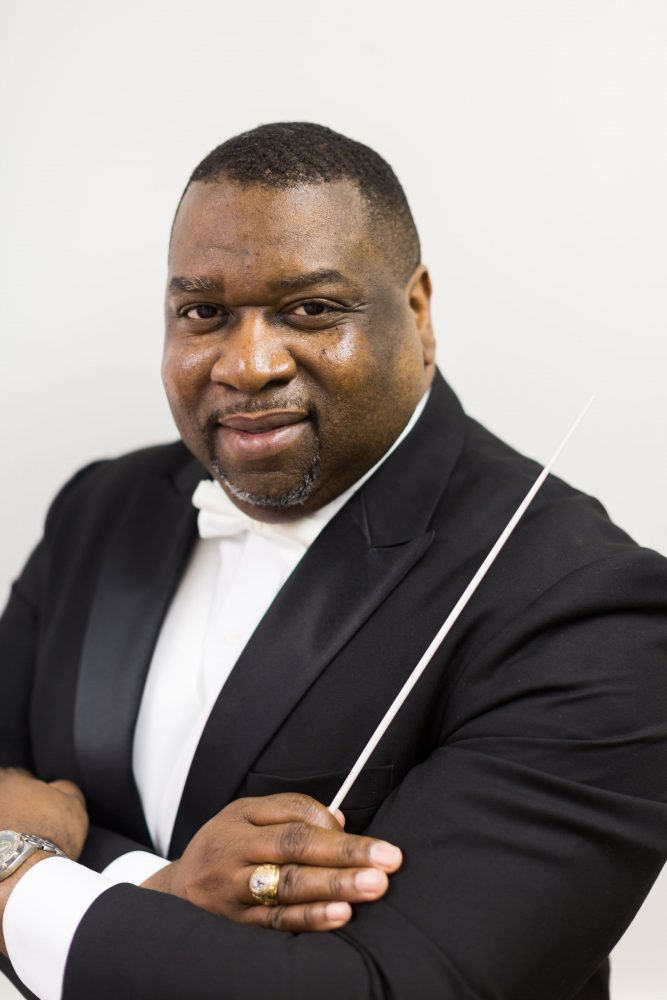 "I would hope that maybe people, through me, can see that, yes, it's possible," he said. "And they would be encouraged to audition for these things, and to go for them without any reservation."
Frank said he aims to use his position to build more diverse audiences by highlighting underrepresented composers – composers of color and women composers, whose works can be overlooked.
"We have the great 'Mozarts' and 'Tchaikovskys' and everything," he said. "But there's also the great 'Duke Ellingtons,' and the great 'Wynton Marsalises' that don't get much exposure (as classical composers.) So once they see this and they say, 'Hey, these guys did symphonies. Man, this is incredible!' — it just opens up lots of doors for other African Americans to come into this position as well."
As a Baytown native, he also plans to feature "hometown heroes" – local musicians who have gone on to great things, like Broadway star Alan H. Green.
And he said he's looking to program a gospel Christmas concert in collaboration with some of the African American choirs in the area.
Frank's first concert as conductor of the Baytown Symphony is tentatively scheduled for April, with details pending COVID-19 safety guidelines. The orchestra's past performances can be streamed from its YouTube channel.
While the Baytown community has faced recent racial controversies, like a failed effort to rename Robert E. Lee High School and a renewed movement to change the offensive name of a lake, Frank said his appointment is an indication that change, however slow, is coming.
"I do think that they are taking into account of the long-standing repercussions of things like Robert E. Lee High School and the lake," Frank said. "And I think that they're doing what they can to, you know, do the right thing, and do right by every citizen of Baytown."
Listen to the complete interview with Clarence Frank below: