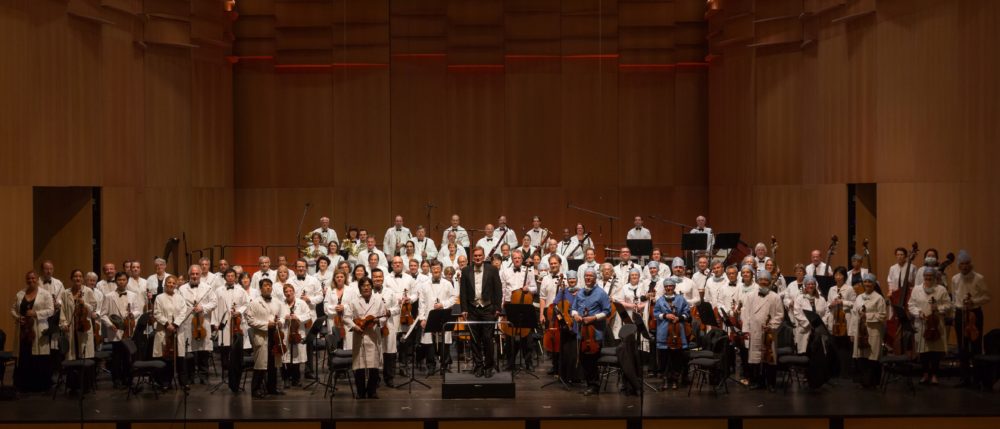 Made up of physicians from around the world who are also highly-trained musicians, the World Doctors Orchestra performs three to four international concerts a year to raise funds for medical causes — and this year Houston is one of the stops.
"I think one of the basic tenets of the orchestra is that healthcare is a basic human right," said Dr. Charles Lee, a Houston anesthesiologist and violinist in the orchestra.
The orchestra will perform a public concert on Saturday, August 17 at 7:30pm in Rice University's Stude Concert Hall. Proceeds will benefit A Children's House For the Soul, a local non-profit that provides social and emotional support for kids and families dealing with skin disease.
Lee and his wife, Dr. Grace Lee, a fellow WDO violinist, organized the orchestra's Houston debut.
"I think it gives us a chance to showcase not only the Medical Center but our great city," said Charles Lee.
The international group will have the opportunity to visit NASA, as well as the Texas Medical Center, which houses more than 20 hospitals with thousands of physicians concentrated in one area.
"We are serving as ambassadors and sort of bringing world peace, to show that we can work together, people from different countries. You know, we live in a very challenging time right now," said Grace Lee.
The WDO will present additional community events during their week-long Houston residency, including a lecture on the interplay of music and medicine by conductor, Dr. Stefan Willich, at UT Medical School on August 13 at 12pm and a free concert at Houston Methodist Hospital on August 16 at 5pm.
Listen to the complete interview with Charles and Grace Lee on Houston Public Media's arts podcast, Unwrap Your Candies Now.