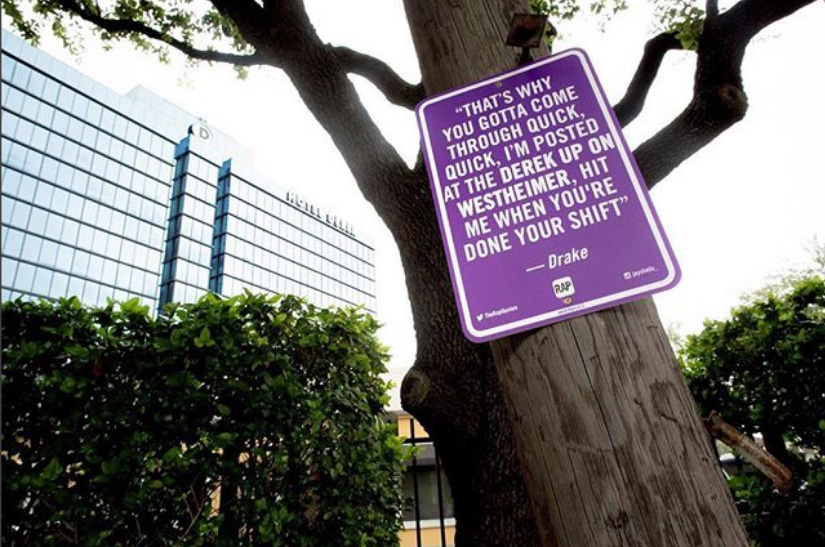 Purple street signs with bold lettering popped up around the Bayou City this past weekend. The signs resemble regular traffic signs, but display lyrics from iconic Houston rappers such as Bun B and Travis Scott. They're part of a traveling street art project called "The Rap Quotes" by New York based artist Jay Shells.
"It's sort of like a gift for people who pay attention to their surroundings," Shells said. "Like if you spot it, you sort of do a double take like—'Wait a minute. What is that?' You think it's a 'No Parking' sign, but upon close inspection you see what it really is, and that's kind of the fun of it."
The signs were placed in the locations referenced by the lyrics they display, such as the Astrodome, cited by Big Hawk in Trae's "Swang" and Willowridge High School, referenced by Z-Ro in a remix of Slim Thug's "I Run."
Shells said his favorite location he visited over the weekend was Mason's Pawn Shop on Cullen Boulevard, which Houston rapper Scarface references in "Geto Boys and Girls" by the Geto Boys.
If a lyric on one of his signs is referencing a particular business, Shells said that he'll make a second copy of the sign as a gift to the business owner. Most of the time, he said, they have no idea their store was mentioned in a rap song. However, at Mason's, the owner was familiar with the lyrics, Shells said.
"I put the sign on the counter and [the owner] read it and he started smiling and he said, 'Oh yeah!' I said, 'Do you know this song? Do you know who Scarface is?' and he said 'Of course! Matter of fact, this really happened. I was here working that day... He really did come in here and buy a gun!'" Shells said. "That was just so cool. It really made my weekend."
Many locals reached out via social media and expressed their appreciation of his project, according to Shells.
"The reaction has been so overwhelmingly positive," he said. "People are excited and appreciative and just seem to be feeling it, so there's a real... a very obvious sense of pride for Houston's hip-hop scene and its contributions."
Nearly all the street signs, which were posted on Saturday and Sunday, have since been stolen as souvenirs. Shells plans to take "The Rap Quotes" to Chicago next.