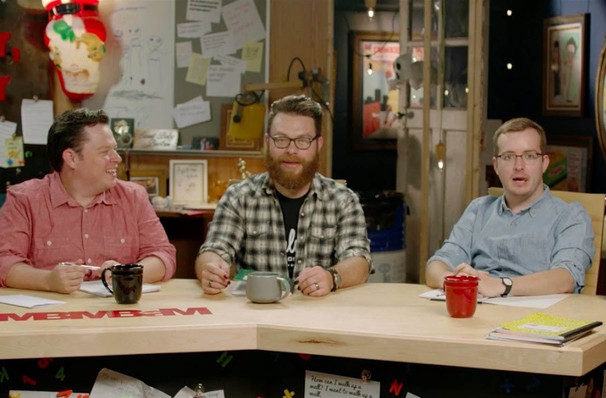 Justin, Travis, and Griffin McElroy are three brothers who like to dish out helpful advice...sort of. Their long running comedy podcast My Brother, My Brother and Me is, as they call it, "an advice show for the modern era."
The brothers take questions from listeners — along with selected questions from the Yahoo! Answers service — and offer up whatever advice they can muster for a variety of strange situations and hypothetical conundrums. It's important to note, as the opening disclaimer to every show says: "The McElroy brothers are not experts, and their advice should never be followed."
What ensues are a series of good-natured riffs and jokes (or "goofs," as the brothers like to call them) on whatever topic is presented to them. And maybe there might even be little useful nuggets of advice on occasion.
Though the show is usually recorded by the three in their own home studios, they occasionally travel to different cities for live versions of the show, including a live show in Houston April 15 at Jones Hall.
Ahead of the event, Houston Matters producer Joshua Zinn spoke with eldest brother Justin McElroy about how the show came to be, the live show experience, and the lessons he's learned doing the podcast.