What do artists do in their free time? What inspires them in their everyday life? How do they start their day, tackle their creative processes, balance work-life, and then unwind – all within 24 hours?
In this series, A Day in the Life of an Artist, we invite artists to answer those questions by pulling back the curtain on one day in their lives.
Fred Umali is from San Jose, California. He joined Cirque du Soleil in 2004 for the general formation of the show Corteo, which premiered in 2005. He has worked on the creation of Corteo and Viva Elvis.
Umali will perform on tour with Corteo, coming to Houston March 8 – 11 at the Toyota Center. He is one of the few original cast members remaining. Corteo was transformed from a Big Tent show to an arena show in 2016, with new acts added.
Here is how Fred Umali spent February 16, 2018 in Québec City, where he was preparing Corteo with Cirque du Soleil.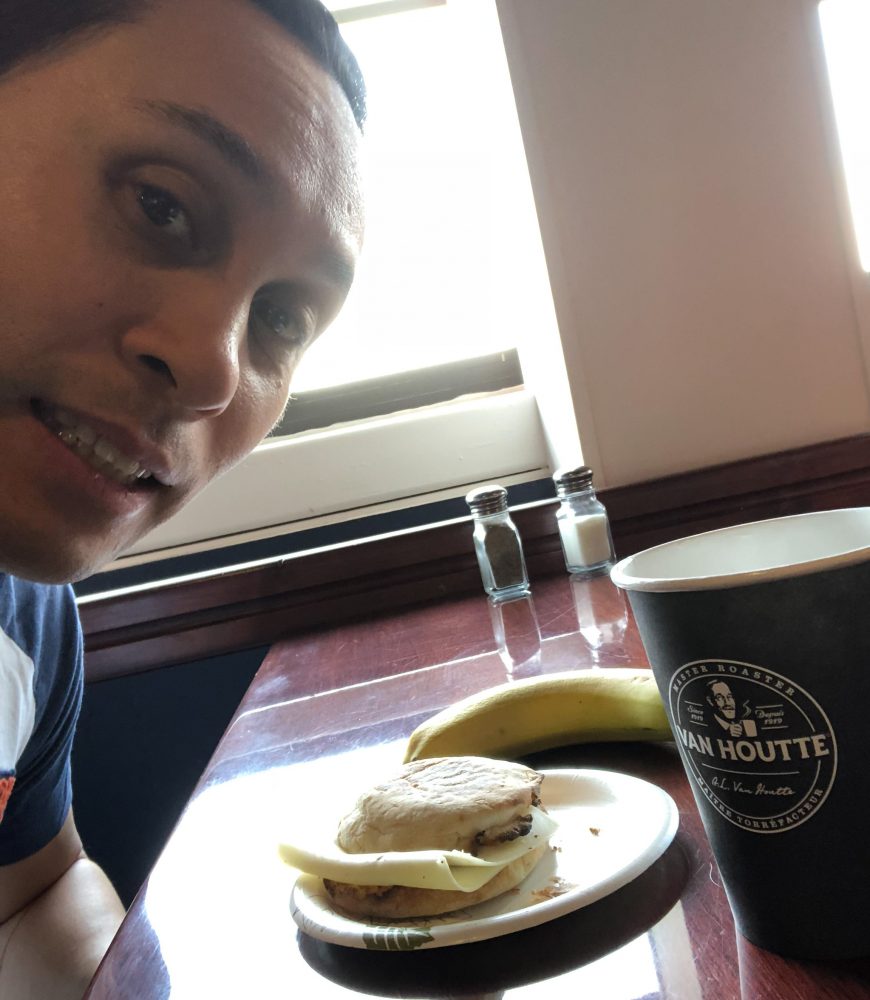 8:00am – I like to get up early in the morning if possible. I'm very much a morning person. I like my coffee/tea and a good breakfast to get my day started. I often eat a couple eggs with maybe toast, bagels with cream cheese and maybe capers and lox if I can get it. Breakfast is one of my favorite meals, and I love cooking when I can. I'm always trying new recipes.
When I'm home in San Jose, I enjoy spending the mornings getting my daughter ready for school. I'm often away, so I try to get quality time in when I can. Even the most mundane tasks like getting breakfast ready and taking her to school are always a pleasure for me.
When I have time to myself in the morning, I often do a bit of stretching and meditation. Having internal energy is important to me as physical preparation for performing.
10:00am – Trainings usually last an hour or 1 ½ hours. Warm up, stretching, conditioning, cardio, and weight trainings. Even though I don't have a specific diet, I like to keep a balanced diet. But I do love to eat and sample all the local food wherever we travel. That's one of my favorite things to do while touring. I'm really partial to Mexican food. When I had the opportunity to tour in Mexico, I was ecstatic. I think it was in Guadalajara – I found a street vendor doing tacos. I stopped and bought a few, and was blown away by the simplicity and freshness of the carne asada and salsa. Needless to say, I went back a few more times before leaving the city.
I believe in my mind that I'm an adventurous person. Living is about taking chances on and off stage. Searching out moments is easier when you're in beautiful new places that quite possibly you might never get to see again. I feel after every city on tour, we've only had a taste of what each one has to offer. I'm not sure I can pinpoint one place that I've traveled that was most memorable to me, but if I had to choose a country for an overall experience, I think I'd choose Brazil. It's such a vast and diverse country with so much color and a people who have a zest for life – something you see in how they hold celebrations (my favorite was spending New Year's Eve in Rio de Janeiro) and the flavors of their food that have been influenced by so many different immigrants from all corners of the globe.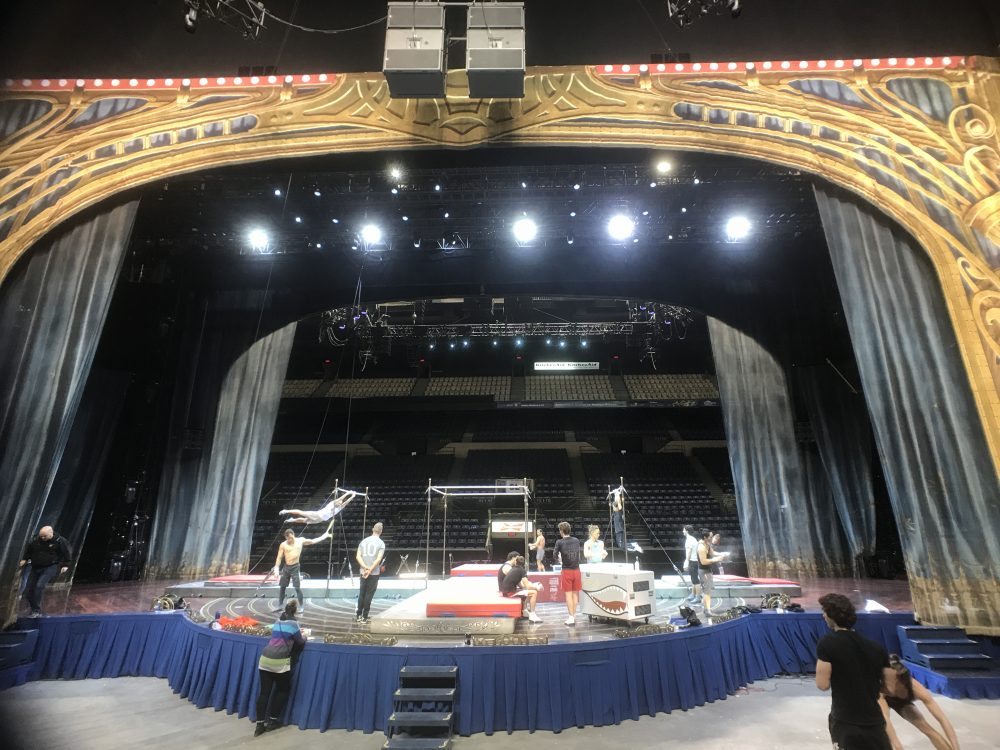 10:50am – When we have rehearsals, it usually requires me about of hour of basic exercises and conditioning, along with stretching, before staging acrobatics. I perform in an act called "Tournik" in Corteo. It consists of six bars with four arranged in a cube form and two standing alone at either end of the stage. Along with about nine other guys in the act, we usually practice individual skills along with group images that require very precise timing and coordination.
The funnest part of my act is being able to gauge and see the reactions of the audience when we perform daring and close-call acrobatics. Seeing the wonder in people's eyes, as they forget about daily life for a moment, is a great satisfaction. The most difficult part of our act is generally feeling in sync with the other guys. We are all human and have our good and bad days. The challenge to be there for one another is also what makes us close as a group. We trust each other.
My mornings are pretty slow, since we usually stay up pretty late unwinding after shows the night before. The early afternoon consists of a good lunch and more training – whether it's staging the show, training the act, or working out to keep fit and limber. Prior to showtime, I usually take about an hour or so to do some conditioning and stretching to prepare myself for the show.
In a nutshell, Corteo is about a Clown who dreams of his funeral. All the people that pass through life at one time or another are there. Memories, past close friends, and lovers – all mixing and celebrating his life, hovering somewhere between a dream and the heavens.
I was originally a gymnast (I started gymnastics around age 6), and I competed nationally and internationally for the U.S. I found circus when I was living in Australia in 2001. A good friend I made there was a performer in another show, Saltimbanco, for many years, and he suggested I audition for Cirque. Before that moment, I had never considered circus arts and definitely never thought of it as a career. After a few more years of gymnastics, I decided it was time to take the next step and try out Cirque. I did a general formation in the spring/summer of 2004 and was finally offered a contract for the creation of Corteo near the end of the training. I found a love for the circus that I didn't know I'd find. The people and performing are so different from sport. I believed I found a place that would nurture my acrobatic prowess and flair for the drama of stage.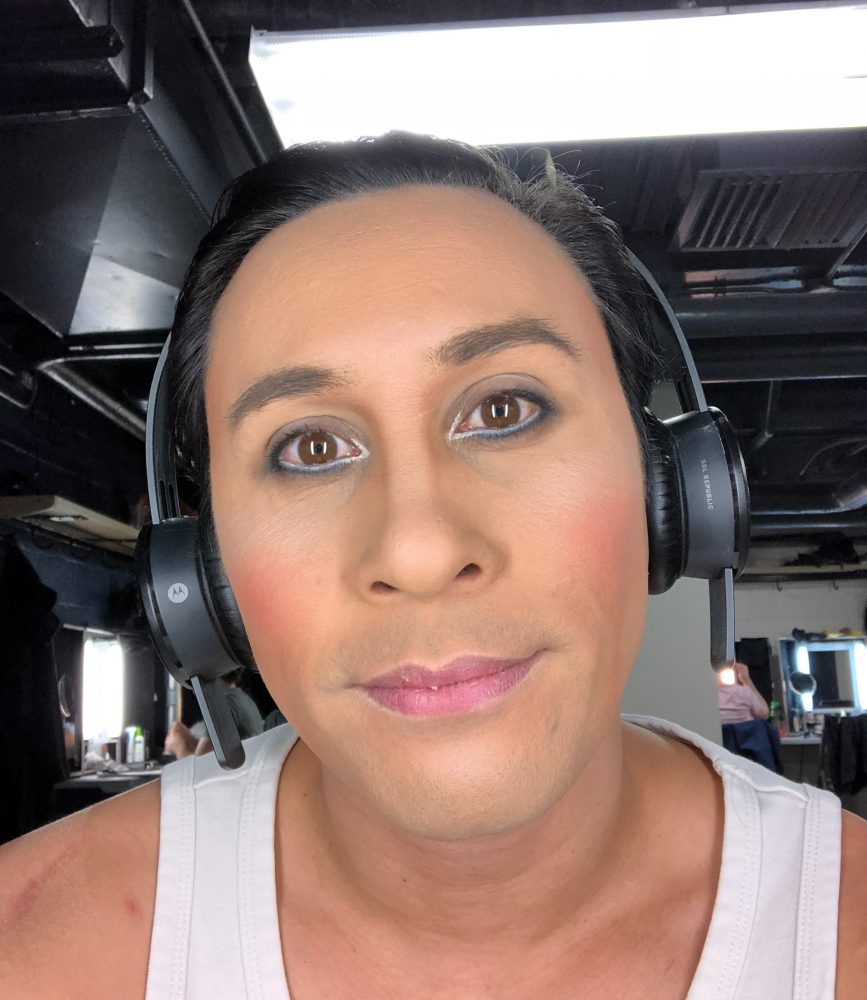 5:10pm – Getting ready for the show is a routine. I come to work, maybe have a small meal or snack, and put my makeup on (usually takes me about 20 – 30 mins while listening to music). I listen to many different types of music depending on my mood, and I love picking random stations on Spotify to discover new music. But I mostly listen to Electronic, RnB, Rap, Acoustic, and Latin.
I organize my preset (costumes and such), then start a warm up of active stretching, mixed with some conditioning exercises. Put on my first costume and get ready to do a show. Pre-show rituals usually involve a lot of personal handshakes/hugs/besos with friends and wishing colleagues a safe show. The show begins, nervous energy and all.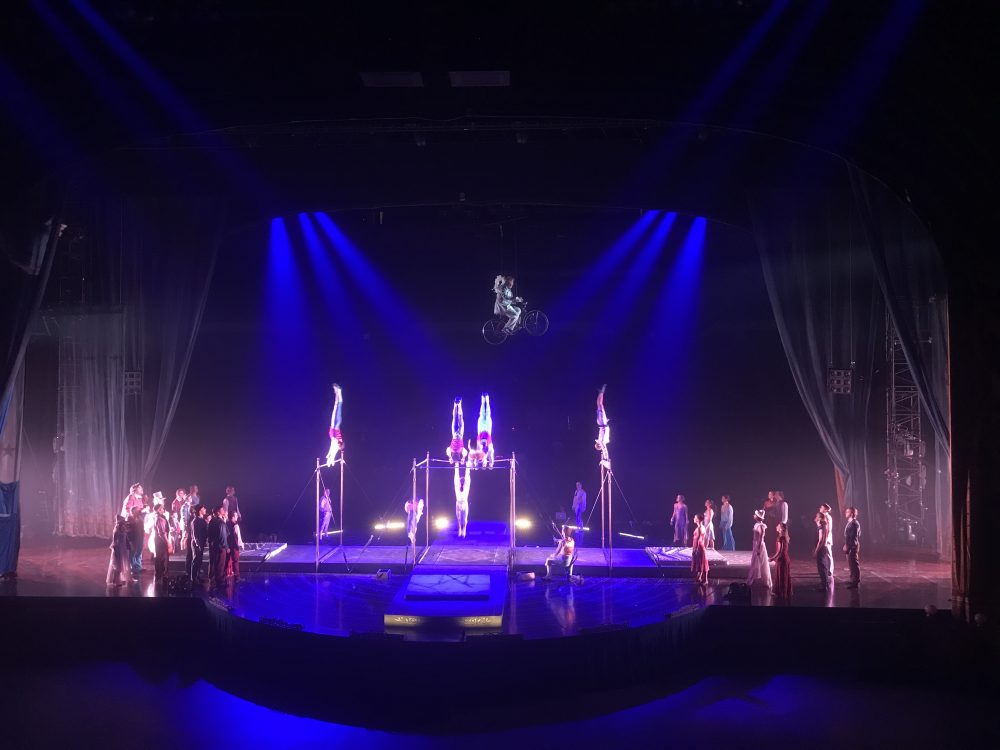 8:55pm – No audience in the rehearsal tonight, aside from the director and technical staff. The show went well. All things technical and acrobatic went well, considering a lot of this production is still new for many artists and production staff. All normal for a creation process. Post-show I rehydrate with some water, and then begin the process of returning costumes and removing makeup.
Performing in Corteo is an interesting experience. Everyday has a life of its own. And I believe that's the way creator Daniele Finza Pasca envisioned it. For me, this is such a liberating feeling. Being able to perform within a form created in his mind and to adapt that moment to my ever-changing environment is a rewarding challenge. As for getting nervous, yes – I still do feel butterflies in the stomach before I go onstage. Yet, over the years I've been able to use this energy to inspire my performance.
Working as an artist in a community like Cirque is an experience that I will live for as long as I can. It is truly different than any other job I've had and the romance of "running away with the circus" is a well-founded notion. Together we work, play, live, love, laugh, and go through life's pain on and off-stage together. You make friends you never believed you would have made otherwise, and you soon get used to saying "hello" and "goodbye" to people and places often. You get a bit numb to it, but in the back of your head you think, this is truly a small world and often you'll run in to the same beautiful people again.
Being an artist on stage with this show has taught me immeasurable things about who I am as a person. I've grown so much since I've joined this company. I've realized things about my life and my personality that I could have only found by being exposed and vulnerable on a stage with hundreds of eyes watching. Some may find being in that situation intimidating, but when I perform, it's liberating and peaceful and fills me with a chorus of emotions not many experiences in life could bring. I'm happiest there, and I truly couldn't ask more of a job.