On this week's episode, we join in the worldwide celebration of Bernstein at 100, a two-year festival celebrating the composer's centennial. We'll hear favorites by Bernstein and learn about his musical life as we pay homage to this brilliant musician.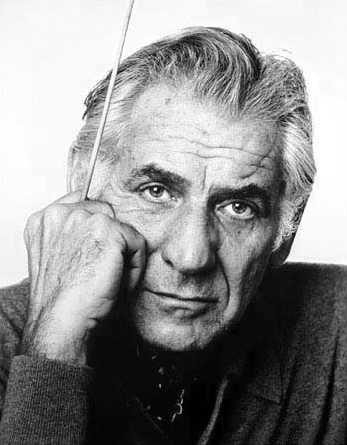 Leonard Bernstein: Overture from Candide
Moores School Symphony Orchestra
4/26/2014
Moores Opera House
Written in 1956, the operetta Candide is a classic musical comedy based on a novella of the same name by Voltaire. In the overture, Bernstein re-imagines music that the audience will hear throughout the show. Though it opened on Broadway, the overture was rapidly adopted by orchestras. In fact, Bernstein included it on a New York Philharmonic program that he conducted in 1957.
Aaron Copland: Billy the Kid (Suite for Two Pianos)
Howard Pollack and Levi Hammer
11/14/2004
Duncan Recital Hall
Leonard Bernstein was the first internationally-recognized musician to emerge entirely from the American education system. After studying at Harvard University, he attended the Curtis Institute of Music. During his undergraduate career, he met composer Aaron Copland, who would prove to be an important influence: Bernstein later would refer to him as "his only real composition teacher."
Bernstein/ Grundman: Slava!
MSM Wind Ensemble
12/7/2012
Moores Opera House
Bernstein met the famed cellist Rostropovich when the New York Philharmonic toured Russia in 1959. 18 years later, Rostropovich would become the new director of the National Symphony Orchestra, premiering "Slava!" a new overture by Bernstein. The Russian title, meaning "glory," was especially poignant; it was one of Rostropovich's nicknames, derived from his first name, and, through quotation of music by Mussorgsky, hints at the cellist's homeland.
Leonard Bernstein: Symphonic Dances from West Side Story
Texas Music Festival Orchestra
7/3/2009
Moores Opera House
Finally, we'll hear Bernstein's tribute to Romeo and Juliet. In "West Side Story" Bernstein transplanted the star-crossed lovers to New York, replacing the feuding families with rival gangs. The show opened on Broadway in 1957 and was an immediate success. The Symphonic Dances encapsulates nine episodes from the show, and includes favorites such as "Somewhere" and "Maria."
This episode originally aired Sunday, January 7th, 2018. Catch Music in the Making every Sunday at 7:06 PM on Classical.