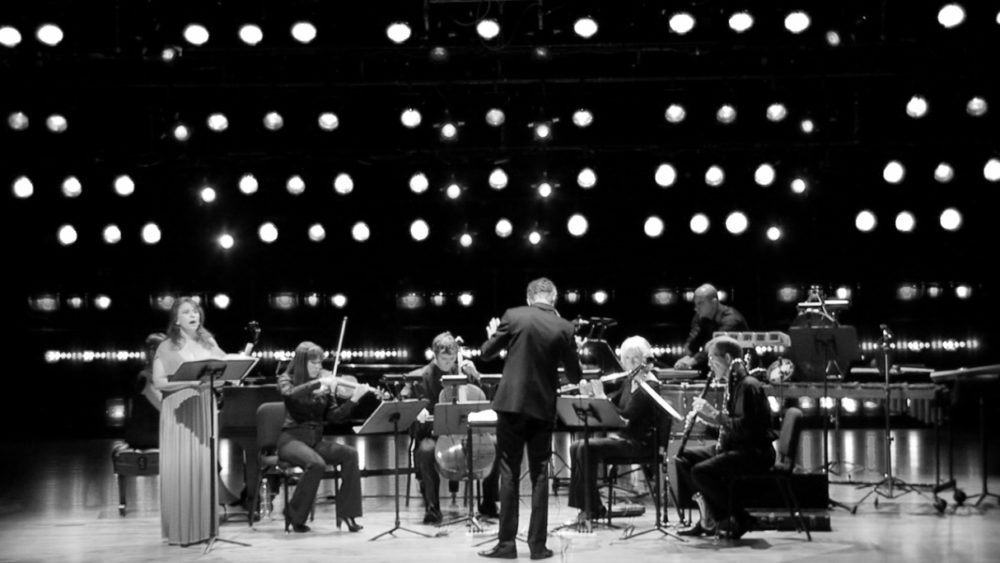 Anthony Brandt has a pretty full plate throughout the year. On top of being a composer and professor at Rice University, he's also the Artistic Director of MUSIQA. MUSIQA was formed by a group of local composers, Brandt, Pierre Jalbert, Marcus Maroney, Rob Smith, and Karim Al-Zand, and their focus is on music written by 20th and 21st century composers, with a constantly changing roster of musicians and collaborators for each concert.
The organization is about to embark on its 16th season, simply called Music+. What does that mean? Read on to find out! Anthony tells us about what to expect from the upcoming season, why collaboration is so important to him, and his thoughts on how Harvey affected the arts community. You can also get to know a little bit about Anthony himself in the sound portrait above.
As we recovery from Harvey, obviously Houston's arts community was heavily affected by the flooding. How has MUSIQA fared and will it affect your season?
We're very grateful that the Hobby Center made it through the storm. Our office didn't flood, and our staff and Board all made it through safely, which is a great blessing. That being said, Harvey has created an unpredictable cascade of after-shocks which have the potential to wreak havoc with what up until now has been steadily blossoming into a flourishing arts community. Small non-profits, in particular, are very vulnerable to even small dips in funding and attendance. So, while our problems do not compare with those of people who have lost their homes, etc., it is a worrisome time.
What is the theme of your season, or any unifying thematic elements between concerts?
Musiqa's 2017-18 is designed around the "Music Plus" concept—every concert includes another contemporary art form. In September, we collaborate with choreographers Annie Arnoult and Jane Weiner and Open Dance Project. In January, we're bringing neuroscientist and author David Eagleman to Houston for a fiction reading and a performance of Anthony Brandt's "Maternity," for which David wrote the libretto. In March, it's Musiqa at the Movies—a program featuring four experimental videos with live musical accompaniment. Finally, in April, we're bringing Pulitzer Prize finalist Kate Soper to Houston for two performances of her full evening music theater performance, "Voices from the Killing Jar."
How would you describe your season in three words?
Dramatic, experimental, fun.
Why did you choose this theme?
From Musiqa's inception, partnering with other contemporary art forms has been part of our mission.
How did you go about selecting the groups you'll be collaborating with?
Collaboration is part of Musiqa's life blood. This season, our collaborators include Open Dance Project, the conductorless ensemble Kinetic, neuroscientist and author David Eagleman, the new music ensemble Loop 38, and Houston Cinema Arts Society. Dance critic (and Editor-in-Chief of Arts&Culture magazine) Nancy Wozny introduced us to choreographer Annie Arnoult and her company. Musiqa has helped to mentor the young ensembles Kinetic and Loop 38. In addition to collaborating on "Maternity," Musiqa Artistic Director Anthony Brandt and David Eagleman have co-authored "The Runaway Species: How Human Creativity Remakes the World," which is being published in October. This is the fourth time Musiqa has partnered with Houston Cinema Arts Society. Several of us taught composer Kate Soper when she was an undergraduate at Rice, and are thrilled by her accomplishments: acclaimed New Yorker critic Alex Ross called a recent work of hers "a masterpiece" in an extended review. We're also excited to be working on several programs with conductor Jerry Hou, an exceptional musician and new music champion with whom we've worked several times before.
What is the importance of collaboration in this medium?
Audiences for modern art forms are often very fractured—and many people who are enthusiastic about modern visual art, theater and dance have rarely experienced contemporary music. We love bringing those audiences together.
When unifying two art forms as you're doing in each concert, what is something to keep in mind during the collaborative process?
Work with great people and give them the independence and support to realize their vision. We love to be as surprised as our audiences by what our collaborators create.
On a personal note, what was one of your most fulfilling collaborations (whether through MUSIQA or your career as a composer)?
One of my most fulfilling collaborations was with playwright Neena Beber, who wrote the libretto for my chamber opera "Ulysses, Home," which Musiqa premiered in January 2015. In addition to being an accomplished playwright and script writer for television (for instance, the HBO series "Ballers"), Neena served as a mentor in a writers group for veterans and their spouses. Out of those experiences, she crafted the libretto about a soldier with post-traumatic stress disorder coming home to his wife. Thanks to a grant from Texas Commission on the Arts and a private gift, Musiqa was able to offer free tickets to the premiere to 100 veterans and their families.
How are you opening the season?
We're opening the season with "Bodies in Motion," our collaboration with Open Dance Project and Kinetic at Zilkha Hall. The program includes three choreographic world premieres, to music by Lera Auerbach and Musiqa's Pierre Jalbert and Marcus Maroney. The program also includes a violin/cello duo by acclaimed composer Augusta Read Thomas.
How are you closing the season?
We're closing the season with two performances at the MATCH of Kate Soper's "Voices from the Killing Jar." Kate studied composition at the Shepherd School as an undergraduate. She's gone on to establish herself as one of the most acclaimed composers of her generation, including being named a Pulitzer Prize finalist in 2017.
How does this season "top" last season (e.g., are you challenging yourself or trying anything new this season?)?
Musiqa's 2017-18 season features our largest performing forces ever: the conductorless string orchestra Kinetic, and the chamber orchestra Loop 38. Our January "Looking Back in Time" program, featuring music by Musiqa's Pierre Jalbert, Karim Al-Zand and Anthony Brandt, features forty plus musicians.
MUSIQA specializes in performing contemporary music. What is the importance of presenting these kinds of works?
Nothing in human culture ever reaches an endpoint: we are constantly remodeling our heritage. Experiencing that is part of the fun of being alive. It is important to bring the leading edge of the arts to as broad an audience as possible.
Besides getting people to come to your concerts, what are your hopes for the 2017-18 season?
Houston views itself as an innovator in industry. We hope that the city will also recognize the many artistic innovations that are taking place in our city.