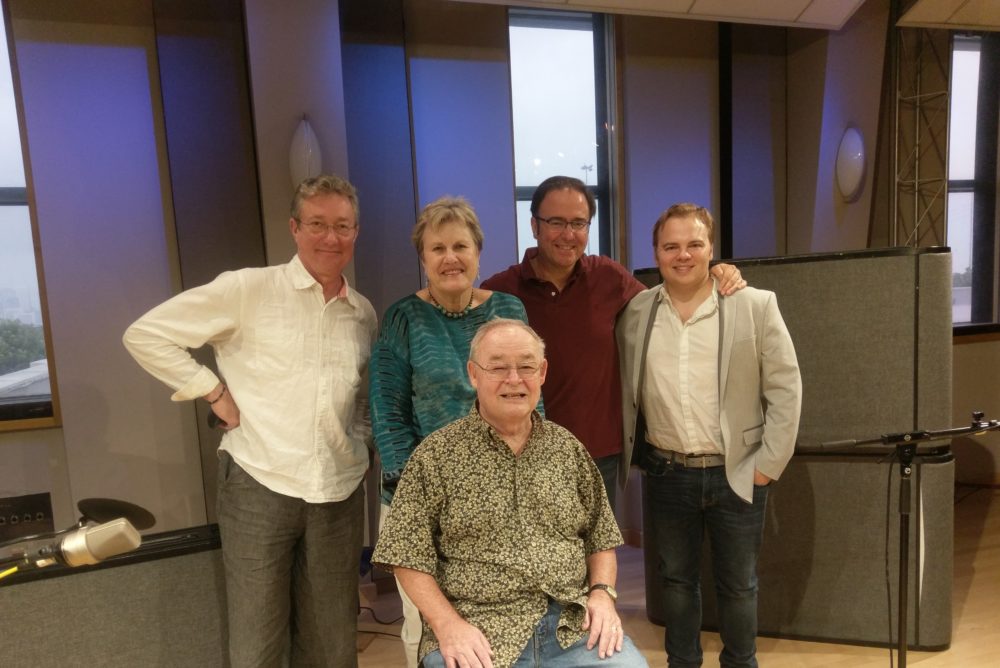 How does a piece of contemporary classical music become realized – from conception to creative process to funding to World Premiere?
Here's one story.
It's the story of a brand-new electro-acoustic string quartet co-composed by Christopher Theofanidis and Mark Wingate called What is the Word, inspired by Samuel Beckett's poem of the same name. The piece is the No. 11 commission by the Apollo Chamber Players for its 20X2020 commissioning series. Apollo will perform the World Premiere, alongside Beethoven's Irish Songs and Howard Ferguson's Five Irish Folk Tunes (featuring guest artists), on its season finale concert, Irish Odyssey, on Friday, May 5.
The story of that music's creation is interwoven with the story of Donald and Rhonda Sweeney, Houston arts patrons and philanthropists, whose Irish heritage (on Donald's side) and love of chamber music inspired them to become underwriters for the piece.
Apollo's Matt Detrick, composers Christopher Theofanidis and Mark Wingate, and The Sweeneys joined me in the studio to talk about how not just notes – but relationships, trust, mutual artistic respect and admiration, and financial support – led to this one-of-a-kind World Premiere.
MATTHEW DETRICK is co-founder, artistic director and violinist of Apollo Chamber Players. A graduate of Rice University's Shepherd School of Music, his principal teachers include Kenneth Goldsmith, Collette Wichert and the late Raphael Fliegel, former concertmaster of the Houston Symphony.
CHRISTOPHER THEOFANIDIS was recently nominated for a 2017 Grammy Award in the Best Contemporary Classical Composition category for his Bassoon Concerto. He holds degrees from Yale, the Eastman School of Music, and the University of Houston. Recently he has written a ballet for the American Ballet Theatre, a work for the Orpheus Chamber Orchestra as part of their 'New Brandenburg' series, and he currently has two opera commissions for the San Francisco and Houston Grand Opera companies. He teaches at Yale University.
MARK WINGATE is on the faculty of the College of Music at Florida State University where he serves as Associate Professor of Composition and Director of Electroacoustic Music. Dr. Wingate came to FSU after co-founding and directing the Electronic Arts Studio at Istanbul Technical University in Turkey. He holds a DMA from the University of Texas, during which time he composed electronic music at EMS studios in Stockholm as a Fulbright Scholar to Sweden.
DONALD AND RHONDA SWEENEY are retired professionals of ExxonMobil. Originally from Brooklyn and from an 100% Irish family, Mr. Sweeney had a 32 year career at ExxonMobil, spanning assignments in Japan, Singapore, New Jersey and Houston, managing Information Technology for Exxon's oil business activities in Asia, as well as Exxon's coal and minerals business in South America, Australia, Hong Kong, and the United States. Mrs. Sweeney is a retired ExxonMobil executive serving a 34-year career in IT and Finance. In 2013, the couple was awarded the Immanuel and Helen Olshan award for Vision, Leadership, and Commitment for their longtime support for the annual summer Texas Music Festival at University of Houston, and in 2015 they were Honorary Chairs for the Concert at the Villa de Matel, benefiting Catholic Charities' AIDS ministry. The Sweeneys are underwriters for Houston Grand Opera's current Wagner Ring operas, and in 2015 they were underwriters for HGO's Lincoln Center Festival opera, The Passenger.
Apollo Chamber Players present the program, Irish Odyssey, on Friday, May 5, 2017, 8pm at MATCH (Midtown Arts and Theater Houston).