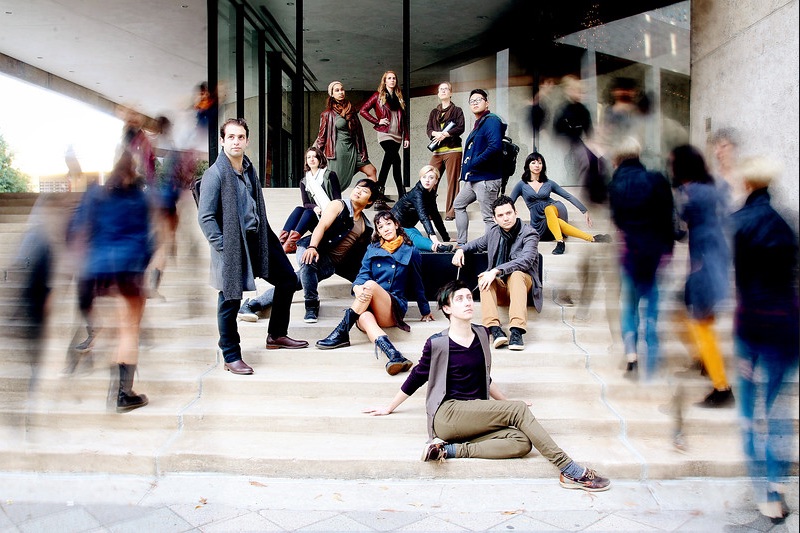 Memory Web is an upcoming collaborative concert between the University of Houston's AURA Contemporary Ensemble and Psophonia Dance Company. As the title indicates, the theme of the performance is memory... specifically the memory of a life-changing event through the eyes of several people simultaneously — the web aspect. "We're not trying to depict a specific event... we're just talking about something dramatic or something pivotal in one's life," explains AURA director Rob Smith.
"The show opens with a group of people that are sharing space together, but not necessarily with each other," says Psophonia director and choreographer Sophia Torres. To her, an important part of the narrative is how when people are in a shared space they're often "in their own world... disconnected from [others]," and as the non-specific event happens to these people, "those barriers or layers that we put on start shedding themselves, and we start seeing other people that we might not have seen... we notice them and we reach out to them with kindness and empathy."
Tied into that idea of seeing people you hadn't noticed, according to Smith, is the integration of the musicians and the dancers. Usually for dance recitals or performances, the music is a separate entity either offstage or in the pit, but in this case, "[The musicians] are thoroughly integrated... the dancers are actually catching musicians who are falling, and they're completely intertwined. I think it's kind of like music and dance looking each other straight in the eye, and it symbolizes this idea of people who have never really talked before doing that."
Hear my conversation with the two directors above, where we discuss the creative aspects of the show and its immersive rehearsal process for the two groups. Memory Web will be at the MATCH for three performances on Thursday (March 9th), Friday (March 10th), and Saturday (March 11th), all at 8 PM. Go to the MATCH website for more information.