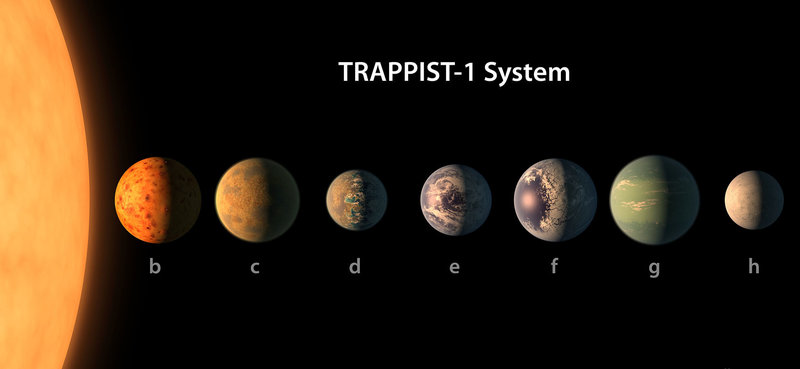 (Above: This artist's rendering depicts the TRAPPIST-1 planetary system, based on available data about their diameters, masses and distances from the host star. The cool, reddish star is about 40 light-years awayfrom Earth. Image Courtesy: NASA/JPL-Caltech)
Here in Space City, we talk a lot about what's next in space travel and the role we may play in it, from establishing a space port, to the commercialization of low Earth orbital flights, to a return to the moon, or a manned mission to Mars. And we sometimes think bigger, like the 100 Year Star Ship project. But in the vastness of the cosmos, there are even bigger journeys to undertake.
And one small step for mankind on that journey may have occurred last week, when astronomers announced a discovery: a dwarf star 40 light years from Earth in the constellation Aquarius. The star was previously thought to be orbited by three planets, but it actually has seven planets in orbit around it. The planets are all roughly the size of the earth, and they're in a proximity to the star that might offer the right conditions for water — and perhaps life.
Could this be the dawning of the age of Aquarius? (Astronomically-speaking, of course). On this edition of Houston Matters, we talk with Dr. Julie Moses of the Space Science Institute and Dr. Victor Migenes from the radio astronomy program at Texas Southern University about what we know about this star and its planets, why it's a potentially compelling discovery for astronomers, and what next steps astronomers might take to learn more about it.
Also this hour…
Solar EnergyÂ
The City of Houston recently announced an expansion in renewable energy. The city agreed to purchase an additional 20 megawatts of solar power. Over the next couple of weeks, Houston Matters will devote part of our show talking about the various forms of energy in Greater Houston and across Texas. On today's show (March 3, 2017), we examine solar energy with Dr. Gavin Dillingham, program director for clean energy policy at the Houston Advanced Research Center (HARC), and Bill Swann, TXRX Labs.
TxDOT Turns 100
The Texas Department of Transportation (aka TxDOT) is turning 100 this year. The organization is much more than just about highways — although many Texans still refer to it as "the highway department." To celebrate its centennial, TxDOT has a travelling exhibit that's making the rounds around the state, including a recent stint in Houston. TxDOT's Karen Othon joins us to talk about the organization's history and how "the highway department" has changed over the last century.
Jewelry Maker Mariquita Masterson
The Masterson family has given a lot to the world of art – writer Horton Foote, director Peter Masterson, actress Mary Stuart Masterson, and Houston jewelry designer Mariquita Masterson. Raised in Mexico City, Mariquita had the opportunity to be exposed to many art forms early in life – from music to museums – but it was the inspiration she found in the everyday beauty of rocks along a chilly riverbed that lead to her love of jewelry. Today, she's recognized the world over for her bold, vibrant, glass necklaces and earrings. In the video below, she tells us more about her work in an interview from a recent edition of Arts InSight, which airs Friday nights at 8:30 on Houston Public Media TV 8.
Houston Matters offers a free daily, downloadable podcast here, on iTunes, Stitcher and various other podcasting apps.