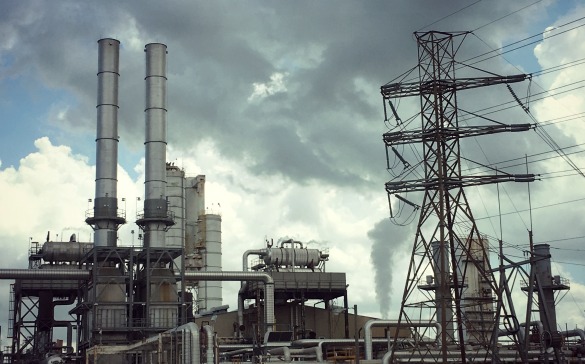 President Trump says he's going to seriously roll back regulations on businesses. So, for a city like Houston with so much industry, what would that mean for us? On this edition of Houston Matters, we discuss how fewer regulations might affect business and the environment in Greater Houston.
Joining us for this conversation is Adrian Shelley, who serves as both the director of Public Citizen's Texas office and as the executive director of Air Alliance Houston. And we're joined by Josh Blackman, associate professor of law at South Texas College of Law Houston.
Also this hour…
National Water Model
Remember when you first upgraded to an HDTV? Suddenly, you were able to see all the detail you didn't know you were missing. Well, the National Weather Service made a similar upgrade last summer in terms of its flood prediction technology when it launched the new National Water Model.
With yet another flooding event in Greater Houston just three weeks ago, we thought now would be a good time to revisit Michael Hagerty's conversation from last June with Greg Waller of the National Weather Service's West Gulf River Forecast Center who explains how the National Water Model works and what it'll mean for local emergency management officials.
The Struggle to Pay for College in Texas – and the Struggle to Fund Them
A new series from The Texas Tribune highlights the struggles Texans face in paying for college in the state – and also the struggle the state faces in funding its public colleges and universities. Reporter Matthew Watkins joins us to discuss what the Tribune has found out about both plights and how it all affects the future of the Lone Star State.
Mike Doughty Skyline Session
In the 1990s, singer-songwriter Mike Doughty founded the alternative/experimental rock band Soul Coughing, which produced three critically acclaimed albums before splitting up in 2000. Since then, Doughty's been a prolific solo artist, releasing nine studio albums, including 2016's The Heart Watches While the Brain Burns. While on tour in January, Doughty – with cellist Scrap Livingston – visited Houston Public Media's Geary Studio to record the songs Wait! You'll Find A Better Way and I Can't Believe I Found You In That Town, both off his most recent record.
Houston Matters offers a free daily, downloadable podcast here, on iTunes, Stitcher and various other podcasting apps.