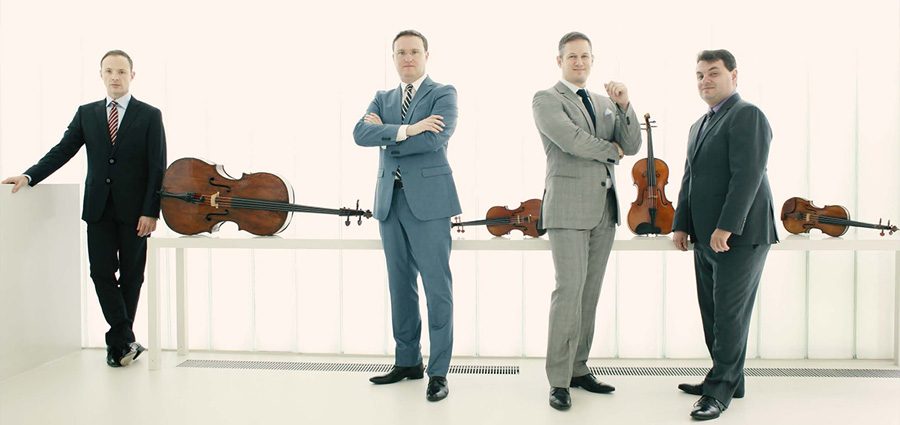 This week's episode of Encore Houston features the Jerusalem Quartet, hosted by Chamber Music Houston in November 2016! This Israel-based ensemble is relatively young in music years, with their debut in 1996. The group has since found great international success, and just celebrated their twentieth year in 2016. This concert at Rice University was something of a showcase through the ages, with music from the eighteenth, nineteenth, and twentieth centuries. Haydn's "Lark" Quartet is one of a group of quartets dedicated to the violinist Johann Tost; Prokofiev's Quartet in B minor is notable for its unusual structure in that the final movement is a slow, tranquil work instead of the expected lively finale; and Dvořák wrote his Quartet No. 13 shortly after returning home to Bohemia after his three-year residency in the United States.
FRANZ JOSEPH HAYDN, String Quartet, Op. 64, No. 5, "The Lark"
SERGEI PROKOFIEV, String Quartet No. 1 in B minor
ANTONÍN DVOŘÁK, String Quartet No. 13 in G major
Encore: BÉLA BARTÓK, String Quartet No. 4 – IV. Allegretto pizzicato
Alexander Pavlovsky, violin
Sergei Bresler, violin
Ori Kam, viola
Kyril Zlotkinov, cello
Performance date: 11/8/2016
Originally aired: 1/21/2017
New episodes of Encore Houston air Saturdays at 10 pm, with a repeat broadcast Sundays at 4 PM, all on Houston Public Media Classical.