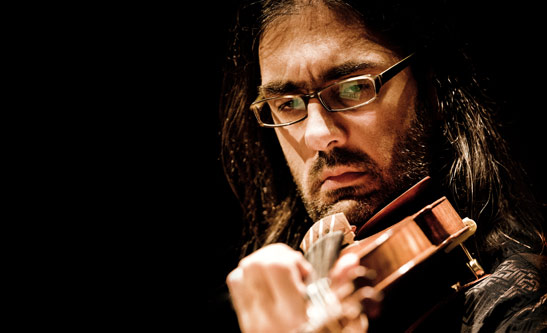 This weekend, violinist Leonidas Kavakos returns to the Houston to perform with and conduct the Houston Symphony. First, he takes the lead with the Violin Concerto in A minor by Johann Sebastian Bach, a composer who "never fails to amaze, even in the smallest composition," in Kavakos' words.
Next, he'll take the podium as conductor for two symphonies: Mozart's 36th (subtitled "Linz"), and Brahms' 4th. "There could not be more contrast between the 'Linz' Symphony and the Brahms," says Kavakos. Mozart's symphony, like a good portion of his music, tends towards the lighter, happier side. The Brahms, on the other hand, embraces melancholy and perhaps even a little tragedy throughout (save for the sprightly third movement), and even has references to Bach in the final movement, bringing the concert full circle.
Kavakos will be featured in concert with the Houston Symphony through the weekend, with concerts tonight and Saturday at 8:00 PM, and a final concert on Sunday at 2:30 PM. Go to the Houston Symphony website for more information and tickets.