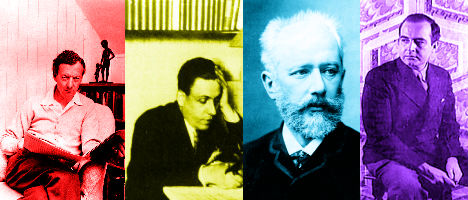 On this week's episode, we're kicking off LGBT History Month with music by queer composers from different eras and places, including Barber, Poulenc, Britten, and Tchaikovsky.
Samuel Barber: Overture to "The School for Scandal"
3/28/2009
Shepherd School Symphony Orchestra, conducted by Larry Rachleff
Stude Concert Hall
Samuel Barber's musical talent was recognized and nurtured early on; he started playing piano at the age of six, and composing only one year later. When the Curtis Institute of Music opened, Barber immediately attended at the age of 14, studying not one, but three disciplines: piano, voice, and composition. It was at Curtis that he met Gian Carlo Menotti, who became his life partner both professionally and romantically. During the summer of 1931, the two men traveled to Italy, ostensibly to work, but predominantly to socialize and relax. During the vacation, though, Barber did finish his first orchestral score: his Overture to "The School for Scandal."
Francis Poulenc: Sinfonietta, "Andante cantabile" and "Très vite et très gai"
11-3-2013
Moores School Chamber Orchestra; Carlos Guillermo Jung, conductor
Moores Opera House
A member of the group of composers known as 'Les Six,' Francis Poulenc is known for his contributions to 20th century French music, particularly in the genres of religious music and the melodie. Despite his prolific oeuvre, he suffered from depression, which affected his creativity and productivity. His struggles were in part linked to his sexual identity; he suffered his first bout of depression simultaneously while becoming aware of his homosexuality. The "Sinfonietta" is Poulenc's only symphonic work, and with its unconventional rhythms and harmonies fully captures Poulenc's trademark charm.
Benjamin Britten: Night Piece (Notturno)
2/21/2012
Tali Morgulis
Moores Opera House
Throughout his life, Benjamin Britten was fascinated by the themes of night and sleep. In an interview, Britten once said, "Night and Silence, these are the things I cherish most." He later elaborated, "Night and dreams – I have had a strange fascination by that world since a very early age." In this same interview he discussed the paradoxical nature of sleep, describing it as having a "blessed affect" as well as discussing its more disturbing aspects, saying, "One can have dreams…which do colour your next day very darkly." He explored these areas in multiple pieces, including the Serenade for Tenor, Horn and Strings, A Midsummer Night's Dream, Nocturne, and a short solo piano piece entitled "Night Piece." Though Britten himself was a proficient pianist, he seldom wrote for the instrument alone, instead seeing it as a "background instrument." In an interview given in 1961, he admitted that he was inclined to start from "the vocal point of view." This was at least perhaps in part due to his preference for writing music for specific people – his life partner, the tenor Peter Pears. Written for the first Leeds International Piano Competition, "Night Piece" demands subtlety and nuance from the performer, who must evoke not only the darkness of night, but also the song of the nightingale that Britten references.
Pyotr Ilyich Tchaikovsky: Symphony No. 5 in E Minor, "Valse. Allegro moderato" and Finale. Andante maestoso–Allegro vivace
11/30/2012
Shepherd School Symphony Orchestra; Larry Rachleff, conductor
Stude Concert Hall
Though not specifically programmatic, Tchaikovsky detailed his intent for his fifth symphony in his notebook, writing, "Complete resignation before Fate...murmurs of doubt, of complaints, of reproaches against XXX." Today, many scholars presume that Tchaikovsky was referring to his own homosexuality, which he could scarcely even admit to himself. Composed in an effort to prove himself still relevant, the composer wrote, "I am dreadfully anxious to prove not only to others, but also to myself, that I am not yet played out as a composer." Surely, with its many beloved melodies, this symphony proves that Tchaikovsky was far from passé.
This episode originally aired Sunday, October 2nd, 2016. Catch Music in the Making every Sunday at 7:06 PM on Classical.