Houston Public Media has a fantastic new digital music station called MIXTAPE, and to celebrate we've asked some notable Houstonians what songs would be on their personal mixtapes.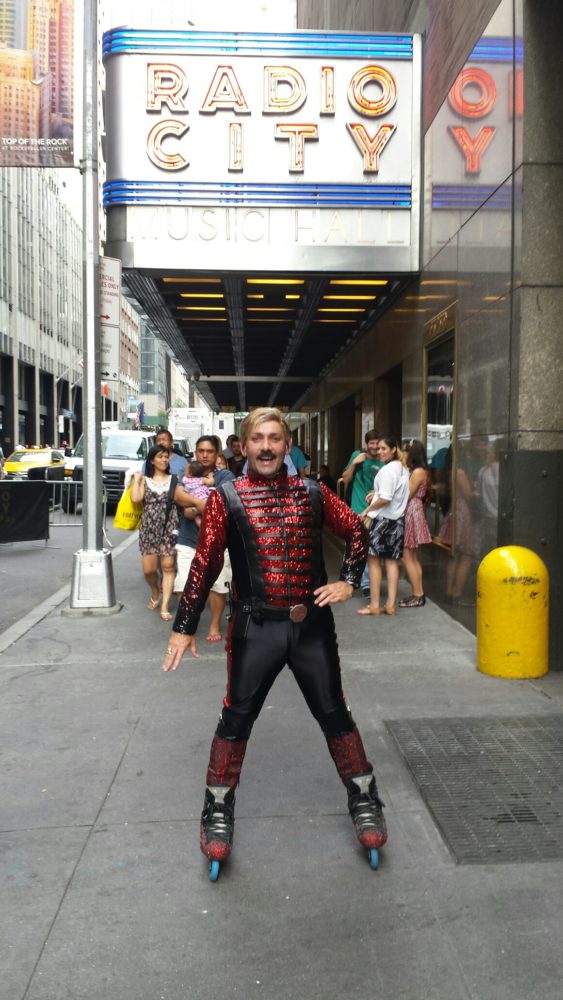 Thousands of Houston commuters have driven past Montrose rollerblade dancer, Juan Carlos and marveled at his mad blading skills, keen fashion sense, and infectious joie de vivre. A Juan Carlos sighting always makes your day. Juan Carlos also spread the love nationally as a contestant on the NBC series America's Got Talent where he was a finalist in season 9. In fact, he's so famous, he now has his own emojis.
We asked Juan Carlos what's on his mixtape. Here's what he said:
"Tongoneaito" by Mister Chivo
"I've been listening to Mister Chivo since I was a little boy. Every time he comes to Houston it sells out immediately. It's funny, and it makes you move no matter what!"
"You Could Drive a Person Crazy" by Cleo Laine
"This is a classic – very Broadway. I like this song because I'm kinda crazy. And I make people crazy when they drive past me!"
Theme from A Summer Place by Percy Faith
"My first audition for 'America's Got Talent' was at a beautiful theatre in New Jersey. The producers wanted to see how the general public would react to me, so they put this song in my headphones and sent me outside to move. Everybody loved me so I got my first chance on the show!"
"Santa Baby" by Madonna
"Madonna is like a chameleon – she changes her sound, her look. I can do all kinds of Broadway moves on my blades to this!"
"48 Hours" by J Paul Getto
"I was dancing and signing autographs at an event at the House of Dereon when the DJ played this song. I was off! And I've been playing it ever since."
"These Boots Are Made For Walking" by Nancy Sinatra
"Classic. The girls in the video are so beautiful! Beauty never dies. When I danced to this song on America's Got Talent, Nancy Sinatra sent me a note to say congratulations and that I was her favorite on the show."
"Buenos Dias Señor Sol" by Juan Gabriel
"Everything Juan Gabriel did was a hit right away. This song is from the 80's. It lifts me right up. Even though I lift up other people's spirits, sometimes I need mine lifted too."
"Tiritomba" by Helmut Lotti
"This song has a wonderful rhythm. It's kind of a crossover between classical and flamenco and I love to dance to it."
Thanks, Juan Carlos!
We want to know what your personal mixtape is! If you'd like to share, just go to Spotify and create a new playlist. Share it on Twitter using the hashtag #hpmmixtape and tag us – we're @HPMArtsCulture. Stay tuned to this website for more mixtapes from notable Houstonians!
For more mixtapes by notable Houstonians and to see MIXTAPE's playist, go here.