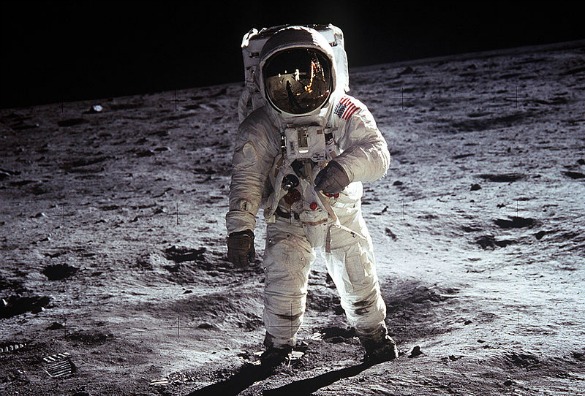 On this date 47 years ago, Neil Armstrong became the first man on the moon. It was one of Space City's greatest moments — and one of humankind's, as well. But it really began, in earnest, seven years earlier when President John F. Kennedy, in a speech at Rice University, challenged America "to go to the moon…in this decade…because that goal will serve to organize and measure the best of our energies and skills, because that challenge is one that we are willing to accept, one we are unwilling to postpone, and one which we intend to win."
At the time, some of the technology necessary to successfully put astronauts on the moon, and bring them home safely, had simply not been invented or tested. It was, in many ways, a leap of faith. And since then, the term "moon shot" has come to represent such an overreach, seeking to achieve a seemingly unreachable goal. On today's program, we ask you: what's Houston's next moon shot?
(Above: Astronaut Buzz Aldrin walked on the moon during Apollo 11, July 20–21, 1969. Photo: Wikipedia Commons/Public Domain)
We also talk with News 88.7 reporters Carrie Feibel, Gail Delaughter, Laura Isensee and Amy Bishop about the next moon shots that may be pursued in Houston in health and science, transportation, education and the arts.
Also this hour:
Addressing Young Athletes' Use of Dietary Supplements
For years now, concerns have been raised about young athletes using steroids. Its a major focus of the Taylor Hooton Foundation out of Frisco, Texas (north of Dallas). The foundation is named for a teenager who took his own life in 2003 after using anabolic steroids.
These days, the foundation is just as concerned about the growth of the dietary supplement industry. Over the summer, young athletes who may not be monitored as closely by their coaches may seek to "transform themselves" before the next school year and rely on dietary supplements that could affect their hormones or contain stimulants.
We talk with Don Hooton, Sr. — Taylor's dad — about what parents can do to help their kids avoid such risks.
Houston's QFest Celebrates 20 Years Highlighting LGBTQ-Themed Films
Nearly a dozen venues around Houston are screening films as part of the 20th Annual QFest, Houston's international LGBTQ film festival. To learn more, we talk with Kristian Salinas, the event's artistic director.
Houston Matters offers a free daily, downloadable podcast here, on iTunes, Stitcher and various other podcasting apps.