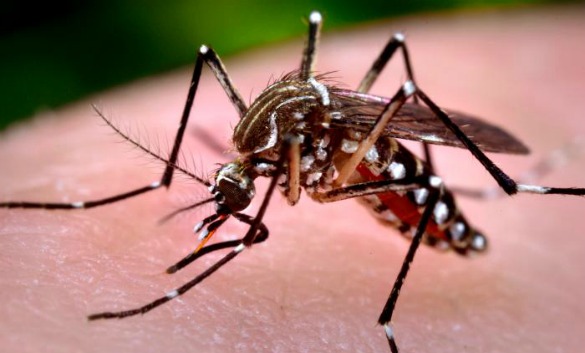 Harris County Public Health has confirmed the first Zika-related case of microcephaly in Harris County and the state of Texas. The mother of the infant with the birth defect was initially tested for Zika during her pregnancy, but the results of that test were inconclusive, according to officials. Like all others involved in cases of Zika infection in the United States, the mother had traveled abroad to a country where the virus is widespread.
On this edition of Houston Matters, we learn the latest from Dr. Umair Shah, the executive director of Harris County Public Health. We also discuss ongoing efforts to combat the Zika virus and review what steps we can all take to try to minimize its spread.
(Photo: CDC/Prof. Frank Hadley Collins.)
Also this hour:
Debate in Alief Over Proposed "Little Saigon" Designation
The town of Alief reflects — perhaps as well as any community here — the much-celebrated diversity of Greater Houston. Alief is a part of District F, which according to 2013 data from the U.S. Census Bureau, is nearly 40 percent Hispanic, almost 25 percent African American and 20 percent Asian-American. Alief's management district is characterized as the "international district." So, highlighting an ethnic population would seem to be a natural move. But some Alief residents are pushing back on a plan to brand a portion of the town as "Little Saigon." Houston City Councilman Steve Le of District F on Wednesday (July 13, 2016) announced his intentions to move forward with what he characterizes as an economic development project. Maggie Martin talks with Council Member Le about the idea, and then we talk with Alief resident Doug Smith, who's opposed to it.
Answers to Your Flood Insurance Questions
In light of all the flooding we've experienced this year, we offer you an opportunity to speak with an expert about flood insurance. We welcome your questions for Rick McElvaney, a clinical associate professor at the University of Houston and director of the Texas Consumer Complaint Center and consumer law clinics.
Houston Matters offers a free daily, downloadable podcast here, on iTunes, Stitcher and various other podcasting apps.