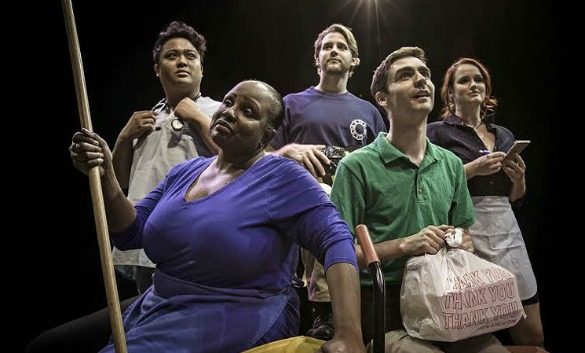 In a convergence of arts and culture in Houston, the work of a famed public radio interviewer, and the childhood of another public radio interviewer (
Houston Matters
host Craig Cohen),
Main Street Theater
will present a production of
Working,
beginning May 21 and running through June 19, 2016. It's an adaptation of the 1970s musical updated for the 21st century.
The original Working was based on a best-selling book of the same name by legendary Chicago talk show host Studs Terkel who, in 1974, interviewed everyday people — from cashiers to firemen to stone masons — about the work they did and how they felt about it.
The ensuing show, based on the book, featured a child who delivered newspapers in his neighborhood. When he was 14, Craig portrayed the newsboy in a community theatre production of the show. So, we sent him to report on Main Street Theater's new production, which nixes some jobs in favor of more modern work. We have to wonder, in the age of the Internet, did the newsboy make the cut?
(Above: Cast members from Main Street Theater's production of "Working." Image Courtesy: Blueprint Film Co.)