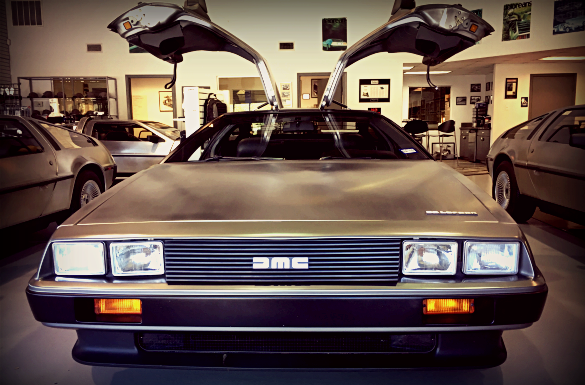 DeLoreans are going back into production…in Humble. The stainless-steel-bodied cars with gull-wing doors haven't been manufactured since the DeLorean Motor Company went bankrupt back in 1982. But the car grew in pop cultural consciousness thanks to the
Back to the Future
trilogy. Now, a new company, and new owners, amid changes to some laws regulating car manufacturing, are using their stockpile of '80s DeLorean parts to build new ones for collectors and enthusiasts. On this edition of
Houston Matters
, we visit the new
DeLorean Motor Company
in Humble to learn more.
Planning for Future Water Needs
Also this hour: Texans are getting their first look at a new comprehensive plan for the use and conservation of the state's water resources over the next 50 years with the release of the Texas Water Development Board's Draft 2017 State Water Plan.
The plan proposes 5,500 measures communities across the Lone Star State can take to meet their water needs in coming decades, like building new reservoirs or shifting from groundwater to surface water. The state agency is accepting public comment on the plan through April 25th. We get a better idea of what's proposed – and how it may affect Greater Houston – from Texas Water Development Board member Kathleen Jackson.
Space Flight Bill
Plus: Recently, U.S. Senator John Cornyn of Texas, buoyed by the excitement surrounding Commander Scott Kelly's return to Earth after spending a year aboard the International Space Station, introduced the Mapping a New and Innovative Focus on our Exploration Strategy (MANIFEST) for Human Spaceflight Act. The bill would require NASA to develop plans for the future of U.S. manned space exploration, and is based on the recommendations of a 2014 National Academies report, which called on NASA to commit to an exploration pathway that recognizes Mars as the next goal for human space exploration. We discuss this and other legislative efforts related to NASA funding with Eric Berger, Senior Space Editor at Ars Technica.
And: A lot can happen in a week. Some of it good. Some of it bad. Some of it downright ugly. When faced with intriguing developments in the week's news, we turn to our rotating panel of "non-experts" to parse The Good, the Bad, and the Ugly of it all. Today, panelists Kyrie O'Connor, Russ Capper, and Wayne Ashley discuss the impact of low oil prices on regulators, a lawsuit over the name "Space City" and recognition for Houston as the "worst designed city in America."
Houston Matters offers a free daily, downloadable podcast here, on iTunes, Stitcher and various other podcasting apps.