Listen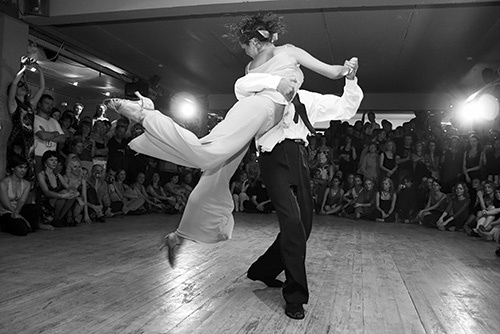 It takes Two (to Tango): A photo of Nuevo Tango dancers
On this week's episode of Music in the Making, we're celebrating Valentine's Day with duets, tangos, love songs and other music written for two!
Brian Suits – Something for Two
Kyung Sun Lee and Andrezj Grabiec, violins; Brian Suits, piano
Moores Opera House
9/16/2007
What better way to start off the episode than with a piece appropriately titled "Something for Two"? This fun duet for violins was written by Moores School of Music faculty member Brian Suits. Aside from his work as a pianist, he has also gained recognition as a composer, conductor, arranger and improvisational performer. As you listen to this work, you can hear these different elements come together in the jazzy yet virtuosic conversation between the two violinists.
Richard Wagner – Prelude and Liebestod from Tristan and Isolde
Shepherd School Symphony Orchestra; Larry Rachleff, conductor
Stude Concert Hall
10/4/2008
Our next selection is considered one of the greatest classical love themes of all time. So it's such a shame that the love story it's based on didn't have the happy ending that we all hoped for. Wagner's opera Tristan and Isolde tells the tale of two enemies who mistakenly drink a love potion, only to realize they can never be together. After the success of the opera, Wagner created a concert work with selections from the opera, which is what we will be listening to next.
Astor Piazzolla (arr. Kyoko Yamamoto) – Tango Suite
Tali Morgulis, piano
Moores Opera House
9/26/2010
Now for something completely different, we'll listen to a suite of famous tangos from Piazzolla. This genre he became known for was later called "nuevo tango," as Piazzolla's tangos incorporated new compositional elements from both classical and jazz genres. While written for various instrumental ensembles, this version of Tango Suite for solo piano was arranged by Kyoko Yamamoto.
Gustav Mahler – Adagietto from Symphony No. 5
Shepherd School Symphony Orchestra; Larry Rachleff, conductor
Stude Concert Hall
12/6/2013
Of course, any Valentine's Day episode would be remiss if it did not include Mahler's famous Adagietto. While many might recognize Mahler's Symphony No. 5 from the first movements's militant trumpet solo, the fourth movement is considered the crowning achievement of this work. It contrasts from the surrounding movements because of it's strings-only instrumentation. This movement is said to be a love song to his wife, Alma, and it was given to her along with this poem:
How much I love you, you my sun,
I cannot tell you that with words.
I can only lament to you my longing and love.
Alexander von Zemlinsky – Lied: Sehr warm from Three Pieces for Cello and Piano
Brinton Averil Smith, cello; Evelyn Chen, piano
Duncan Recital Hall
12/3/2007
To close tonight's program, we'll listen to a lesser-known work by Zemlinsky. For those unfamiliar with Zemlinsky, he was an Austrian composer, conductor and teacher during the early twentieth century. Brahms was one of his greatest supporters, and his close friends included Schoenberg and Mahler. Coincidentally enough, it was Zemlinsky who first fell in love with Alma Schindler when he worked as her composition professor. But as we have seen, she ended their relationship and married Mahler only a few years later.
This episode originally aired Sunday, February 14th, 2016. Catch Music in the Making every Sunday at 7:06 PM on Classical 91.7.