Listen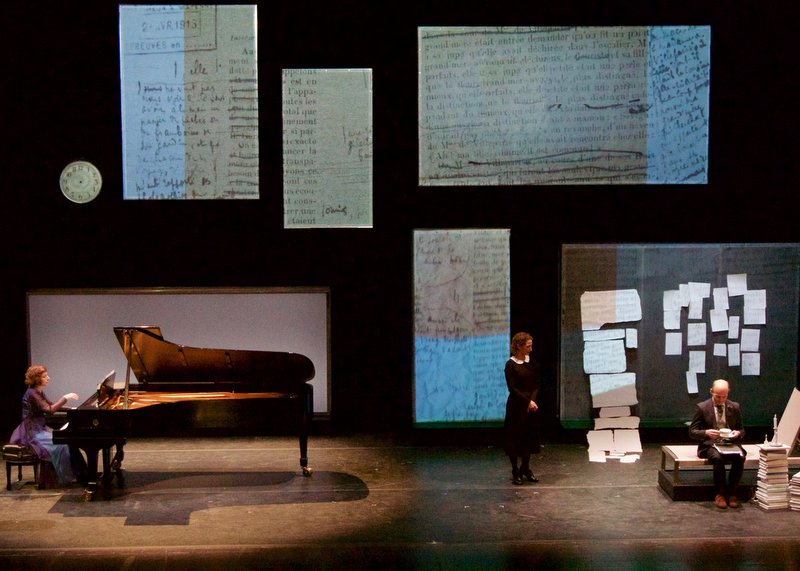 Workshop performance for A Proust Sonata. Left to right: Sarah Rothenberg, Nancy Hume, and Henry Stram.
"It's way more than just the music itself… it's very hard to name a piece like this, so I think it is truly music theatre, but it involves concert music in a way that one doesn't usually think of…," says pianist Sarah Rothenberg about her latest multimedia project A Proust Sonata: 7 tableux en musique. It's a marriage of music, literature, and visual arts centered around Marcel Proust's À la recherche du temps perdu, or In Search of Lost Time.
Often considered Proust's masterpiece, In Search of Lost Time "became especially well-known for Proust's concept of memory and of how our deepest memories come to us in a spontaneous way often set off by the taste of food or a sensation that suddenly brings back to life the past in an extremely powerful way," in Rothenberg's words. In selecting music to accompany the text, she looks for "a work of music that, in a sense, expresses the same emotion, the same sensation as what the text is about." Among the pieces she chose for this project are Robert Schumann's Fantasiestücke, Op. 12, Gabriel Faure's Violin Sonata No. 1 in A major, Op. 13 (representing Proust's fictional Vinteuil Sonata), and Claude Debussy's Des pas sur la neige (Footprints in the Snow), among other works by Chopin, Ravel, Leon Delafosse, Reynaldo Hahn, and Beethoven.
A Proust Sonata: 7 tableux en musique premieres Thursday, February 11th with a second performance on Friday, February 12th, both at 8 PM at the Wortham Center. Go to Da Camera's website for more information about the performance and tickets.
(Music selections featured are Schumann's Fantasiestücke – I. Des Abends performed by Daniel Levy, Debussy's Des pas sur la negie performed by Pavlina Dokosvka, and Fauré's Violin Sonata in A major – I. Allegro molto performed by Ariadne Daskalakis, violin and Roglit Ishay, piano.)