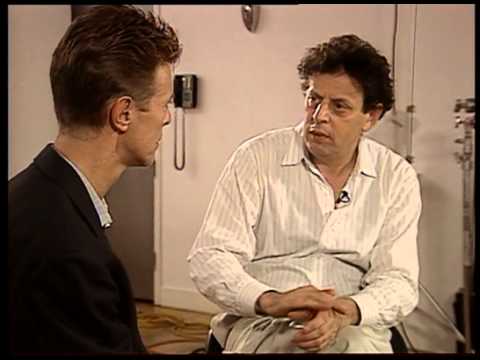 This week, the world mourns the loss of David Bowie, the eccentric rock and movie star with a career spanning well over four decades. As a tribute to the man, Classical 91.7 will be airing a two-hour special, Can You Hear Me, Major Tom?: Remembering David Bowie this Friday. On this special we'll feature three large works: Sergei Prokofiev's Peter and the Wolf narrated by Bowie himself, and Philip Glass' Symphonies No. 1 and 4, which are inspired by two of Bowie's albums from the '70s. By the way, while these all have similar thumbnail photos, they are different tracks! We promise.
The first symphony draws from the 1977 album Low, one of three collaborations with Brian Eno. There are three movements, each one based on a song from the album. The first is "Subterraneans," the final track of the album:
Following that is "Some Are," a previously unreleased track that didn't come out until a 1991 re-release of Low:
And finally, "Warszawa," meant to represent the bleakness of Warsaw, Poland when Bowie visited in 1973:
The other symphony (Glass' fourth) is titled after another 1977 Bowie and Eno collaboration, Heroes. Like its predecessor, each movement comes from a track on the album. There is, of course, "Heroes" to begin:
https://www.youtube.com/watch?v=m3SjCzA71eM
After this, another previously unreleased track, "Abdulmajid," that came out in 1991 like "Some Are." The recorded piece was originally never given a title, but its release happened to come not long after Bowie met and fell in love with his soon-to-be wife Iman Abdulmajid, hence the name:
Then there's "Sense of Doubt," a purely instrumental track:
https://www.youtube.com/watch?v=6IXXr1IG7xg
"Sons of the Silent Age" was actually considered for the album title before they settled on "Heroes":
https://www.youtube.com/watch?v=NnOhBykB-z4
"Neuköln" is another instrumental track, named after a district in Berlin (though it's actually spelled Neukölln):
And finally there's "V-2 Schneider," a reference to the V-2 rocket, the first ever ballistic missile, and a tribute to Florian Schneider, who founded the famous German electronic group Kraftwerk:
https://www.youtube.com/watch?v=dC20rI6mOiE
Don't miss out on Philip Glass' tributes to Bowie and Eno's music, as well as Bowie's charming storytelling in Peter and the Wolf. Can You Hear Me, Major Tom?: Remembering David Bowie airs Friday, January 15th at 12 PM and again at 10 PM on Classical 91.7.