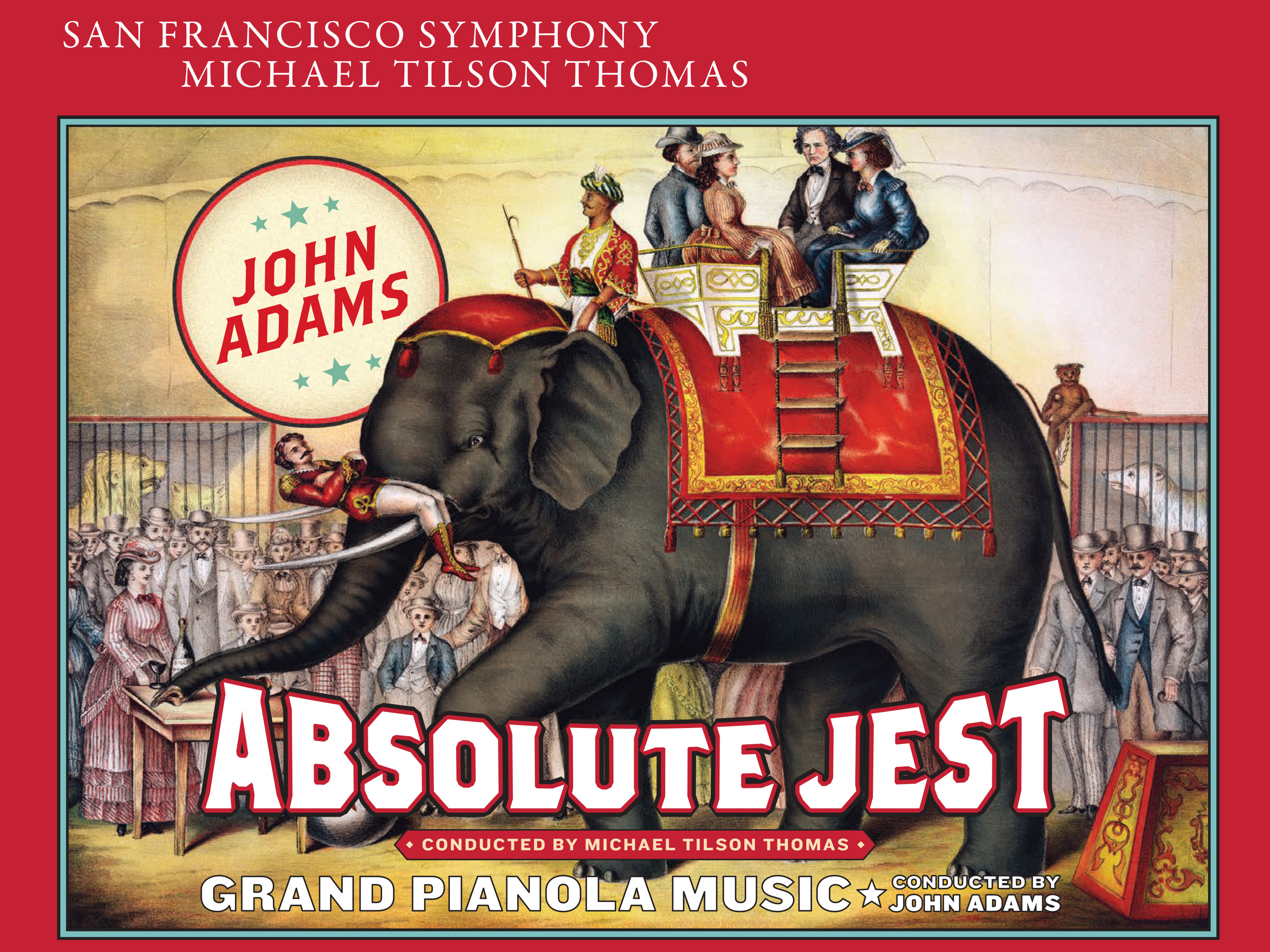 Say what you will about the demise of the CD and the battles between downloads and streams, in 2015 the flow of classical music recordings seemed as full and rich as ever.
Devising a list of just 10 was downright painful. We were forced to leave so many terrific albums in the wings, from Giya Kancheli's dark and lyrical Chiaroscuro to a stunning debut recital, "Héroïques," from gifted young American tenor Bryan Hymel.
Our list feels wide-ranging, as open to possibilities as classical music itself. Andrew Norman's recent and rigorously flamboyant orchestral work Play rubs elbows with maximalism from the 17th century in the form of Heinrich Biber's 54-part Missa Salisburgensis. And J.S. Bach, played elegantly by Piotr Anderszewski, sits beside Anna Thorvaldsdottir, a confident new composer from Iceland. With Verdi, Sondheim, John Adams and Dvořák, there's something here for most any musical appetite. Sit back and turn it up loud.—T.H.
Artist: Michael Tilson Thomas
Absolute Jest, for string quartet & orchestra [Beginning]
from: John Adams: Absolute Jest; Grand Pianola Music
This pairing of two works by John Adams, written some 30 years apart from, is one of the most fun classical releases of 2015 — and the San Francisco Symphony, conductorsMichael Tilson Thomas and the composer himself, and the soloists are clearly having a blast. The newer piece, Absolute Jest, featuring the St. Lawrence String Quartet, takesshards of Beethoven and places them in a big, dizzying vortex of sound. Grand Pianola Music (1982), with pianists Orli Shaham and Marc-Andre Hamelin and the Synergy Vocals trio, reaches for the positively transcendent, moving between episodes of meditative grace and enormous arcs of motion and statement.—A.T.
Artist: Piotr Anderszewski
Bach, English Suite No. 1 in A Major, BWV 806 – II. Allemande
from: Bach, English Suites Nos. 1, 3 & 5
In any given year you have a choice between plenty of Bach keyboard albums. I count at least 11 in 2015. But this elegant, insightful and life-affirming recording by Piotr Anderszewski stands far above the bunch. Here every emotion, from exuberant joy to deep despair, and its attendant colors, rhythms and inner voices, is meticulously considered, with a result that sounds as natural as breathing. Anderszewski's haunting ornamentations in the Third Suite Sarabande seem to comment on the anguish while, three movements later, the subtle droning effects he uncovers in the jaunty Gavotte II bring the sound of a bagpipe to the party. There are dozens more details that make this graceful, brilliant album one to savor far into next year.—T.H.
Artist: Jordi Savall
Missa Salisburgensis, mass for 2 double choruses in 16 parts, double orchestra & double continuo, C. App. 101 (attribution uncertain) [Sanctus – Benedictus]
from: Biber: Baroque Splendor – Missa Salisburgensis
Sometimes you just need some balm for the soul. May I suggest turning to the overwhelming forces of Heinrich Biber's Missa Salisburgensis — written for 54 separate parts, and one of the most massive works in Baroque sacred music — and let it enfold you completely.
Perhaps in part because of its extraordinary demands (and also because its score was lost for about 250 years), this polychoral work for several groups of singers and instrumentalists, as well as multiple organists, is not often recorded or performed. But this exemplary rendering by Jordi Savall and all three of his ensembles (Hespèrion XXI, Le Concert des Nations and La Capella Reial de Catalunya), with crystalline sound engineering, makes a very fine case for adding this Mass to the Baroque canon.
Even though the Missa Salisburgensis is this recording's focal point, don't miss out on the other works on offer, especially Biber's lively Battalia à 10; its head-meltingly dissonant second movement is a particularly nice tonic for the heft and might of the Mass.—A.T.
Artist: Anthony de Mare
Another Hundred People
from: Liaisons: Re-Imagining Sondheim from the Piano
Just when you thought you knew Sondheim showstoppers, from "Send in the Clowns" to "The Ladies Who Lunch," along comes Anthony de Mare to stir up the status quo. The New York pianist commissioned 36 composers to pick Sondheim songs and rework them for solo piano. The result is a lovingly rendered compendium ranging from Daniel Bernard Roumain's dark and deconstructed "Another Hundred People" to Fred Hersch's tender, and more faithful, "No One is Alone." Wynton Marsalis gives a barrelhouse treatment to a little-known number from Follies, while Paul Moravec pours out despair in a wrenching rendition of "Losing My Mind" from the same musical. And Steve Reich, true to form, deploys a second piano part to achieve a slightly phasey "Finishing the Hat." Liaisonsdemonstrates the strength of these songs by the great man of Broadway, but also the fertile imaginations of three dozen composers and one bold pianist.—T.H.
Artist: Tigran Hamasyan / Yerevan State Chamber Choir
Your Mercy is Boundless (Bazum en Qo gtutyunqd)
from: Luys i Luso
What if a choir of 5th century Armenian monks interrupted Keith Jarrett's Köln Concert? It might sound something like the fascinating blend of old and new found in Luys i Luso(Light from Light) by Tigran Hamasyan. Primarily known as a jazz pianist (who won the 2006 Thelonious Monk Piano Competition), Hamasyan grew up hearing the ancient chants and hymns of his native Armenia; for him making the album was a chance to bring the old music into the light with infusions of jazz. Hamasyan's piano provides everything from evocative scrims of sound to improvised solos. The Yerevan State Choir sounds rustically authentic, especially in the beautiful music by 5th century composer St. Mesrop Mashtots. In a few places, the singers let loose into something approaching scat singing.Luys i Luso is an odd combination that clicks, opening up two separate sound worlds while creating a third.
Artist: Igor Levit
The People United Will Never Be Defeated (El pueblo unido jamás será vencido), 36 Variations on a Chilean Song, for piano [Var. 8 – With agility; not too much pedal; crisp]
from: Bach, Beethoven, Rzewski
This is one heck of an ambitious program: three of the most compelling and demanding sets of variations ever devised for keyboard players. One could argue that there's no need for any current pianist to record yet another version of the Goldbergs, but Russian-German pianist Igor Levit more than makes his case in this trinity of pianistic expression, ranging from Bach's magisterial masterpiece to the radical virtuosity of Beethoven'sDiabelli Variations to a recent monument of the form, American composer Frederic Rzewski's variations on the Chilean nueva cancion classic "El Pueblo Unido Jamás Será Vencido." The demands Levit has put on himself — and on his listeners — are manifold, but the effort pays off in spades. He brings uncommon intensity, clarity and strong emotion to all 99 variations.—A.T.
Artist: Gil Rose
Level 3 (from Play)
from: Andrew Norman: Play
If you've ever wondered how much raw power a symphony orchestra can unleash, you must hear Play, Andrew Norman's extraordinary 40-minute orchestral thrill ride, as executed by the Boston Modern Orchestra Project under the direction of Gil Rose. The piece, which seems to pivot wildly from one complicated set of sounds to another, is actually meticulously constructed. Inspired by a "wedge-shaped melodic line," Norman, 36, traces a dramatic arc through the music's three movements (or "Levels"), ultimately spinning the wedge into a giant canon throughout the orchestra. Passages can leave you breathless, like much of the frenetic opening level or later in a violent battle between slapsticks. But there are also serene landscapes to explore — a garden of chirping woodwinds and, in the final level, a ravishing oboe soaring above an increasingly roiling orchestra. Gloriously rambunctious, Norman's symphonic masterwork yields new discoveries each time you hop on for another ride.—T.H.
Artist: Ludovic Morlot
Amériques, for orchestra
from: Dvorák: Symphony No. 9 "New World"; Varèse: Amériques
Straight on the heels of their enormously gratifying recording of John Luther Adams'Become Ocean last year, the Seattle Symphony and conductor Ludovic Morlot released another dynamite project — smartly pairing two European sound portraits of the U.S.A. just coming into its own. Dvořák's Symphony No. 9, "From the New World," is a staple, but this excellent rendition, with standout contributions by Seattle's powerhouse brass and razor-sharp strings, demands us to listen anew. Edgard Varèse's crackling, clangorousAmériques is far more rarely encountered, but the orchestra offers a tour de force performance, especially the percussion section.
Seattle, under Morlot's leadership, has proved itself to be one of the truly great and most vital American orchestras. (And they are really on a roll: Be sure to keep an ear on their terrific and ongoing Henri Dutilleux cycle.)—A.T.
Artist: Anna Thorvaldsdottir, International Contemporary Ensemble
In The Light Of Air: Luminance
from: In The Light Of Air
In her online bio, composer Anna Thorvaldsdottir talks of "listening to landscapes." You can hear them, it seems, in her imaginative four-movement work for chamber ensemble and electronics, In the Light of Air, played by ICE (International Contemporary Ensemble). Subterranean bass tones, icy strings and ethereal percussion evoke the rumbling volcanoes, crystalline lakes and spouting geysers of her native Iceland. There's a visual component as well: In performance, a constellation of light bulbs glows and dims with the intensity of the music. And giant metallic snowflakes, called klakabönd (bind of ice), which the composer designed, resonate like gongs in the final section. Thorvaldsdottir and her music are earning much deserved recognition outside Iceland. Earlier this year, she received the New York Philharmonic's Kravis Emerging Composer Award. Judging from the way she manipulates textures and colors in sound on this album, which also includes a compelling solo cello piece, she will be a composer to follow.—T.H.
Artist: Jonas Kaufmann
Aida, opera [Act 1, Scene 1: Celeste Aida]
from: Verdi: Aida
It was big news in the opera world when this studio recording of this beloved Verdi opera was first announced; it's cheaper to cull from live performances instead. So for this occasion, conductor Antonio Pappano gathered a luxury cast led by soprano Anja Harteros and tenor Jonas Kaufmann as the star-crossed lovers Aida and Radames — neither of whom had sung their roles before — with Ekaterina Semenchuk as the scheming Amneris and baritone Ludovic Tézier as Aida's father, Amonasro.
Kaufmann is the runaway standout here, suave and vocally splendid; listen to the stunning ease with which he sings the iconic aria "Celeste Aida." Harteros carefully tends to both text and phrasing, while Semenchuk proves fiery with a big voice. And Pappano coaxes crisp, attentive performances from his excellent instrumentalists and choristers.—A.T.
Copyright 2015 NPR. To see more, visit http://www.npr.org/.