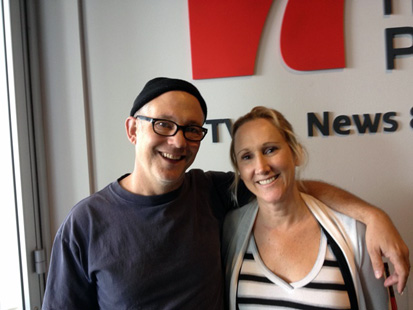 Stark Naked Theatre's Philip Lehl and Kim Tobin-Lehl. Photo by St.John Flynn.
With plays such as Eurydice (Alley Theatre, 2009), Dead Man's Cell Phone (Mildred's Umbrella Theater, 2012) and In the Next Room (the Vibrator Play) (Stages Repertory Theatre, 2012) Sarah Ruhl has established herself as one of the leading American playwrights of her generation.
She has garnered many honors for her writing including the Susan Smith Blackburn Prize, the Helen Hayes Award, several Tony Award nominations and she has twice been a finalist for the Pulitzer Prize. In 2006 she was awarded a MacArthur "Genius" Grant.
Houston's Stark Naked Theatre Company is currently presenting Ruhl's 2011 comedy Stage Kiss, directed by Alley Theatre assistant director Brandon Weinbrenner, through June 20th at Studio 101 in the Spring Street Studios.
Stark Naked's husband-&-wife co-executive directors, Philip Lehl and Kim Tobin-Lehl, who both have leading roles in the production, talk with Houston Public Media's St.John Flynn about Stage Kiss.