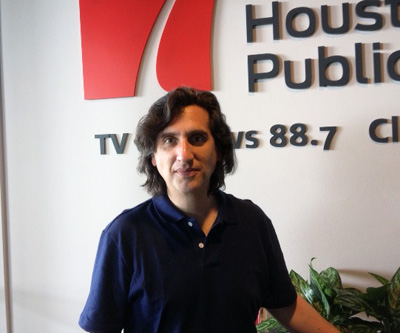 Hershey Felder. Photo by St.John Flynn.
George Gershwin's short life (he died at 38) was one of tremendous success and innovation. He almost single-handedly brought jazz into the concert hall and, in works like Rhapsody in Blue, An American in Paris and Porgy and Bess, he created a music never heard before. In addition, through his close collaboration with his older brother Ira, he added innumerable songs to the Great American Songbook.
In 2000, Canadian actor and classically-trained pianist Hershey Felder created George Gershwin Alone, a one-man stage show about the composer's life and music. On stage Felder plays Gershwin and his music.
Hershey Felder is currently in Houston where George Gershwin Alone is being presented by the Alley Theatre @UH through June 21st.
Hershey Felder speaks with Houston Public Media's St.John Flynn about Gershwin, his life and his music.
[The music heard in this interview was performed by Hershey Felder in Houston Public Media's Geary Studio as part of an interview conducted by Maggie Martin for News 88.7's daily public affairs show Houston Matters. Click here to listen to Maggie's interview.]