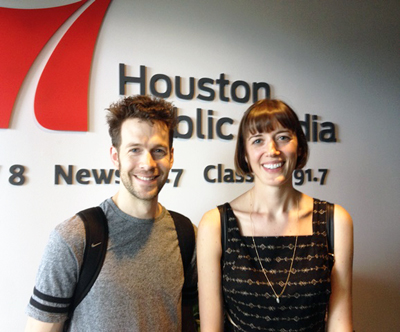 Kneehigh actors Dominic Marsh and Kirsty Woodward. Photo by St.John Flynn.
Kneehigh, based in Cornwall in the U.K., has garnered a reputation for innovative and exciting theatre productions. The company is currently making its Texas debut at the Alley Theatre on the UH campus with an amazing adaptation of the ancient Celtic tale of Tristan and Yseult, a story of war, loyalty and forbidden love.
Two of the Kneehigh cast members, Kirsty Woodward, who plays the narrator Whitehands, and Dominic Marsh, who plays Tristan, talk to Houston Public Media's St.John Flynn about their version of Tristan and Yseult, which runs through May 24th at the Alley@UH.