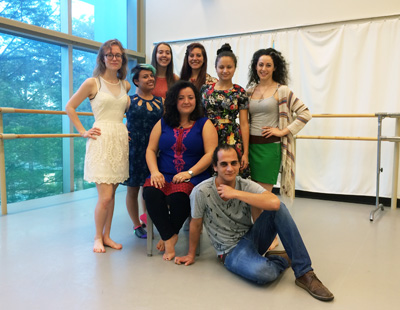 In Walking Distance cast: Michiko McMahon, Celestina Billington, Bonnie Christiansen, Maya Zbib (co-director), Courtney Gigant, Anastasiya Kopteva, Sara Pauley (stage manager), Omar Abi Azar (co-director). Photo by Amy Bishop.
Late afternoon sunlight pours in through the window of a dance studio on the campus of the University of Houston. In it, six students are rehearsing for an upcoming performance as part of this year's CounterCurrent Festival. The performance is titled, In Walking Distance. The director, Maya Zbib, is from the Zoukak Theater in Lebanon, which has a partnership with the Cynthia Woods Mitchell Center for the Arts. She explains what the name means. "The title comes from the idea of walking the distance between each other as individuals and as artists to discover what is important for us to say today about the world and about woman warriors," Zbib said.
The students will be acting and reciting texts about several historical female figures – sometimes shouting, sometimes singing and dancing – while walking in a procession from one end of campus to another.
Michiko McMahon is a political science major and one of the actors. "And when I read the description, I was really inspired to audition or submit my application because it was about women. And that we would be doing something that would be challenging, that would be more performance art," McMahon said while taking a break from rehearsal.
In Walking Distance starts in the Wilhelmina Grove at UH and weaves through the campus both Wednesday and Thursday at 2 pm.
Now in its second year, CounterCurrent was established by the Cynthia Woods Mitchell Center for the Arts at the University of Houston and showcases new and experimental art from both local and international artists. Audio and visual installation art and live performances take place in various non-traditional sites across the city, including galleries and outdoor spaces. It runs through Sunday, April 19th.