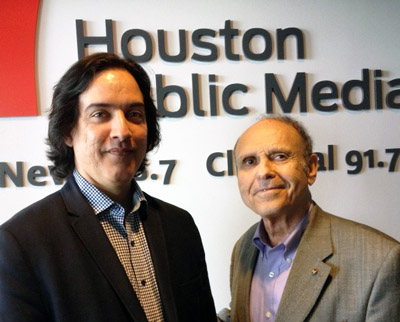 (L-R) Daniel Saenz and Samuel Adler. Photo by St.John Flynn.
For more than fifty years Sam Houston State University has been celebrating contemporary classical music with an annual festival focused on the creation and performance of new music.
The 2015 festival, April 9-11 on the SHSU campus, features one of the most lauded American composers of the 20th and 21st centuries, Samuel Adler, who will lead master classes, talk about his work and hear some of his music performed by faculty and students.
With a catalog of more than 400 published works (five operas, six symphonies, eight string quartets, at least eleven concertos, many shorter orchestral works, works for wind ensemble and band, chamber music, as well as choral music and songs), Adler has received commissions from many of the world's major orchestras, and recently his music has been performed by the Los Angeles Philharmonic, the St. Louis Symphony and the Berlin Radio Symphony Orchestra among others.
A student of great composers including Paul Hindemith, Aaron Copland and Walter Piston, Adler has himself taught an impressive roster of contemporary composers including Christopher Theofanidis, Eric Ewazen and Carter Pann.
Samuel Adler and Daniel Saenz, who teaches cello on the faculty of the SHSU school of music, talk with Houston Public Media's St.John Flynn about the festival.