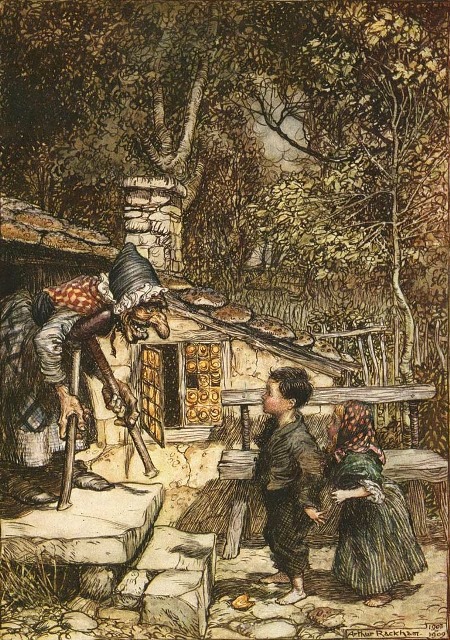 Hansel and Gretel by Arthur Rackham, 1909. Public domain.
In this Opera Cheat Sheet Houston Public Media's "opera guys," St.John Flynn and Eric Skelly, give a quick, light-hearted overview of Engelbert Humperdinck's lush, magical opera.
Based on the Brothers Grimm fairy tale of the same name, Hansel and Gretel tells the story of the poor brother and sister, lost in a forest, who are lured into a wicked witch's gingerbread house and prepped for the oven!
You can hear the Metropolitan Opera's broadcast of Hansel and Gretel, sung in English, Saturday, January 3rd, 2015, at noon here on Houston Public Media Classical 91.7.
[The musical excerpts used in this OCS are taken from the CBS Masterworks 1979 release featuring John Pritchard conducting the Gürzenich Orchestra and the Children's Chorus of Cologne Opera; Frederica von Stade as Hänsel; Ileana Cotrubas as Gretel; Christa Ludwig as Mother; Siegmund Nimsgern as Father; Kiri Te Kanawa as the Sandman; Ruth Welting as the Dew Fairy; Elisabeth Söderström as the Witch (CBS M2K 79217)]