HPM Top Ten List: Great Symphonic Beginnings
2015 is here! With a new year come new experiences, and only time will tell what those experiences are, just as first movements in music are only a hint of things to come. To celebrate the coming of this new year, here is a companion list to our Top Ten Finales list from last year… now with great musical beginnings!
10. John Adams: Harmonielehre – I.
John Adams sure knows how to make an entrance! The piece comes right out with blaring E minor chords in the brass, setting up a piece of prodigious proportions. Adams' post-minimalist techniques are at their peak in this work, featuring a considerable amount of repetitive material, but with influences of impressionism and romanticism prevalent as well.
9. Leonard Bernstein: Overture to Candide
Apart from the music of West Side Story, this overture could easily be Bernstein's best-known work. It is a staple in both the orchestral and the concert band repertoire, and its success has certainly surpassed the success of the opera for which it was written. Many of the themes from Candide itself are present here and have been woven together in clever and inspired ways.
8. Igor Stravinsky: Symphony in Three Movements – I. Overture; Allegro
This is one of Stravinsky's most successful works in his neoclassical period, also one of the first works he wrote after immigrating to the United States in the 1940s. Like many pieces of the time, this symphony was motivated by World War II, and features a great deal of the composer's distinctive rhythmic style and dissonance, which has been honed and polished since The Rite of Spring decades before.
7. Carl Orff: Carmina Burana – O Fortuna
To understand the popularity of this piece, one need not look far. Television commercials and movie trailers have appropriated O Fortuna for years, and those familiar with Bruce Boughton's soundtrack to Young Sherlock Holmes might notice some similarities. The Latin text of the work speaks of the unpredictable quality of fortune and how fate is an oppressive and unshakable force in life, colored by the incredibly dramatic music that slowly builds into an accelerated climax.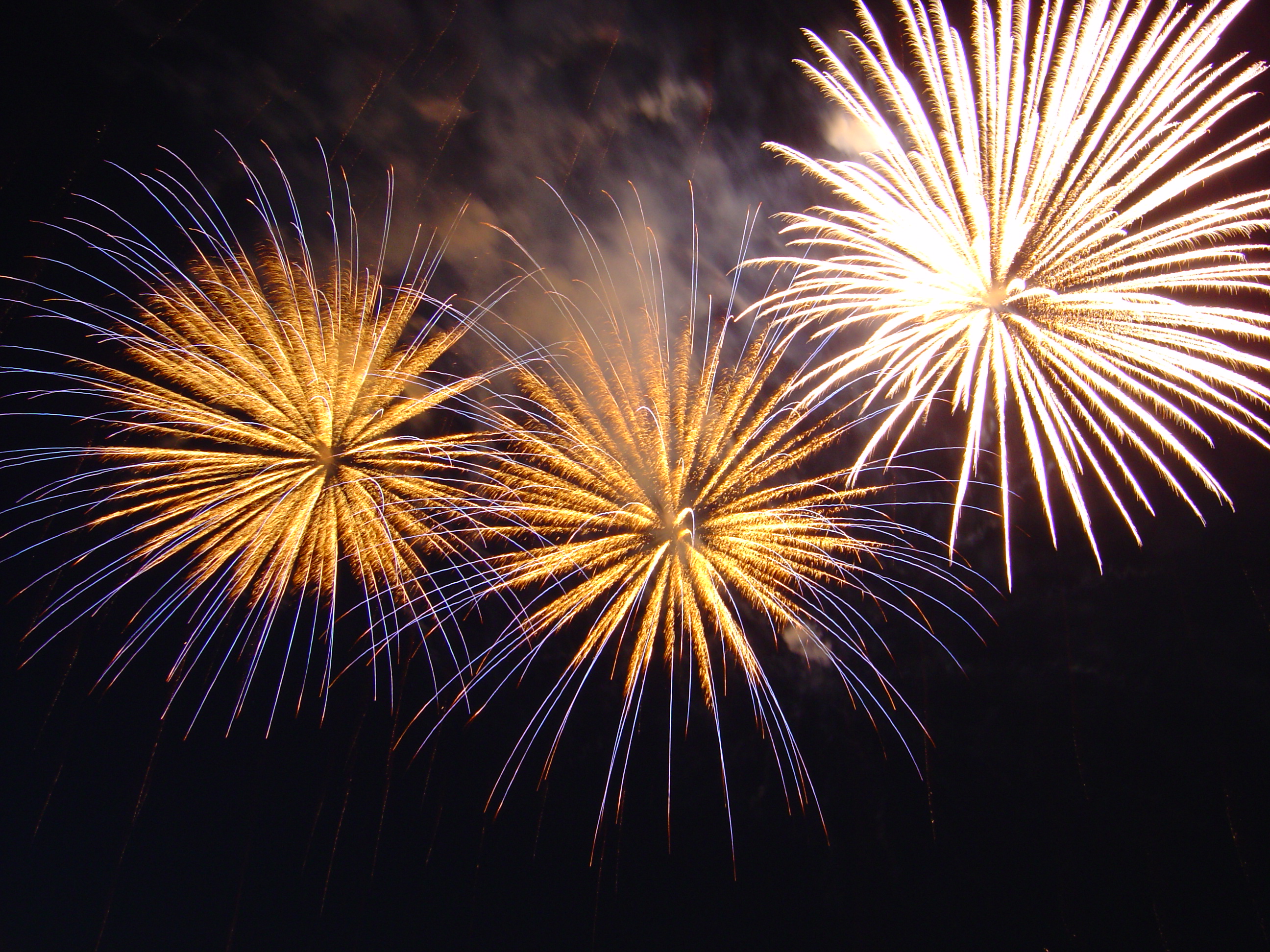 Fireworks display in Bratislava. Photo credit: Ondrejk. Public domain.
6. Gustav Holst: The Planets – I. Mars, the Bringer of War
This ominous and driving work is another pop culture darling that has been used in much the same ways as O Fortuna, to symbolize drama or conflict, and science-fiction fans are likely all too aware of the influence The Planets has had on movies set in outer space. From the percussive ostinato that continues throughout the piece, the blaring brass fanfares, and lush orchestration, this is the perfect pre-cursor to the epic, Hollywood movie score.
5. Richard Strauss: Also sprach Zarathustra – I. Einleitung, oder Sonnenaufgang
Speaking of movie scores… this is perhaps the most famous use of classical music in a Hollywood film. In fact, some people tend to think of this as the theme to Stanley Kubrick's 2001: A Space Odyssey, rather than the beginning of Richard Strauss' Nietzsche-inspired tone poem. It is an impressive opening, and with less than two minutes of runtime, conveys quite a bit of drama with just a handful of very simple gestures and repetition.
4. Modest Mussorgsky: Pictures at an Exhibition – Promenade
In order to not short-change Mussorgsky since the Ravel version of the piece was mentioned in the previous list, due credit must be given to his original piano version of Pictures at an Exhibition. The Promenade theme is an inspired melody that perfectly ties together the piece as a whole, and Mussorgsky's use of the piano paved much of the way for Ravel's brilliant orchestrations, particularly in the way he uses the different registers of the solo instrument for subtle mood changes.
3. Gioachino Rossini: Overture to William Tell
Yet again another long-standing pop culture staple, the end of this overture is likely better known as the theme for the classic television series, The Lone Ranger. Just as well, the Ranz dez Vaches section with the English horn melody has also found a home in numerous cartoons and other media, representing the sunrise often accompanied by a crowing rooster. There is more to the overture than just those sections, but they have definitely found lives of their own outside the piece as a whole.
2. Ludwig van Beethoven: Symphony No. 5 in C minor, Op. 67 – I. Allegro con brio
It is not too much of a stretch to say that this might be the most famous opening in classical music. It is simple, distinct, and quite compelling for just four notes! What's most interesting about the opening, though, is how Beethoven essentially creates an entire movement based around that motive. He gave himself all he needed in the opening gesture, and then just ran with the idea, striking symphonic gold with his most recognizable piece of music.
1. Wolfgang Amadeus Mozart: Symphony No. 25 in G minor, K. 183 – I. Allegro con brio
This is another movie soundtrack cue, as most people are probably familiar with this movement from the opening to Amadeus. It seems that the Mozart most people know tends to lean more towards light-hearted, sometimes cutesy music, so this dramatic, minor key opening is such a powerful antithesis to something like the Piano Sonata No. 16 or Eine Kleine Nachtmusik.Though this is often referred to as the "little" G minor symphony in relation to the "big" Symphony No. 40, it is certainly not inferior to its older relative and is one of his most enduring works.