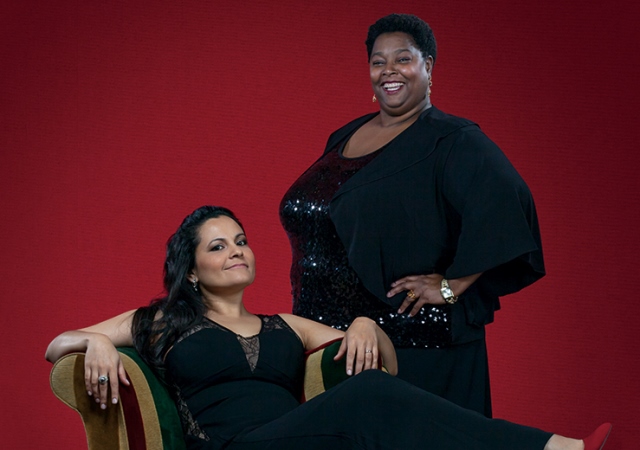 Mezzo-soprano Cecilia Duarte and soprano Melissa Givens. Photo by Amitava Sarkar courtesy of Ars Lyrica.
Keeping with tradition, Ars Lyrica, Houston's Grammy-nominated early music ensemble, presents its annual gala New Year's Eve at the Hobby Center. The event includes a concert of 16th-, 17th– and 18th-century holiday-inspired music from Spain, Mexico and Central America.
¡Felices Fiestas! was curated by lutenist Richard Savino. Richard, Ars Lyrica artistic director Matthew Dirst and singers Melissa Givens (soprano), Cecilia Duarte (mezzo-soprano) and Eduardo Tercero (tenor) join Houston Public Media's St.John Flynn in the Geary Studio to present some of the music from the concert and talk about the history of these baroque musical traditions.
[The music heard in this interview is, in order, are Eduardo singing Manuel Joseph Quiroz' Jesus, Jesus; Melissa, Cecilia and Eduardo with Juan Del Enzina's Triste España and Hoy Comamos; and Melissa and Cecilia performing Antonio de Salazar's Tarara Yo Soy Antonio. Richard Savino plays baroque guitar.]