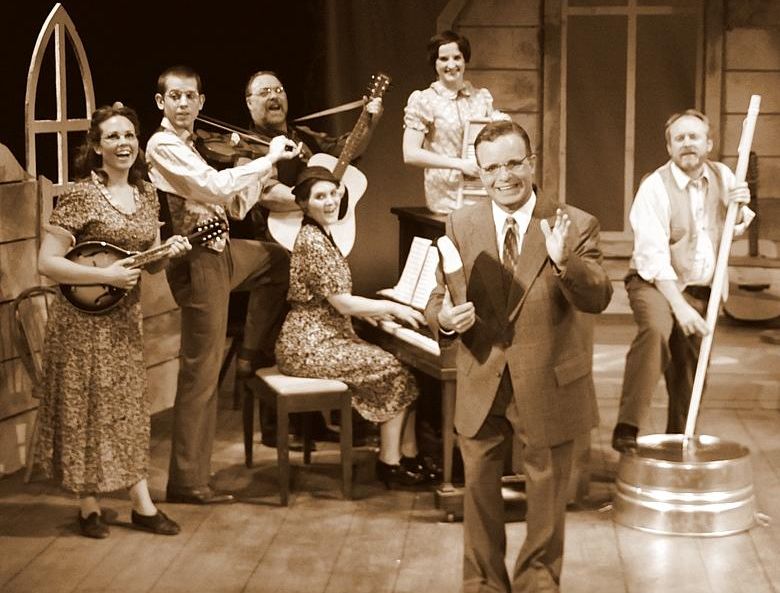 Cast members of "Sanders Family Christmas" at the Texas Repertory Theatre. Image courtesy of the company.
Meet the Sanders Family. They're a toe-tappin', foot-stompin', fun-lovin' musical bunch, spending Christmas together at Mount Pleasant Baptist Church. The year is 1941, and son Dennis is preparing to leave for the war, making this Christmas especially poignant, lively and warm.
For its 10th Anniversary Season, the Texas Repertory Theatre Company presents the holiday musical with a bluegrass, gospel touch: "Sanders Family Christmas," by Connie Ray, Alan Bailey, John Foley and Gary Fagin. Scott Car directed this production, now on stage through December 23rd with shows on Thursdays at 7:30pm, Fridays and Saturdays at 8pm, and Sundays at 3pm.
"Sanders Family Christmas" is the sequel to the hit musical, "Smoke on the Mountain," which Texas Repertory Theatre produced in the summer of 2007.
Cast members Steve Fenley, Shondra Marie, Ted Doolittle, Trace Pool and Amber Grant came with guitars and mandolin in hand to perform some of the songs from the musical, and to chat with Houston Public Media's Catherine Lu.
See cast members perform songs from "Sanders Family Christmas" in the Geary Performance Studio here.