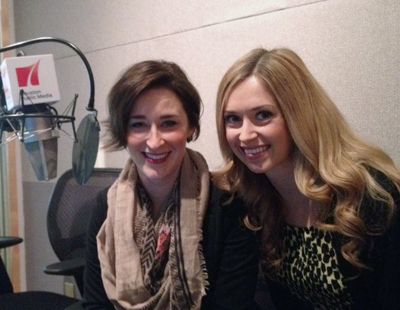 Mezzo-soprano Hilary Ginther (l) and soprano Katie Dixon (r) from Opera in the Heights' Hänsel und Gretel. Photo by St. John Flynn
Written in 1892, Engelbert Humperdinck's Hänsel und Gretel is based on the Grimm brothers' fairy tale of the same name about the brother and sister who, lured by the gingerbread house they come across in the woods, are captured by a wicked witch and face being turned into gingerbread children.
Hänsel und Gretel is currently on stage at Opera in the Heights. Two of the principals, mezzo-soprano Hilary Ginther who sings Hänsel and soprano Katie Dixon who's his sister Gretel, talk to Houston Public Media's St.John Flynn about the fairy tale opera.
Opera in the Heights presents Hänsel und Gretel through November 23rd in Lambert Hall on Heights Boulevard.
[Musical excerpts used in this interview are taken from a 1979 CBS Masterworks release featuring John Pritchard conducting the Gürzenich Orchestra and Children's Chorus of Cologne Opera with Frederica von Stade singing Hänsel and Ileana Cotrubas singing Gretel (CBS M2K 79217)]