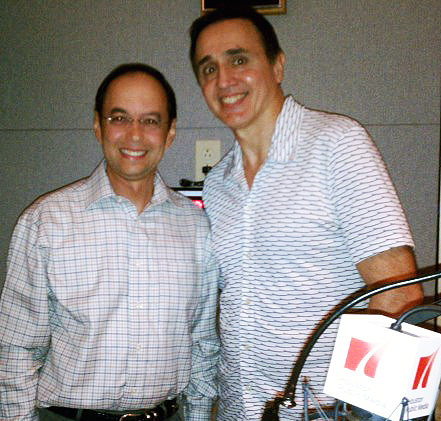 Paulo Gomes, Director of Houston Camerata and Randall Flinn, Director of Ad Deum. Photo by Catherine Lu.
Too Many Notes … And So Many Toes is the title of the collaborative program by Houston Camerata and Ad Deum Dance Company, featuring a classical choral work set to contemporary dance.
Mozart wrote his Waisenhaus (Orphanage) Mass, K. 139 in 1768 when he was only 12, and it's been a long-time dream of conductor, Paulo Gomes, to present the work with both singers and dancers. This weekend his Houston Camerata will perform the mass with Ad Deum Dance Company, who debut a new dance piece created for the mass by New York choreographer, Durell Comedy.
There are two performances: Friday, November 8th at 7:30pm at Gloria Dei Lutheran Church and Saturday, November 9th at 7:30pm at Grace Presbyterian Church.
Houston Public Media's Catherine Lu spoke with Houston Camerata's Director, Paulo Gomes, and Ad Deum's Director, Randall Flinn, about the artistic, spiritual and deeply personal journey of their collaboration.