HPM Top Ten List: Great Hispanic Visual Artists
Houston Public Media Arts and Culture is celebrating National Hispanic Heritage Month! Here is a list of fantastic artists ranging from Spain and Portugal to Central and South America, including a selection of paintings that embody some of the -isms that are mentioned in this list, to give an idea of where many of the stylistic influences came from: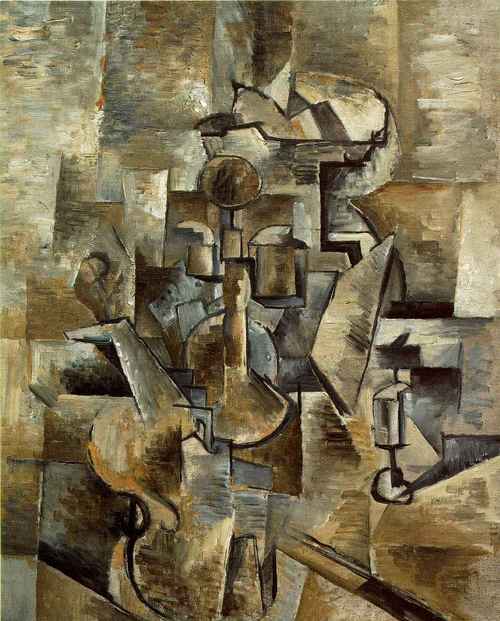 Georges Braque, Violin and Candlestick, oil on canvas (1910); example of Cubism.
10. Xul Solar
Born as Oscar Agustín Alejandro Schulz Solari, Xul Solar (solar light) was an Argentine painter, writer, and all-around highly creative individual. Aside from his bizarre, Surrealist artwork, he also invented two languages, created a modified piano with three separate keyboards, and even conceived different rules for games like soccer and chess. Many of his paintings feature odd and otherworldly places, people, and things, decorated with vivid colors and striking geometries.
9. Maria Helene Vieira da Silva
Vieira da Silva was a Portugeuse artist who lived most of her life in Paris, though she moved to Brazil during WWII to escape the chaos in Europe. She was primarily an abstract painter with early twentieth century influences like Cubism and Futurism guiding her style. Much of her work is focused on the idea of perspective and space, the relationships of which are achieved through various lines and shapes to create a sense of distance and dimension.
8. Diego Rivera
The Mexican muralist Diego Rivera was deeply in touch with the culture of his people. His art largely depicts human activities, sometimes with a political slant. Rivera was controversial for his alignment to socialist ideals and his membership in the Mexican Communist Party. He even came to be at odds with Norman Rockefeller over a commissioned mural with images of famous communists like Vladimir Lenin, Leon Trotsky, and Karl Marx on it. The original was removed, but he later restored it in Mexico. Rivera was married to fellow Mexican painter Frida Kahlo.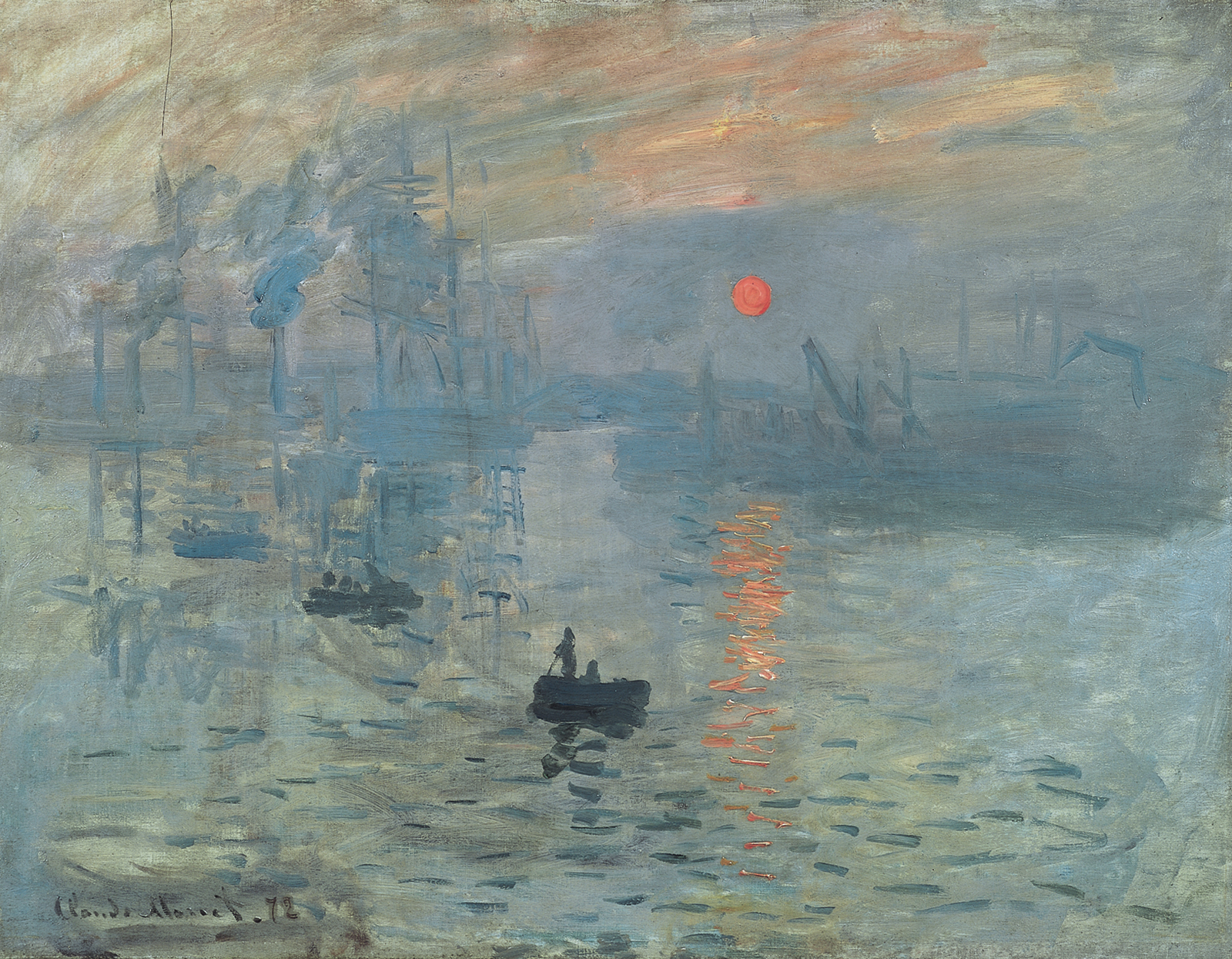 Claude Monet, Impression, soleil levant (Impression, Sunrise), oil on canvas (1872); example of Impressionism.
7. Miguel Pou
Miguel Pou was a Puerto Rican realist painter who, like Rivera, sought to depict the everyday culture of his native land. His paintings are often rural landscapes or urban scenes of Puerto Rico, as well as portraits of the people of the island. Pou admitted that though he strove for realism in his art, he was also greatly influenced by the Impressionists and their use of light and color.
Brazilian painter Candido Portinari should be mildly familiar to anyone who has seen the Hispanic Reading Room at the Library of Congress. The walls of the room are a series of murals depicting the arrival of the Spanish and Portuguese to the Americas in the early 1940s, painted at the behest of then-Librarian of Congress Archibald MacLeish. Like many of his fellow painters, Portinari sought to depict multiple facets of life in his home country, including historical events from centuries prior that eventually shaped the culture he lived in.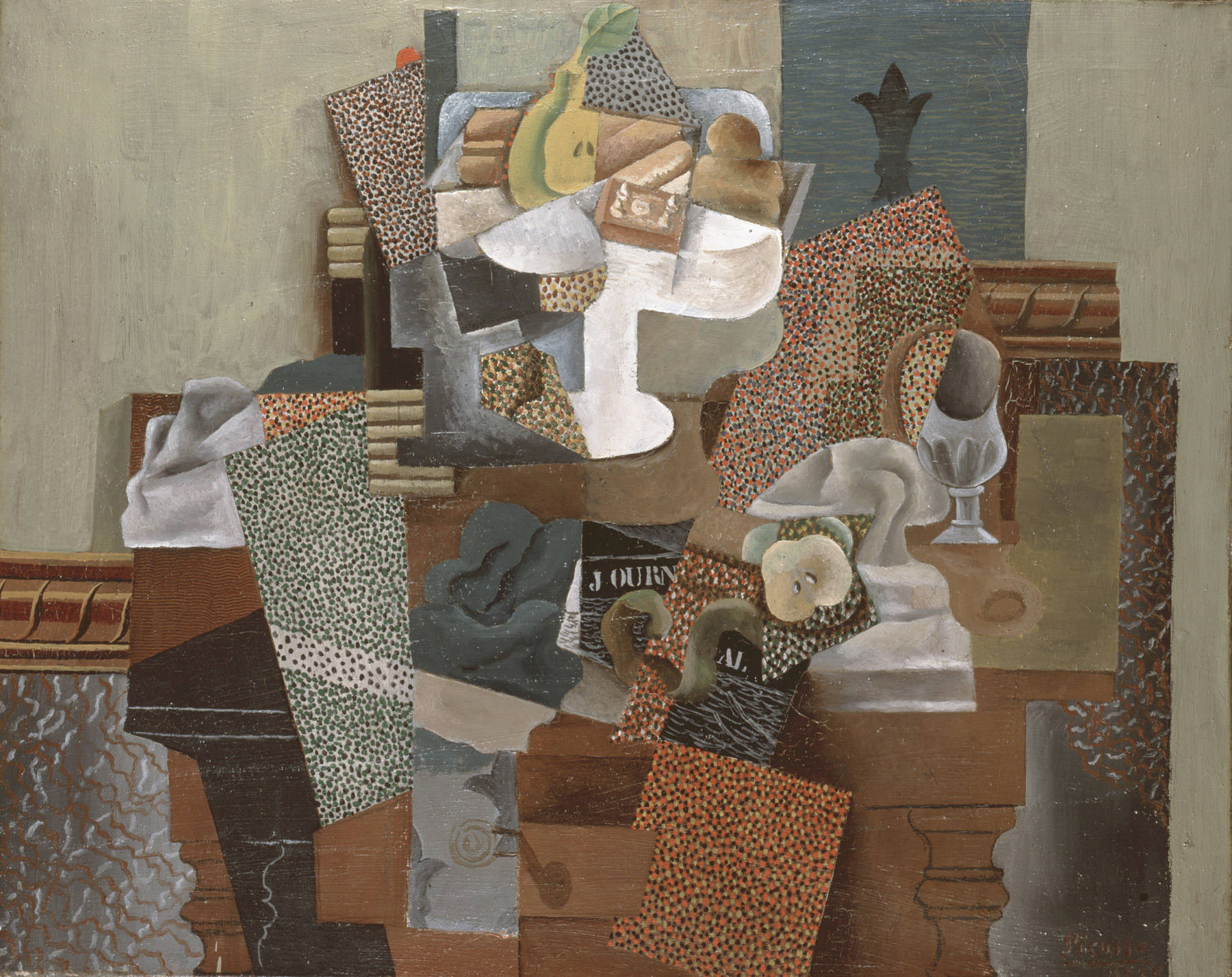 Pablo Picasso, Nature morte au compotier (Still Life with a Compote and Glass), oil on canvas (1914-1915)
Easily one of the most readily recognizable painters in the world, Spanish painter Picasso was a powerful force in the modern art movement of the twentieth century. As one of the progenitors of Cubism in the early 1900s, he eschewed reality in art and aimed to depict the purely abstract, something that had not been done in such a way before. Picasso's primary body of work is divided into fairly distinct periods, beginning with the Blue Period, then the Rose Period, the African-influenced Period, the Cubism Period, and the Surrealism and Classicism Period.
Amelia Pelaez was not particularly popular in her own time. She never actively sought recognition for herself, and she was not part of any prominent art movements. Still, she has slowly gained prominence as one of Cuba's great modernists. Though her work tends to center on real objects, they are depicted in a vivid, abstract style that seems to possess elements of Cubism and Surrealism, likely influenced by her time in Paris in the late-1920s, early-1930s.
3. Frida Kahlo
Frida Kahlo was one of the quintessential twentieth-century feminist painters. She was passionate, free-spirited, and (naturally) controversial. Though her most recognized works are her self-portraits, some of her other paintings are more surreal and even macabre. One such painting, The Suicide of Dorothy Hale, utterly shocked the patron who requested it, especially because it was intended as a gift to Dorothy Hale's mourning mother; due to the subject matter, this was no longer deemed appropriate, and the painting was nearly destroyed. Outside of her artwork, Frida was also well-known for her tumultuous relationship with Diego Rivera.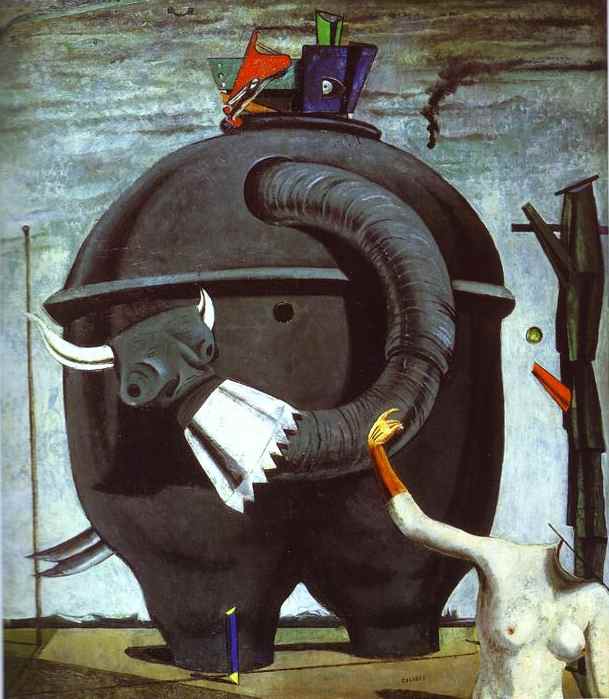 Max Ernst, The Elephant Celebes, oil on convas (1921); example of Surrealism.
Like his fellow Spaniard, Picasso, Salvador Dali is one of the most recognized painters of the twentieth century. His work, The Persistence of Memory, is an indelible representation of the Surrealist style, and Dali's name is one of the most important names in the movement, though he was not its founder as some might assume. (That honor goes to playwright André Breton.) Per Surrealism, Dali's art features bizarre events and figures in a dreamlike fashion, often with suggestive imagery.
Fernando Botero is a living Colombian artist whose paintings and sculptures are distinct for their rotund subjects. Whether painting people or everyday objects, Botero has an affinity for humorously exaggerated girth. In his work The Presidential Family, some have interpreted political satire from the enlarged subjects, perhaps equating to bold egos or a gluttonous lifestyle. And even today, Botero has used his art to depict current events, such as his series focused on the scandal at Abu Ghraib prison during the War in Iraq.