"People talk about styles of tango, but there is only one tango. It accommodates itself to every place and every era." – Eduardo Arquimba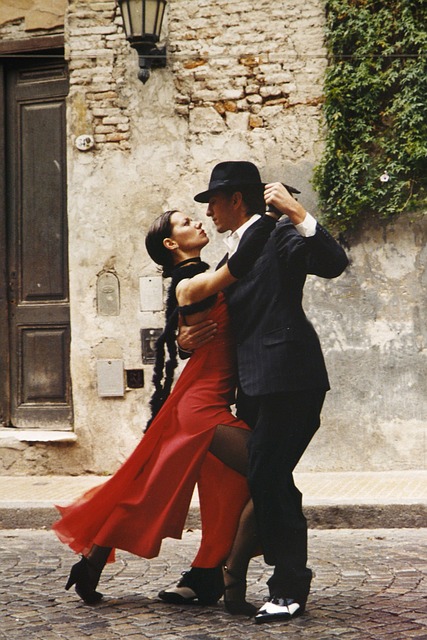 Couple dancing the tango. (Public domain)
When watching a couple dance the tango, it's easy to assume that it's a dance born out of refinement. The grace and syncopation of the steps, the sensual expressiveness of the lead and follow… It all seems to suggest a sort of worldly, sophisticated origin.
Not quite.
Actually, it was born in the brothels and on the street corners of urban Buenos Aires. Over a century ago, it was regarded as bawdy and lowbrow. Today, it's seen as the embodiment of grace, passion and sensuality. The music and moves are joined together as closely as the couple dancing them.
In honor of National Hispanic Heritage Month, Houston Public Media presents Lead and Follow, Part I: The Tango. Learn how the tango evolved from the lower-class urban areas of Buenos Aires in the early 20th century and became the favorite dance of elite Parisian society just a decade later.
Today, a name ubiquitous in the world of tango music is that of Argentine composer Astor Piazzolla, celebrated for bringing it back to the forefront during the latter half of the 20th century after falling out of popularity for a couple of decades. But what about names like Juan de Dios Filiberto, Enrique Discepolo and Angel Villoldo? These were also some of the most important early contributors to the repertoire – not because their output was so prolific, but because their songs were so infectious.
Although the tango may have been born and raised in Argentina, it's been adopted and adored by the rest of the world over the past 100 years. From Finland to the United States, composers have preserved the spirit of the genre, often through music seasoned with their own national flavor. The fundamentals, however, never change.
Slip on the dance shoes and tune in to Lead and Follow, Part I: The Tango Friday September 19th at noon and 10 pm on Houston Public Media, Classical 91.7.
Thumbnail image source: Pixabay.com (Public domain)