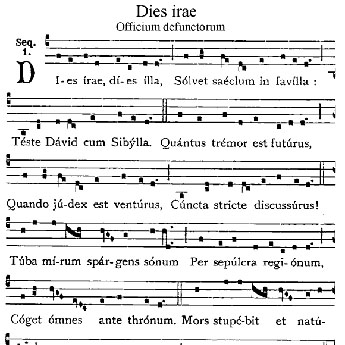 Dies Irae
HPM Top Ten List: Great Music That Inspired Other Music
August is Arts Appreciation Month, and Houston Public Media's Arts & Culture team is celebrating by focusing on works of art that are inspired by or done in collaboration with other art forms. Each week will be devoted to a specific type of art, and our second week is centered on works of music.
Taking a bit of a diversion from artistic cross-pollination, this list focuses on pieces of music that composers have borrowed to create entirely new pieces, usually in "theme and variations" form. Theme and variations pieces often present the theme in its original form at first, and the subsequent sections of the work transform the theme in multiple ways through instrumentation, rhythm, harmony, and melody.
10. Cello Concerto in G – Paul Hindemith
Written in 1940, Hindemith's second cello concerto is one of his many pieces featuring a solo instrument written in the late 30s and early 40s. The second movement features a long, flowing melody in its opening that English composer William Walton used as the basis for his Variations on a Theme by Hindemith.
9. The Happy Farmer – Robert Schumann
Happy Farmer, Returning from Work is a short piece part of Schumann's Album for the Young, a collection of piano works suitable for children and beginner players. Robert E. Jager's Variations on a Theme of Robert Schumann is a prominent staple of the band repertoire that uses the Happy Farmer theme as its primary material.
8. Waltz in C major – Anton Diabelli
Diabelli's Waltz was written with the express purpose that the German and Austrian composers of the day (1819) would use it to create a single variation of their own that would then be compiled into a single volume. A host of these composers submitted their portions, but Ludwig van Beethoven went above and beyond by providing an entire piece of 33 variations on the waltz. The Diabelli Variations is one of Beethoven's most famous piano pieces, and is often likened to J.S. Bach's Goldberg Variations.
7. Music of Carl Maria von Weber
There are four pieces from Carl Maria von Weber that found new life through a twentieth-century composition. The incidental music from Carlo Gozzi's Turandot (not to be confused with the Busoni or Puccini operas that came later in the nineteenth century), and three selections from Weber's piano duet pieces were the basis for Paul Hindemith's Symphonic Metamorphosis on Themes by Carl Maria von Weber. Though the original music is decidedly romantic, Hindemith's work cleverly shifts them into a modernist twentieth-century idiom. Originally for orchestra, Symphonic Metamorphosis has also been regularly performed as an arrangement for concert band.
6. Caprice No. 24 in A minor – Niccolò Paganini
Easily Paganini's most famous work, the Caprice No. 24 for solo violin is a theme and variations in itself, featuring all manner of challenging techniques on the instrument. This thematic material has been used in three prominent virtuoso works for piano, the Variations on a Theme of Paganini by Johannes Brahms, the Rhapsody on a Theme of Paganini by Sergei Rachmaninoff, and the Variations on a Theme by Paganini by Witold Lutoslawski.
The origin of this piece is actually uncertain. The chorale is the second movement of a Divertimento for woodwind quintet, commonly attributed to Franz Joseph Haydn, but some scholars are dubious about this claim. Regardless, it was known as a theme by Haydn in the nineteenth century, and Johannes Brahms composed his Variations on a Theme by Haydn with this in mind.
4. English folk songs
With the revival of English classical music around the end of the nineteenth century, many English composers began to find value in the folk music of their country. Inspired by musical nationalism, they saw it as a means of creating new, appealing works that featured traditional songs. Ralph Vaughan Williams and his friend Gustav Holst were at the very head of this movement with such works as the former's English Folk Song Suite and the latter's Second Suite in Band for F. Similarly, Australian composer Percy Grainger also had a fondness for English folk music that inspired his famous Linconshire Posy and numerous other works.
3. Rondeu from Abdelazar – Henry Purcell
Originally part of the incidental music for Aphra Behn's play Abdelazar, this rondeau is the primary theme of Benjamin Britten's The Young Person's Guide to the Orchestra, an educational piece intended to teach children about the different sections and sounds of the standard orchestra. The rondeau theme is taken through a series of variations that demonstrate the capabilities and idiomatic features of the instruments.
2. Why fum'th in fight – Thomas Tallis
Just as English folk music became a prominent fixture in the country's classical music revival, music from the Renaissance of the fourteenth through sixteenth centuries became just as popular. Thomas Tallis wrote a collection of nine pieces using Psalm texts for the Anglican Archbishop of Canterbury in 1567. The third of these pieces was set to Psalm 2 and eventually used by Ralph Vaughan Williams for his Fantasia on a Theme by Thomas Tallis for double string orchestra and string quartet.
1. Dies irae plainchant
Meaning "day of wrath" in Latin, the Dies irae is a well-known portion of the Requiem Mass for the dead. There is one particular musical setting from the Medieval period that has been a part of several musical compositions of later centuries, sometimes overtly, and other times more subtly. One of the earliest and most famous examples is in the fifth movement of Hector Berlioz's Symphonie Fantastique, where the chant is meant to evoke the dark and sacrilegious nature of the witches' Sabbath. Other pieces are Franz Liszt's theme and variations Totentanz, Camille Saint-Saëns' Danse Macabre, various pieces by Sergei Rachmaninoff (including the Rhapsody listed above), and Michael Daugherty's fifth movement of the Metropolis Symphony.