HPM Top Ten List: Great Paintings and Illustrations That Inspired Music
August is Arts Appreciation Month, and Houston Public Media's Arts & Culture team is celebrating by focusing on works of art that are inspired by or done in collaboration with other art forms. Each week will be devoted to a specific type of art, and our second week is centered on works of visual art. Here is a list of paintings and illustrations that have inspired composers over the years.
10. Primavera (Allegory of Spring) – Sandro Botticelli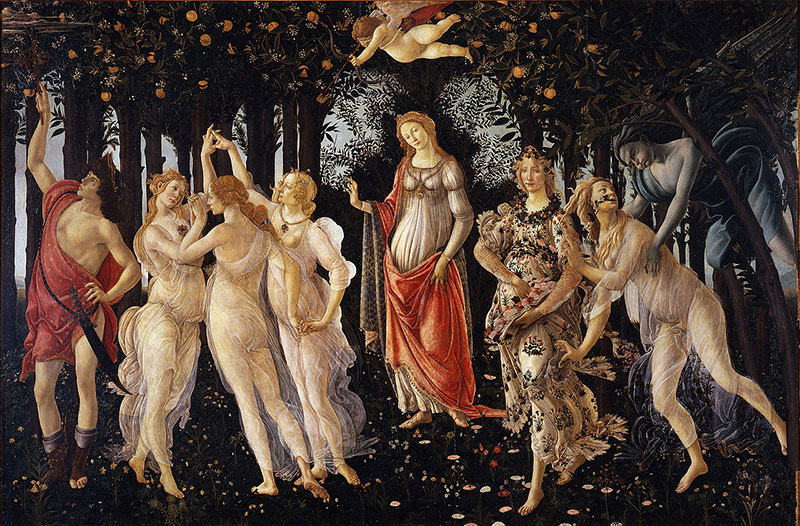 One of Botticelli's most famous paintings, Primavera is an early Renaissance work featuring mythological figures like Venus, Cupid, Mercury, and Flora, and the overall theme of the painting is marriage and fertility. Ottorino Respighi was inspired by this painting and two others, L'adoriazione dei magi (The Adoration of the Magi) and La Nascita de Venere (The Birth of Venus), for his symphonic work Trittico botticelliano (Botticelli Tryptich).
9. A Rake's Progress – William Hogarth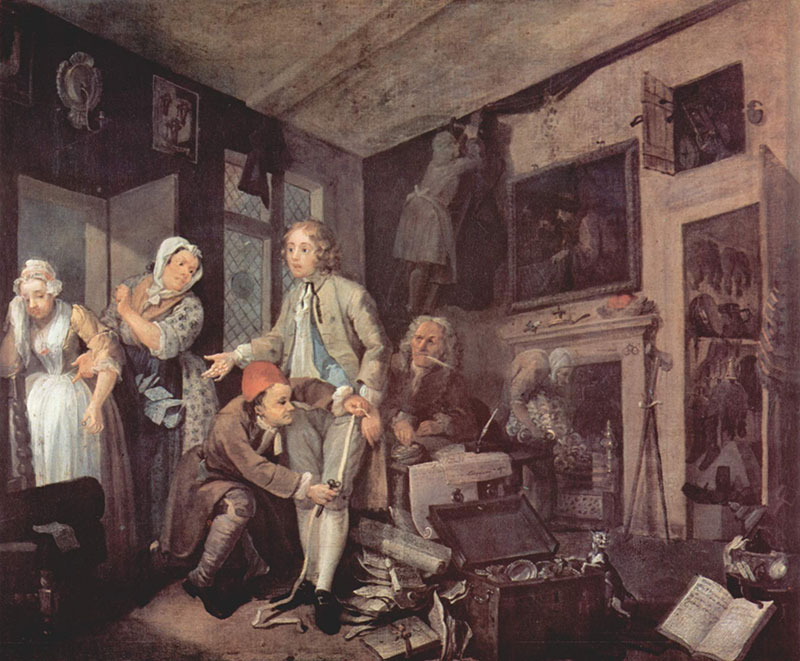 A Rake's Progress is a series of paintings meant to convey a narrative. The story is that of Tom Rakewell, a young man who has just inherited his father's vast fortune and subsequently squanders it away on drinking and gambling. His life gradually begins to collapse around him until by the end he is lost in lunacy at the Bethlem Royal Hospital. Igor Stravinsky, W. H. Auden, and Chester Kallman collaborated on an opera, The Rake's Progress, loosely based on the narrative of the paintings.
8. The Book of Job – William Blake
Blake's illustrations of the Bible's Book of Job spanned over a series of years and a number of different commissions, begun in the 1780s and finally finished in 1826. The pictures follow the general outline of Job's story, though they are naturally executed with Blake's personal interpretation. These paintings and engravings were the inspiration for the 1931 ballet Job: A Masque for Dancing, conceptualized by Geoffrey Keynes, choreographed by Ninette de Valois, and with music by Ralph Vaughan Williams.
7. The Great Wave off Kanagawa – Katsushika Hokusai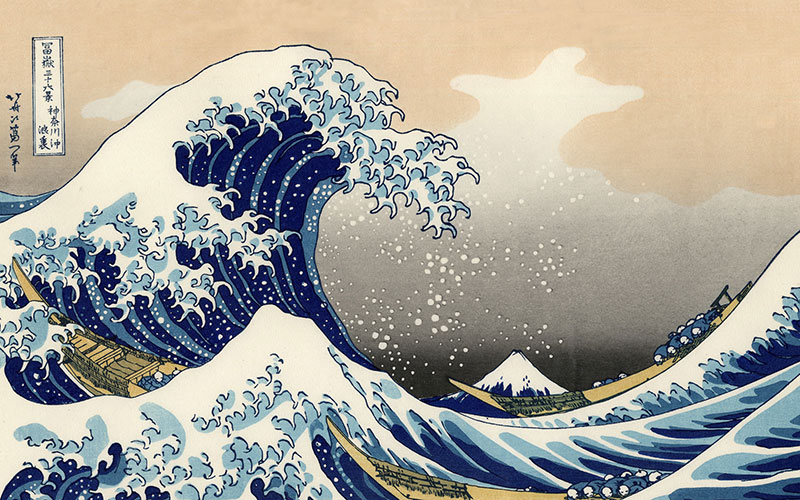 Easily one of the most recognizable pieces of Japanese art, The Great Wave off Kanagawa is part of a series of paintings focused around Japan's Mt. Fuji. In this particular work, Mt. Fuji is relegated to the background, and it is the massive wave threatening to overcome three fishing boats that takes the foreground. It is said that this was the inspiration for Claude Debussy's La Mer.
6. The Course of Empire – Thomas Cole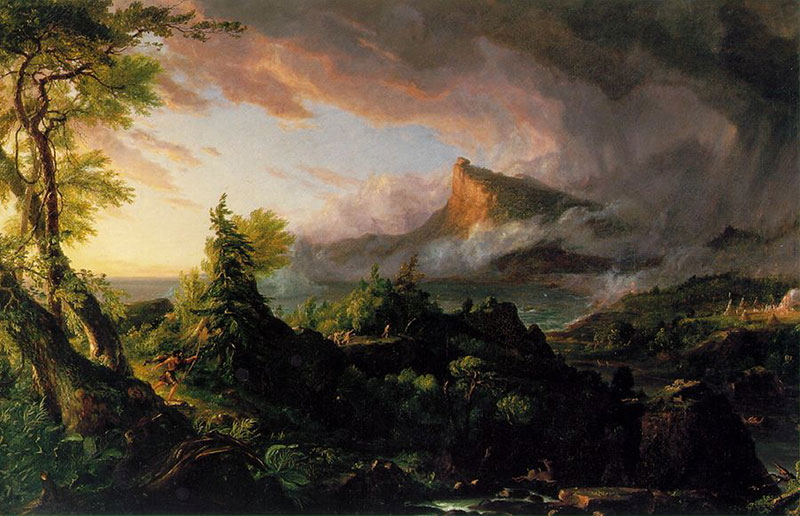 Thomas Cole, known best as the originator of the Hudson River School of art, wanted this series of paintings to show a progression of man from his native, barbaric state, to that of a burgeoning civilization, inevitably leading to self-destruction and, finally, utter ruin. Each painting in the series is centered on the same scene at different periods of time, and with slightly different angles of perspective (notice the mountain in the background). New York composer Nell Shaw Cohen was inspired by this series for her string quartet also titled The Course of Empire.
5. Die Hunnenschlacht (The Battle of the Huns) – Wilhelm von Kaulbach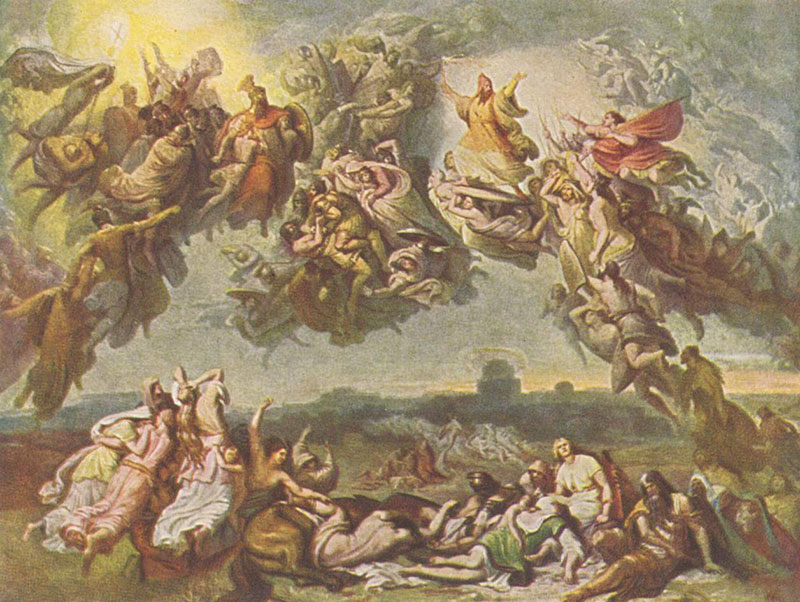 Die Hunnenschlacht is a depiction of the Battle of the Cautalaunian Fields between the Roman Empire and the forces of Atilla the Hun in 451 AD. The painting follows a legend that claims that the fighting was so fierce that the fallen warriors ascended into Heaven and continued to do battle there. This was the inspiration for Franz Liszt's symphonic poem Hunnenschlacht.
4. Illustrations of Viktor Hartmann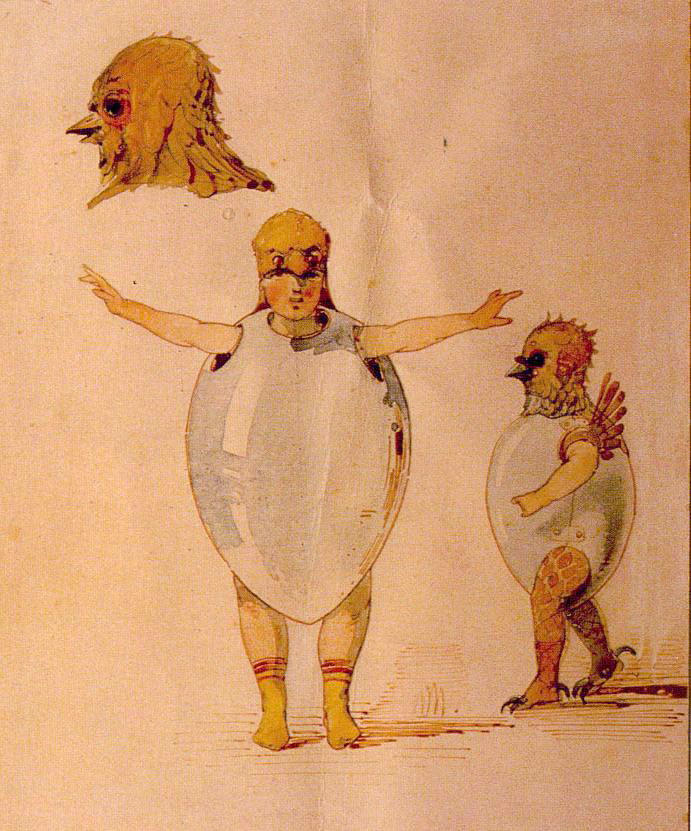 Though these particular illustrations may not be among the most famous of artworks on their own, their eventual by-product in Modest Mussorgsky's Pictures at an Exhibition certainly is. It was after Hartmann's death in 1873 that an actual exhibition of his works was made, and Mussorgsky's piece (originally for piano) was inspired by a tour of this exhibition. The piece was later orchestrated by Maurice Ravel, and it is this version that most audiences are familiar with today.
3. Die Toteninsel (Isle of the Dead) – Arnold Böcklin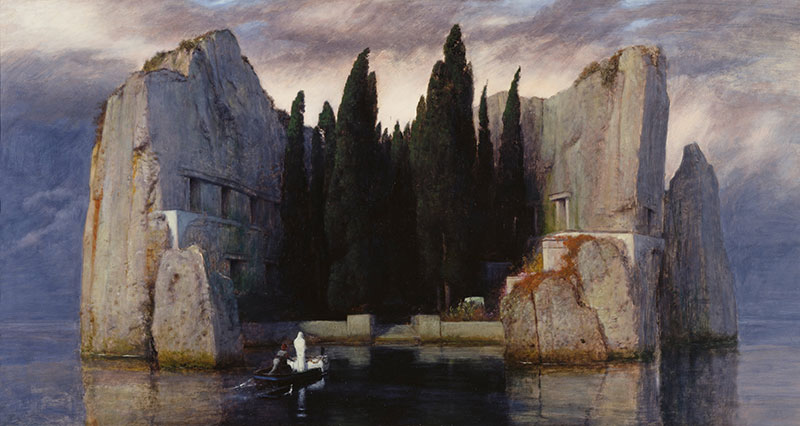 There are actually multiple versions of this work, but all generally show the same scene of a lonely island with a grove of cypress trees, and a small rowboat carrying forth a coffin and a mourning figure in white. The painting has since inspired multiple artists like Salvador Dali, H.R. Giger, and was even a prominent fixture in the RKO King Kong film from 1933. Sergei Rachmaninoff composed a brooding and ominous symphonic poem named Isle of the Dead after he viewed the painting in France in 1907.
2. Un dimanche après-midi à l'Île de la Grande Jatte (A Sunday Afternoon on the Isle of Grand Jatte) – Georges-Pierre Seurat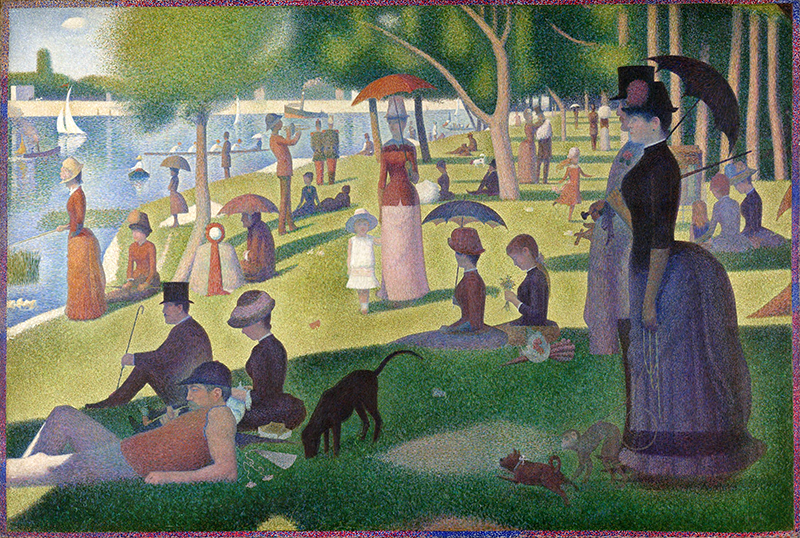 This famous painting is a prime example of Seurat's technique of Pointillism, which is an offshoot of Impressionism that uses simple dots of varying color grouped together in such a way so as to form a discernable image. It shows a peaceful scene at a park just off the Seine River in France, and was the basis for Stephen Sondheim's award-winning musical Sunday in the Park with George.
1. De sterrennacht (The Starry Night) – Vincent Van Gogh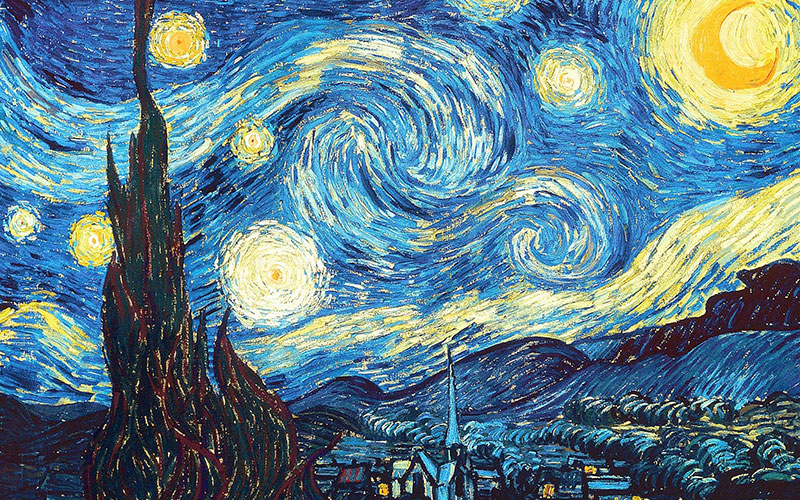 The night sky was somewhat of a growing theme for Vincent Van Gogh in the late 1880s, and his paintings Cafe Terrace at Night and Starry Night over the Rhone both show hints of what is to come in this, one of his most famous paintings. The scene presented in the painting is a view of Saint-Rémy-de-Provence from Van Gogh's room at the Saint-Paul Asylum in France. Henri Dutilleux's orchestral work Timbres, espace, movement (Timbre, Space, Movement) is subtitled La nuit etoile (The Starry Night) after this painting, and Finnish composer Einojuhani Rautavaara wrote an opera about Van Gogh's life, Vincent. He later adapted this music into his Symphony No. 6, the first movement of which is titled Starry Night.