Critically acclaimed author Victor Villaseñor's Rain of Gold, available soon for the first time in e-book format, tells the dramatic saga of immigration. An all-American story of struggle and success, it focuses on three generations of Villaseñor's kin, their spiritual and cultural roots back in Mexico, their immigration to California and their overcoming poverty, prejudice and economic exploitation. It is the warm-hearted, humorous and tragic, true account of the wily, wary, persevering forebears of Victor Villaseñor. The landmark documentary Latino Americans, airing nationally on PBS affiliate stations throughout the U.S. in 2013, features the Villaseñor family story in the second part "Empire of Dreams (1880-1942)".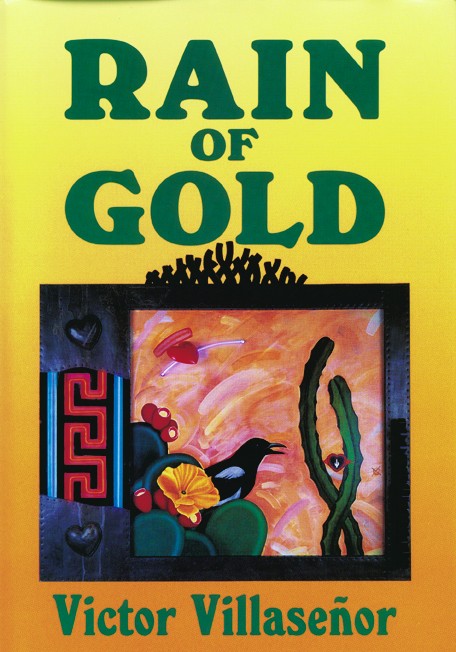 Villaseñor created a stir when he bought back the rights to Rain of Gold from Putnam, which had given him a high five-figure advance for the book he spent 12 years researching and writing. Putnam wanted to publish the book as a work of fiction, but Villaseñor refused to agree to this marketing strategy, and instead contracted with Arte Público Press for a small advance.
The author is also featured in the upcoming PBS Documentary "Latino Americans". Houston Public Media will be co-hosting a preview of that documentary this Thursday evening at the Downtown Houston Public Library. Click here for more information about that event.
VICTOR VILLASEÑOR is a novelist and screenwriter whose works have brought Mexican-American culture and literature to a wide audience. The Los Angeles Times compared his first novel, Macho! (Arte Público Press, 1973 & 2003), to the best work of John Steinbeck. In addition to Rain of Gold (Arte Público Press, 1991), he is the author of Burrio Genius: A Memoir (Rayo, 2004), Thirteen Senses: A Memoir (Harper Collins, 2001), Wild Steps of Heaven (Delta Books, 1995), and a collection of stories for young adults, Walking Stars: Stories of Magic and Power (Arte Público Press, 2003). Villaseñor lives in Oceanside, California where he continues to write.
ARTE PÚBLICO PRESS is the nation's largest and most established publisher of contemporary and recovered literature by U.S. Hispanic authors. Its imprint for children and young adults, Piñata Books, is dedicated to the realistic and authentic portrayal of the themes, languages, characters, and customs of Hispanic culture in the United States. Books published under the imprint are designed to serve as a bridge from the home culture to that of the school, as well as to support family literacy and elementary school education. Based at the University of Houston, Arte Público Press, Piñata Books and the Recovering the U.S. Hispanic Literary Heritage project provide the most widely recognized and extensive showcase for Hispanic literary arts and creativity. For more information, please visit our website at www.artepublicopress.com.