AND GLORY SHONE: CHRISTMAS HYMNS AND CAROLS, including traditional carols and originals, all created or arranged by Alice Parker (some co-arranged with Robert Shaw). Alice Parker conducting The Musicians of Melodious Accord; with (here and there) Paul Vasile, organ; Diana Herold, percussion and Jeffrey Eng and Jacqueline Russo, bells. Melodious Accord 1006.
Alice Parker is 87 years young, and with this assessment of what this writer considers one of the best Christmas albums to appear in a long time go wishes of continued (presumably) excellent health, prosperity and productivity. Her name is inextricably linked with that of Robert Shaw, through a long and well-known series of concerts and recordings over two decades, and her work in arranging for The Robert Shaw Chorale and, in Shaw's last years, The Robert Shaw Chamber Singers. A generous selection of the fruit of that work may be found in The Shaw-Parker Book of Christmas Carols (G. Schirmer). It is noteworthy that Ms. Parker's arrangements of Les Anges dans nos Campagnes (better known in its English version, Angels We Have Heard on High) and Il est né, which appeared in The Shaw-Parker Book, are included in this recording—perhaps first recordings.
Eight of the nineteen items on this disc are Parker originals, and only one of them (While Shepherds Watched) is a paraphrase (she calls it a "free fantasia") of someone else's tune, in this case a tune by one Supply Belcher which first appeared in The Harmony of Maine in 1794. Even her own music bears the inevitable stamp of folk music and early American hymnody, with which she has had a lifelong absorption—her setting of Jaroslav Vajda's Let our gladness banish sadness could be a traditional carol of Central European origin; her delightfully jazzy paraphrase of the Magnificat, really a miniature oratorio — making charming juxtaposition of various mp to mf organ foundation combinations with women's voices — is an enthralling work. (The organ used here is the medium-sized mechanical action instrument by Holtkamp of Cleveland, Ohio, in the Park Avenue Christian Church in New York City, where the album was recorded earlier this year; the organist is Paul Vasile.) A group of three carols of hers, under the banner of Carols to Play and Sing, feature discreet percussion and organ obbligati. These are valuable, and welcome, additions to the choral repertory.
What is particularly striking about The Musicians of Melodious Accord — described as a chamber chorus — is that it seems a riveting throwback to the days and flavor of the old Shaw Chorale. The genius of that group was that Shaw had the good fortune to have at his disposal voices of almost every description, from operatic voices to balladeers and an occasional countertenor. In an interview he gave toward the end of his life, Robert Shaw explained that one of the reasons for the Chorale's special nature was that "only the highest soprano and the lowest bass actually sang what was on the page…everyone else went where they [sic] were needed", which conjures up pictures of everybody's open score heavily marked up and each singer jumping from part to part so that every chordal sonority had a different voicing from the previous one. Each voice was, in a word, allowed in its natural range; it was a wonderful paradox of non-blended blended singing, a choir of soloists that nevertheless possessed an ensemble unity and discipline.
Two standout singers in this recording are mezzo-soprano Jacqueline Pierce (heard in the traditional Spanish La Virgen lava pañales), who sounds almost like a very high tenor; and baritone Roderick Gomez (heard in another Spanish carol, Hacia Belén). Gomez' impeccable Spanish diction and his feeling for this delightful patter song are marvelous. I have to admit that the finger-snapping Ya viene la vieja (Here comes the old lady) is laid-back in comparison with Shaw's remarkable recording with his Chorale of—is it possible?—some sixty years ago. Shaw's choral work usually had an indescribably kinetic quality about it, an almost unbelievable demonstration of how a chorus could be made to sound like an instrumental group—or, really, sound like anything. Still, Melodious Accord comes very close to that elusive and beautiful sound.
Ms. Parker very nearly out-Shaws Shaw with her exquisite performance of her own arrangement of Gustav Holst's In the Bleak Midwinter, which Shaw recorded twenty years ago with his Chamber Singers. This disc is a must-have for anyone interested in what is possible through the medium of a really fine chamber chorus.
ESA-PEKKA SALONEN: Violin Concerto (2009). Leila Josefowicz, violin; the with Finnish Radio Symphony Orchestra conducted by the composer. SALONEN: Nyx (2010). The composer and the Finnish Radio Symphony. Deutsche Grammophon B0017521-02.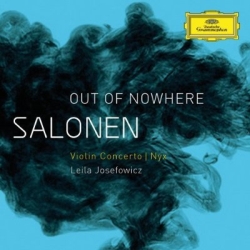 Salonen's music is not atonal, but neither is it entirely tonal; it is all about sound and color, in terms of both layers and strands of sound — and is highly structured, but at the same time quite free. There is no doubt that the 54-year-old veteran of the podium has been helped as a composer by his conducting experience; and his composing, which has now taken over the larger share of his attention, has aided his conducting over the years.
The violin concerto begins with the soloist playing a series of sixteenth-note figurations with a few vibraphone, celesta and harp punctuations. The orchestral exposition of this first movement, which Salonen calls Mirage, grows out of this set of figurations. The sixteenth notes keep on going: they are the central idea of Mirage. The keep going, frequent time-signature changes notwithstanding. Mirage ends as it began, bare-textured, this time with high harmonics in the violin leading directly into the second movement, Pulse I, a brief lyrical interlude. Subdued orchestral timbres are undergirded by a soft but firm timpani beat. The third movement, the more aggressive Pulse II, follows quickly — with some really electrifying double and quadruple stops and solo passagework for Josefowicz, as well as an extended cadenza — which seems to have been integrated into the movement, not something extraneous. The orchestra, too, gets its chance to shine in this movement, particularly with some hair-raising brass and percussion fireworks toward the end. A fiery duet between the soloist and the percussion battery closes the movement, which is not linked to the finale (titled Adieu): for the first time in the concerto, there is a pause.
Adieu begins with the soloist alone, somewhat pensively, with the sound beginning to grow in the winds, celesta and harp—but, here, it's done in a way and evokes a mood very different from that of Mirage. Salonen weaves a fantasy wholly worthy of the dedicatee's instrumental wizardry and, in no small measure, of the virtuosity of the modern orchestra. There are many moods and textures, contrapuntal designs and layers of sound; there is lyricism and there is intensity. The full dynamic spectrum is employed. Adieu ends quietly.
This is not music for everybody. While it may said to be tonal for the most part, it leaves behind common practice ideas of consonance and dissonance; as Charles Ives put it a long time ago, "Consonance is relative: it's just a nice name for a nice habit." The Salonen Violin Concerto is full of musical interest and colorful.
Nyx is the mother of sleep and of death in ancient mythology; she is also the goddess of dreams and of the day. This richly expressive symphonic poem shows Salonen in full mastery of the orchestra. The rarity of a first-rate composer who is also a first-rate chef d'orchestre in the very full sense of that French term is at once amazing and deeply gratifying.