BEETHOVEN: Symphony No. 3 in E-flat, op. 55 ("Eroica"); Overture to the ballet The Creatures of Prometheus, op. 43; Overture to the incidental music to Goethe's Egmont, op. 84. Gustavo Dudamel conducting the Simón Bolivar Symphony Orchestra of Venezuela. Deutsche Grammophon B0016869-02.
There seems to be more activity recording Beethoven symphonies these days, more so than one can remember. It isn't connected with any anniversary date or the unveiling of some new critical edition—Riccardo Chailly's version of all of the nine symphonies that emerged last winter, for example, had nothing to do with the new critical edition of a few years ago. Gustavo Dudamel's new Eroica, an expansive version which takes close to 53 minutes (mainly because of the repetition of the first movement exposition and the unusually vivid realization of the Adagio assai tempo in the Funeral March or second movement—Adagio assai literally means "slowly enough", and there is more than enough Beethovenian gravitas to go around there. About that, there is more to be said shortly.
The Bolivar orchestra—now simply the "Simón Bolivar Symphony Orchestra", not the "Simón Bolivar Youth Symphony Orchestra"—is still generously stocked with very young musicians; but, as the musical world sat up and took notice of its young maestro (who now boasts directorships in Los Angeles and Gothenburg as well), it took notice of this extraordinary ensemble. It is a young orchestra, but also a very serious and purposeful one with, as Dudamel says, "a commitment to the core repertoire". There is the kind of an edge-of-the-chair, unusually alert playing throughout; it is, however, notably devoid of the tension which sometimes characterized, say, the Cleveland Orchestra under Szell or the NBC Symphony under Toscanini. In its place is a kind of excitement and total awareness that cannot be described. It is best left to the listener to discover this on his own. This is superbly disciplined playing, yet it comes with the first-time experience of youth. Everything is in dazzlingly sharp focus; everything that needs to be heard is heard. Where the music of Beethoven is concerned, this matters a great deal.
Toscanini said of the first movement, "Some people see Napoleon in this; others Hitler, others Mussolini. For me, it is simply allegro con brio". And so it is, from those first telling E-flat chords that open the symphony. It might seem odd to many of today's listeners that to take those two chords in tempo or not was once a big issue; there is a fine late-mono version from 1955 by Fritz Reiner and the Chicago Symphony in which those two chords were set apart, by then the exception rather than the rule. Dudamel's absolute assurance, as well as that of his executive forces, is there right from the first of those two chords. The misplaced accents and dissonant chords leading up to the e-minor development theme have a fierce urgency which can be, believe it or not, elusive. The dramatic early entry of the third horn in a kind of fausse reprise has an air of sharp delineation, though by no means exaggeration, about it. This is a defining characteristic of this performance as a whole.
The funeral march is taken at the gravest of grave Adagio tempi. Right before the double bar line, fairly early on, where there is a change of key signature from c minor to C major, Dudamel leads the listener to expect a quickening of tempo—mainly a slight one—immediately before going into the major mode. There is no such modification of the tempo, but it is sheer genius on his part to set up listeners for such a thing; and it is no letdown, by any means, to discover that the tempo, in fact, has not changed. When the minor mode returns, and with it the return of the principal march theme, it seems more full of pathos than at first. The Beethovenian accents and dynamic quirks are nobly brought to the fore; toward the end, when the major mode (this time, E-flat) asserts itself again, it is with a marked warmth, tenderness and at the same time strength—particularly from the strings.
The Scherzo has a menacing and at the same time an enticing quality, with its piano beginning somehow reminiscent of Toscanini's celebrated 1949 Carnegie Hall recording, but broader as the movement unfolds. The horn section shines in the middle section or Trio. The striking clarity of the wind passages in the Trio, so finely phrased and articulated, seem to give again a sense that there is a slight letup in tempo — when, in fact, there is none at all. The Scherzo has a quality of inexorable forward thrust, and leads without letup into the theme and variations finale. Here the proportion of dynamics is what captivates. It all sounds perfectly natural and unaffected. Dudamel's handling of the different sections is remarkable: this is conducting of the first order, but more importantly it is letting Beethoven be Beethoven: not cloaked in an interpreter's self-indulgence or offered to prove theories about how it might have been done in the days before sound recording. This inexorable thrust is strongly evident again in the martial g-minor variation, leading into the return of the Eroica theme Beethoven had used previously in the piano variations op. 35 and in the finale of Prometheus. (Actually, it originated—in a very abbreviated form—as a dance piece.) When the tempo actually slackens, in a more introspective version as an oboe solo (subsequently taken up by the string section and leading into an affirmative tutti), the feeling of forward momentum and structural unity is not lost. While an expansive Eroica, this one is an Eroica that always goes forward—essential Beethoven, in a word.
The overtures are imbued with similar qualities. The playing is, overall, assertive but not forced. One would hope that this, together with the earlier Dudamel/Bolivar recordings of the Beethoven fifth and seventh symphonies for DG, might constitute the beginning of a Beethoven cycle by these performers. It is safe to say that this is one of the best recordings of 2012. And, what is more, it is superbly recorded.
SHOSTAKOVICH: Orango (1932): Prologue (orchestration, based on the piano score, by Gerard McBurney). Ryan McKinney, bass-baritone (The Entertainer); Jordan Bisch, bass (Bass/Voice from the crowd); Michael Fabiano, baritone (Zoologist); Eugene Brancoveanu, tenor (Orango); Yulia Van Doren, soprano (Suzanna); and others, with the Los Angeles Master Chorale and the Los Angeles Philharmonic conducted by Esa-Pekka Salonen. Symphony No. 4 in c minor, op. 43. Salonen and the Los Angeles Philharmonic. Deutsche Grammophon B0016868-02: two CDs.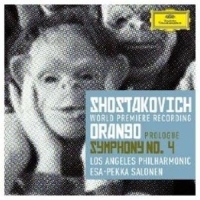 The Prologue is all that exists of Shostakovich's projected three-act opera Orango, dealing with a humanoid orangutan (the eponymous anti-hero) who is exploited by a circus. He suddenly abandoned it and never came back to it; he was only 26 at the time, already well-known and with a career that supposedly could go nowhere but up. There was, of course, the perennial problem with Soviet censors. The librettists (Alexei Tolstoy and Alexander Starchakov) never went farther with their play, and the Bolshoi Theater (which had commissioned the work) also did not press the matter.
Orango was planned as a a series of flashbacks dealing with the humanoid ape's life. In the Prologue, Orango is brought out by popular demand and made to plunk out Chizhik-Pyzhik (a Russian popular song) on a toy piano and do other crowd-pleasing tricks. While being exhibited, Orango goes out of control and reveals that, despite his thick skull and the canines in his mouth, he is capable of intelligible speech. He attacks a foreign woman named Suzanna as a "red-headed temptress" and growls menacingly. After Orango has been subdued, the embryologist Armand Fleury (who is supposedly Orango's father) and a journalist named Paul Mâche appear. The Entertainer (i.e., ringmaster) tells us that these people are the principal characters.
Gerard McBurney, in his liner notes, only tells us that Shostakovich's widow Irina asked him to complete Orango. He does not mention problems with the orchestration—i.e., if the composer left instrumental cues in the piano score—but says he used the orchestrations of The Bolt and Lady Macbeth, written at about the same time, as guides for scoring. Shostakovich may well have made a reputation for himself as the Offenbach of the twentieth century with this bright and inventive score, had he and his collaborators finished it. There are subtle hints at political satire in the text, and the interactions between the Entertainer and the crowd are pungent, both musically and dramatically. Shostakovich is not light-hearted like Offenbach, and his kind of satire is more biting than subtle, but he could write drum-and-cymbal music with a distinctively personal touch. The performance is superb, with a fine cast of singers and impeccable Russian diction on the part of the Los Angeles Master Chorale.
The fourth symphony, which Shostakovich composed before he was thirty and embargoed until 1961 (always viewing USSR censors with a wary eye), is a large work placed on a large canvas. There are, though, many chamber music-like moments within the context of a very large orchestra. At the end of the second movement (the shortest of the three large parts), there is a charming "tic-toc" wood block against subdued strings. Marked Moderato con moto, it is something between a minuet and a waltz. The third movement, a Largo leading into a concluding Allegro, has a false coda (a chorale-like outburst of jubilation) which leads into a quiet ending. There is none of the obligatory rejoicing of the Symphony No. 5, a repertory staple everywhere since Evgeny Mravinsky unveiled it some seventy-five years ago. The fourth, which Shostakovich supposedly preferred to most of his later symphonies, is a self-portrait of the composer without inhibitions or reticences. He is not cautious about dissonance, and seems to have taken to heart Beethoven's statement that music cannot at all times be "beautiful": there are times when it must be "ugly". There are grotesque contrabassoon figurations here and there, images of the sinister and so forth. There are also lyrical moments.
Esa-Pekka Salonen is clearly at home in this music, and the performance is stupendously clear and well-paced. The Los Angeles Philharmonic is completely with him every step of the way. The fact that it is well-recorded only adds to the enjoyment of the music.