Lupe Ruiz-Flores considers herself a "late bloomer" because she didn't start writing until after she retired from the Department of Defense as an engineering technician. In the beginning, she entered writing contests "to test the waters," and to her pleasant surprise actually got a byline in a few magazines. From then on, Lupe was hooked.
A native of San Antonio, Texas, Ruiz-Flores grew up in a close-knit family of eleven brothers and sisters during the 1950s in a Mexican-American barrio. "Although there wasn't any money for books in my household when I was growing up," she says, "my father and grandmother were great storytellers. I have a treasure trove of memories that I can write about."
In 1994, Ruiz-Flores received a Master of Arts in Computer Resources and Information Management from Webster University in St. Louis, Missouri. After her retirement in 1999, she worked as a staff writer at a Catholic newspaper for two years where she received the Eileen Egan Honorary Award for one of her stories. Since then, she's written numerous articles for local and national publications.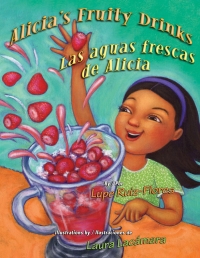 Her most recent bilingual picture book for children, Alicia's Fruity Drinks / Las aguas frescas de Alicia (Piñata Books, 2012), is about a young girl who teaches her friends about a delicious and naturally sweet Mexican treat. The Battle of the Snow Cones / La guerra de las raspas (Piñata Books, 2010), tells the spirited story of two friends competing for snow cone customers. The Woodcutter's Gift / El regalo del leñador (Piñata Books, 2007) celebrates community and folk art, and Ruiz-Flores's first picture book, Lupita's Papalote / El papalote de Lupita (Piñata Books, 2002), offers an uplifting take on a young girl's love of kites and admiration for her caring father. Her poetry has been published in magazines such as Voices Along the River, the San Antonio Express-News, and Borderlands: Texas Poetry Review.
A member of the Society for Children's Book Writers and Illustrators, she is currently working on a middle grade novel. She has three grown children and five grandchildren. Family gatherings are a high priority for her and bring her much joy. The author has lived in Bangkok, Thailand, and Okinawa, Japan, and some of her hobbies include reading and visiting the museums and Spanish missions of San Antonio, where she currently resides. For more information, visit www.luperuiz-flores.com.