"Grandma, do you want to play a game? Let's pretend that I'm a princess," says young Sabrina in Mara Price's Grandma's Chocolate / El chocolate de Abuelita (Piñata Books, 2010). The sweet story about the special relationship between a girl and her grandmother also paints—in majestic strokes—a picture of Mexico's indigenous and cultural past.
Grandma's visits from Mexico are always full of excitement for young Sabrina. What will she find in her grandmother's yellow suitcase this time? To her delight, Sabrina discovers colorful ribbons, a clay whistle shaped like a bird, a drum, and the strong, sweet smell of chocolate! Grandma's gifts make Sabrina wonder about her ancestors, especially Mayan royalty. With her grandmother's help, Sabrina learns all about the cacao tree, which was first cultivated by Mexico's indigenous tribes. Today, seeds from the cacao tree give us chocolate, but years ago the seeds were so valuable they were used as money. Young readers and adults alike will learn, along with Sabrina, that some things are priceless and timeless…like enjoying hot chocolate and a heart-warming story!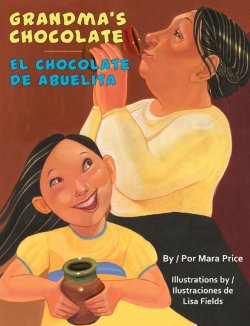 Mara Price is a native of Mexico and now lives in Southern California. A member of the Society for Children's Book Writers and Illustrators, her work has been published in Iguana, a Spanish-language children's magazine. This is her first published book.
Lisa Fields is the illustrator of The Triple Banana Split Boy / El niño goloso (Piñata Books, 2009). She received her BFA in illustration from the Ringling School of Art and Design and attended the Illustration Academy. A member of the Society of Children's Book Writers and Illustrators, Fields lives in her hometown of Katonah, New York.
Arte Público Press is the nation's largest and most established publisher of contemporary and recovered literature by U.S. Hispanic authors. Its imprint for children and young adults, Piñata Books, is dedicated to the realistic and authentic portrayal of the themes, languages, characters, and customs of Hispanic culture in the United States. Books published under the imprint are designed to serve as a bridge from the home culture to that of the school, as well as to support family literacy and elementary school education. Based at the University of Houston, Arte Público Press, Piñata Books and the Recovering the U.S. Hispanic Literary Heritage project provide the most widely recognized and extensive showcase for Hispanic literary arts and creativity. For more information, please visit www.artepublicopress.com.