Lyn Di Iorio's Outside the Bones, an evocative, literary ghost story, introduces readers to Fina, a big girl with a big mouth. She's the neighborhood bruja, or "spirit worker" as she likes to call herself, casting spells for her neighbors in Manhattan's Upper West Side. She can't believe it, though, when she puts an accidental fufú—or spell—on Chico, the irresistible trumpet-player who lives upstairs.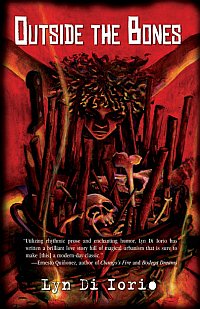 Chico recovers just as two women from his past turn up: his former beauty-queen lover and an attractive young woman claiming to be his long-dead daughter. Fina is not pleased. So she visits her mentor, Tata Victor Tumba Fuego, Master of Fire. He specializes in Palo Monte, the Afro-Caribbean magical art of controlling and manipulating spirits housed in cauldrons. The Ancient One, the oldest spirit working for Victor, wants a blood sacrifice from Fina, something she has managed to avoid. "We ain't on the island no more, we don't sacrifice in the mountains of Africa or Cuba; we do it in our apartments." But she needs help, so she'll do what it takes. All too soon she finds herself involved with a spirit whose quest for revenge can't be stopped.
Set in both present-day New York and Puerto Rico, the erotically charged Outside the Bones weaves Afro-Caribbean witchcraft rituals with the sixteen-year-old mystery of a woman's disappearance. Following in the tradition of Anne Rice, Lyn Di Iorio's spellbinding debut novel takes a mesmerizing look at issues of race, class, power and greed.
Lyn Di Iorio grew up in Puerto Rico and came to the Mainland to attend Harvard University, from which she graduated Magna Cum Laude. She received her master's degree from Stanford University's Creative Writing Program and her doctorate in English literature from the University of California at Berkeley. She teaches literature and creative writing at The City College of New York and The Graduate Center of the City University of New York. She is the author of scholarly books on Latino literature; this is her first novel, an excerpt of which won an honorable mention in the 2009 New Millennium Writings Awards Competition.
Arte Público Press is the nation's largest and most established publisher of contemporary and recovered literature by U.S. Hispanic authors. Its imprint for children and young adults, Piñata Books, is dedicated to the realistic and authentic portrayal of the themes, languages, characters, and customs of Hispanic culture in the United States. Based at the University of Houston, Arte Público Press, Piñata Books, the Recovering the U.S. Hispanic Literary Heritage project, and ¡Salud, familia! provide the most widely recognized and extensive showcase for Hispanic literary arts and creativity. For more information, please visit www.artepublicopress.com.